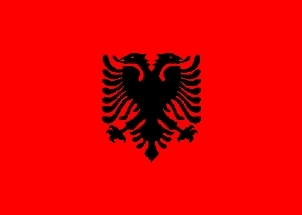 The flag of the Albanian nation.
The small republic of Kosova, with a population of less than two million—90 percent ethnic Albanians, of whom 80 percent are Muslim—is the Balkan zone offering the greatest resistance to radical Islam. Some vignettes from recent interviews may impart the flavor of the debate over Islamism in the country: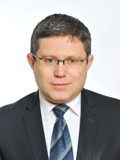 Burim Ramadani.
Burim Ramadani, 31, is a deputy in the Assembly of Kosova, the republic's parliament, and secretary-general of the Alliance for the Future of Kosova (known by its Albanian initials as AAK). His party is the second of two created by veterans of the Kosova Liberation Army (KLA), and is smaller than its predecessor, the politically dominant Democratic Party of Kosova (PDK) led by prime minister Hashim Thaçi. But AAK is increasingly more credible with the public. It holds 10 of 100 elected seats in the 120-member assembly.
Ramadani observed the Wahhabi invasion of Kosova in 2011, when Muslim extremists commenced public demonstrations in the capital, Prishtina. Of the believers summoned to march, many were reported to have been bused in from neighboring Macedonia. They demanded erection of a "mega-mosque" in Prishtina as a counter to a new Roman Catholic cathedral dedicated to Mother Teresa.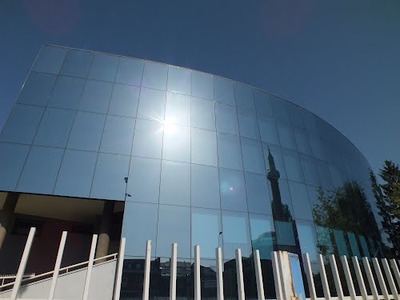 The Assembly of Kosova.
Representing AAK in the Assembly of Kosova on July 8, 2011, at the height of extremist agitation, Ramadani denounced the Islamists and warned that participants in the protests carried black al Qaeda flags.
He noted "the intentional misuse by certain people of the feelings and religious needs in Kosova." AAK considered the mass events "unacceptable," Ramadani declared. "Kosova long ago chose its own path and its orientation," he continued. "We are inclined toward NATO, Europe, and Western values, and this policy direction cannot be changed or deflected by [Islamists] or their aims. . . . Kosova and the Albanians are immovable in this respect and especially our commitment to Western values, in which the main emphasis is on development and reform, based in the promotion of equality and human rights. . . . We must not allow and will not allow anyone, for the sake of fraudulent interests and manipulating hateful rhetoric against all of us, to undermine the state of Kosova or the welfare and happiness of its citizens."
Ramadani concluded, "The Muslim believers demanding a new mosque cannot be allowed to monopolize our attention, since they held an event displaying the black terrorist flag in the middle of Prishtina. The waving of black flags is not part of the landscape of Kosova and does not reflect the attitudes of Kosovars. We must show that this is not the image of Kosova, and if we do not show that it is absent from the identity of Kosova, we will have failed in our patriotic mission. AAK calls on all Kosova citizens, and all who petition sincerely for a mosque, to distance themselves from those who try to exploit the religious sentiments of the people of Kosova for destructive ends, and not to allow themselves to become complicit in these abuses."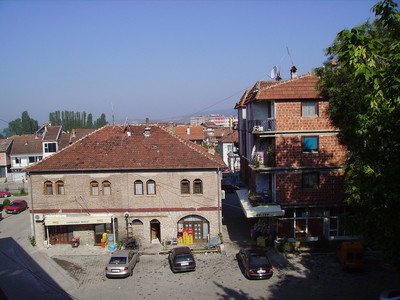 Suhareka.
In a meeting, Ramadani emphasized that he rejects the widespread analysis of the rise of Wahhabism and other nihilistic trends in Islamic countries as products of economic and social marginalization. He pointed out that before the 1999 NATO intervention liberated Kosova from the Serbs, the economic and social situation of Albanians was desperate, but almost none had turned to religious fanaticism. He recalled that during the Kosovar human rights struggle of the 1990s, more than 95 percent of local Albanians kept pictures of Mother Teresa in their homes. Indeed, in the city whence he hails,
Suhareka
, a shopowner who forced his wife to put on an Islamic headscarf was ostracized and nearly had to close his business. But after the Kosova war he reappeared with Arab financing and people went to him for help with small expenses.
Ramadani argued boldly, "There is a need for revival of social pressure against those who seek to undermine the traditional nature of Kosova society," that is, those who would impose Islamist norms of behavior or doctrines.
The leading enabler of radical Islamists in Kosova, unfortunately, has been its chief Sunni cleric since 2003, Naim Tërnava, who has been sympathetic to Saudi Wahhabism and other Arab forms of Islamist ideology.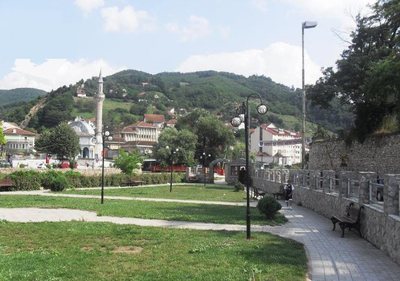 Kaçanik.
Last year saw voting for administrative positions in the Muslim communities of each Kosova town and village. An election was also supposed to be announced, within a year, for the top executive position in the Islamic community of Kosova, held by Tërnava. But controversy broke out in the southern Kosova town of Kaçanik, where opponents of Tërnava were excluded from the lists of candidates.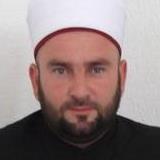 Imam Adnan ef. Vishi.
A young and enthusiastic imam in the Kaçanik-area village of Begrac, Adnan Vishi, was contacted by Tërnava's office in Prishtina and informed that Vishi could earn a glorious place in the history of the Islamic Community of Kosova. This would happen if he signed a proposal for Tërnava to be named chief Islamic cleric of Kosova on a life basis, without elections.
"I thought for about three seconds and said 'no'," Vishi told me. "I told them I was not concerned to become a 'big man' in the annals of the Kosova Islamic Community." So Vishi and his mentor, Musli Verbani, another dissenter from the commands of the man Kosova Islamic figures call "Sultan Naim Tërnava," were dropped from community ballots in the 2012 vote for the local Muslim apparatus. Two Wahhabis, Florim Neziraj and Sadullah Bajrami, who had never attended Islamic assemblies in the Kaçanik district, suddenly appeared and were designated as supreme religious officials for the region.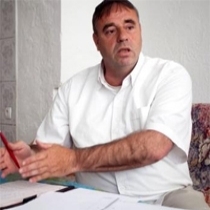 Imam Musli ef. Verbani.
Vishi spoke with the self-confidence one often encounters among Islamic clerics and others who have decided to take a stand against a radical offensive. "My community is safe," he assured me. "We are building a new mosque, and the congregation would reject any other imam."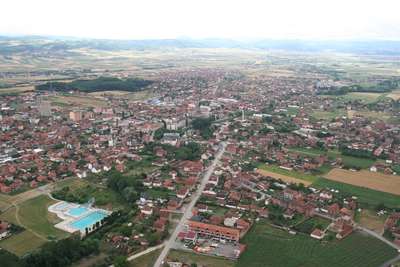 Podujeva.
Other voices among the Kosovars echo an urgent concern about Wahhabi intentions in Albanian areas. Avni Islami, from the Kosova town of Podujeva, is a participant in the
"Self-Determination
!" political movement, which holds the strongest position in favor of complete sovereignty and controls a larger delegation in the Assembly than AAK. Islami believes the Wahhabis intend to recruit 50,000 people, which would give them five-to-one numerical odds over the 10,000 member Kosovo police.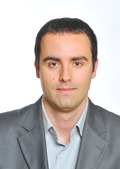 Glauk Konjufca.
"Self-Determination!" deputy Glauk Konjufca, who serves as vice-president of the Kosova assembly, told me earlier this year of his new view of Wahhabi aggression against the Albanian Bektashi Sufis of
Tetova
, in Western Macedonia. The Baba Harabati Bektashi shrine in Tetova is the largest spiritual Sufi installation in the Balkans outside Albania, but since 2002 has been the object of an unfortunately successful effort by Arab-financed Islamic fundamentalists to occupy and transform it, expelling the Sufis.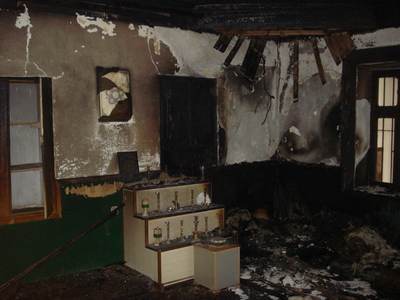 Destruction at Baba Harabati Bektashi shrine, Tetova, Macedonia, 2010 -- Photograph by the Bektashi Community of the Republic of Macedonia.
Konjufca said he now realized that attacking the Sufis was a first chapter in a long strategy to delegitimize the Albanian minority in Macedonia, and, by extension, Albanians thoughout the Balkans. "The Bektashis were outstanding among the creators of Albanian national identity in the 19th century," Konjufca said, referring to the Bektashi introduction of the first Albanian-language schools, in opposition to Ottoman authority. He concluded, "To undermine the unity of Albanians it makes sense to first attack the Bektashis." As elsewhere in the Balkans, ethnic rivals of established Muslim-majority communities are believed to be allied with Islamist radicals in sowing conflict within the moderate populace. For Serbs, there are too many Albanians. For Wahhabis, there are too many who are "not Muslim enough."
For ordinary Kosovar Albanians, the most obvious evidence of Arab-based intrigues in their community came in early December with explanation of a scheme for a "Central Mosque of Prishtina." Demanded by Islamists in the streets last year and endorsed by clerical "ruler" Tërnava, a Prishtina "mega-mosque" would accommodate commercial no less than spiritual needs. As sketched out by Tërnava's crew in offering the project for competitive bids by architects worldwide, the "Central Mosque" would include 80 shops and 900 parking spaces.
The 15th c. CE Imperial Mosque, Prishtina – Photograph 2010 by Krzystof Dudzik, Via Wikimedia Commons.
Prishtina, a city of 200,000, has 22 functioning mosques. The Tërnava "mega-mosque" plan has been called "a mall with a minaret" by unhappy Muslim residents. Its conception reflects the Saudi-influenced Wahhabism Tërnava is accused of supporting, and which has produced architectural grandiosity and desecration of traditional sites in Saudi Arabia. The Prishtina "mega-mosque" is suspected to be, additionally, a catchment basin for increased Gulf-state financial influence. The proposal epitomizes the radical tendencies conventional Muslims in Kosova oppose, and will, by all indications, continue to resist.

We Are One.
Related Topics: Albanian Muslims, Balkan Muslims, Bektashi Sufis, Bosnian Muslims, European Muslims, Muslim-Christian Relations, Sufism, Wahhabism, WahhabiWatch receive the latest by email: subscribe to the free center for islamic pluralism mailing list