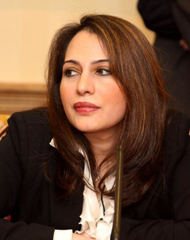 Najat Fawzy AlSaied.
Many Arab liberals and reformers were shocked by the sale of former U.S. Vice-President Al Gore's Current TV to Al Jazeera, a pan-Arab broadcasting system charged with sympathy for terrorists. In 2009, even the Palestinian Authority in the West Bank, which can hardly be suspected of anti-Arab attitudes, accused Al Jazeera of negative, biased, and unbalanced reporting, and closed down the Al Jazeera bureau in Ramallah.
Gore and the Democratic party have consistently called for democracy in the Middle East, and welcomed the "Arab Spring," yet Gore has now bolstered a channel sympathetic to Islamic extremism – not to democracy. Al Jazeera's saturation coverage of the "Arab Spring" demonstrations and the war in Syria should not deceive the non-Arab public. Early in the "Arab Spring," in Egypt and other countries, Al Jazeera promoted the Muslim fundamentalists. Regarding Syria, Al Jazeera publicizes the demands for power by jihadists.
The emir of Qatar -- an absolute ruler protected by a U.S. military base there -- and Al Jazeera have not covered the "Arab Spring" to advance democracy, but to support the Muslim Brotherhood, which is aligned with the Qatari regime. Al Jazeera television, with a staff mainly drawn from Muslim Brotherhood personnel, was founded by a Qatari royal decree, in an effort to legitimize the current emir's coup against his father in 1995. According to BBC News, Qatar assisted Egypt's Muslim Brotherhood government of President Muhamed Morsi, at the beginning of January 2013, with a loan of two billion U.S. dollars and a donation of nearly half a billion dollars, following an earlier financial deposit of 2.5 billion dollars and a grant of 500 million dollars from Qatar to Egypt.
Notwithstanding his professed love for democratization, Gore ignored any opportunity for the transformation of Al Jazeera from a network subject to censorship by the Qatari Ministry of Information into an independent media institution.
How could Qatar promote democracy when its authorities sentenced a Qatari poet, Mohammed Al Ajami, to life imprisonment in 2012, allegedly for praising the "Arab Spring" and suggesting that he would like to see the same thing in his country? Al Ajami was found guilty of insulting the ruler and promoting an insurrection.
But the worst is that Gore's deal lends credibility to Al Jazeera. The channel has been praised by leaders internationally for its coverage of the "Arab Spring." Hillary Clinton commended Al Jazeera for purveying "real news" and President Barack Obama described Al Jazeera's founder, Qatar's Emir, Sheikh Hamad Bin Khalifa Al Thani, as "a big booster, big promoter of democracy all throughout the Middle East. Reform, reform, reform – you're seeing it on Al Jazeera." Yet Obama was compelled to admit, "Now, he himself is not reforming significantly. There is no big move towards democracy in Qatar."
Qatar has tried to avoid being seen as a country with a contradictory media policy, which monitors and controls most forms of expression, including the internet, arresting activists and bloggers, while at the same time seeking status as a regional haven of free expression through Al Jazeera. Al Jazeera is popular in the Arab world because of its willingness to criticize Arab governments, but it has been accused of avoiding sensitive issues involving Qatar.
Robert Ménard, a champion of global press freedom, served as Head of the Doha Centre for Media Freedom in Qatar, beginning in 2008. He and many of his staff, however, resigned 14 months later. "How can we have any credibility," he said, "if we keep quiet about problems in our host country?"
He later explained that the Centre was constrained by orders from Qatari officials, who did not want an independent Centre. He also protested that a committee to discuss a new law on the Qatari media never held any meetings.
Yusuf Al Qaradawi, an Islamic theologian associated with the Egyptian Muslim Brotherhood, hosts a show on Al Jazeera's Arabic network, called "Al Sharia wal Hayat" ("Sharia and Life"). Al Qaradawi uses this TV platform to justify terrorism, preach hatred against other religions, and marginalize women. He has encouraged extremists to kill all Americans in Iraq, both military and civilian, because they are "invaders." He has issued fatwas that prohibit all Muslim countries from cooperating with America in the war in Afghanistan, and called Osama Bin Laden a "martyr" whom Al Qaradawi considered "innocent until proven guilty" in the terrorist attacks against America on September 11, 2001.
In 2009, Al Qaradawi declared that the Holocaust was "divine punishment" of the Jews. His program argues that a woman's role should be limited to the family and marriage, and he consistently depicts any liberated option for women as a Western, corrupt influence.
The Al Jazeera Arabic network's biased treatment against women was exposed in the resignation of five of its top female news hosts in 2010. The presenters had initiated an internal complaint against the sexist behaviour of deputy editor Ayman Jaballah, identified in Arab websites as an Islamist. Jaballah allegedly harassed the women for their choice of garments and supposed lack of "decency."
An original group of eight dissident Al Jazeera female employees was named by the pan-Arab daily Al-Hayat as Julnar Moussa, Jumana Nammour, Lona Ashibl, Lina Zahreddine, Nawfar Afli, Iman Bannoura, Laila Ashaikhali and Khadija Ben Guenna, an Algerian who in 2003 caused debate when she insisted on wearing a headscarf during her broadcasts. Five of them stood by their decision to quit Al Jazeera: Moussa, Nammour, and Zahreddine, who were identified by The Daily Telegraph in London as Lebanese; Ashibi, a Syrian, and Afli, a Tunisian. The Telegraph pointed out that all five had come from Arab countries where "religiously modest" dress was not required of women.
Al Jazeera's officials announced in their decision on the matter that "the on-screen style and general appearance of broadcasters and announcers are the legal right of the network to determine and develop."
Muntaha Al Ramahi, a Jordanian, was a presenter on Al Jazeera for six years and then moved to the Saudi-owned channel Al Arabiya, launched in 2003, and Al Jazeera's main competitor. Al Ramahi said she felt the work environment at Al Arabiya was less discriminatory and also provided her with more self-confidence than she was able to gain at Al Jazeera. Al Ramahi was a minor presenter on Al Jazeera; she hosted a show, "Lil Nissa Faqat" ["For Women Only"], taken off the air in 2005. Currently, she is a well-known anchor on Al Arabiya, presenting one of the channel's flagship programs, "Panorama."
Rima Salha, a Lebanese, also a minor presenter on Al Jazeera, is now a major personality on Al Arabiya, with a show combatting terrorism called "Sena'at Al Mawt" ["Industry of Death"].
There are several notable differences between Al Jazeera and Al Arabiya. Al Jazeera supports Islamism and Arab nationalism, while Al Arabiya is considered more liberal, despite the paradox that, being Saudi-controlled, Al Arabiya has less freedom to cover controversial political issues. Some have accused Al Arabiya of following American policy (and even Israeli policy) in the region, while others call Al Jazeera "Osama Bin Laden TV." Al Jazeera has also been criticized because the editorial line of its English network is much more moderate than its Arabic counterpart.
Programming by its rival, Al Arabiya, is made up of non-political news and features, such as reviews and updates in business trends. It also offers "soft" news: a morning show called "Sabah Al Arabiya" ["The Morning of Al Arabiya"], covering health, entertainment and sports. But Al Arabiya produces shows on society and development while Al Jazeera's programs are mainly political.
"Al Itajah Al Moa'akes" ["The Opposite Direction"], one of the best-known programs on Al Jazeera, is centered on political topics such as Arab nationalism, Islamism, and imperialism, but does not take up development or social change.
Although channels such as Al Jazeera and Al Arabiya claim to be private, they are not independent because of the financial support for them from the Qatari and Saudi governments. Countless academics and journalists have discussed the need for independent Arab media, free from state control. The Egyptian electronic journalist, Amin Bassiouni, has affirmed that the abolition of state Ministries of Information and their replacement with independent media would expand freedom of expression. Safwat Alam, an Egyptian professor of communications, said that if the official Ministry of Information is abolished, new policies should be developed without state supervision.
Unfortunately all of these ideas for freedom of expression and an independent media clash with the new Egyptian constitution. The Committee to Protect Journalists (CPJ) has complained that the post-Mubarak Egyptian constitution imposes several new restrictions on press freedoms, including the establishment of a new governmental regulatory agency and a new provision for the government to close any media institution. The constitution also fails to prevent imprisonment of journalists, a practice associated with the Mubarak dictatorship.
Given evidence from journalists and academics on the lack of freedom and independence in the Arab media, an American politician such as Al Gore evidently supports maintaining these conditions, on the basis of his appalling deal with Al Jazeera, best known for its promotion and accommodation of extremism.
The Arab world needs support for media that will help it promote democracy. As a matter of conscience, American politicians and officials should at least avoid giving credibility and legitimacy to a satellite channel such as Al Jazeera, which has as its chief goal Muslim Brotherhood domination.
Najat AlSaied is a PhD researcher in media and development at University of Westminster in London. She can be reached at: [email protected]
CIP Note: A slightly-different Arabic-language version of this article appeared on the news website Egypt 11, and is accessible here.
Related Topics: Muslim Brotherhood, Saudi Arabia receive the latest by email: subscribe to the free center for islamic pluralism mailing list