Save India from Taliban

More Than Two Million Sunni Muslims United Against Terrorism
by All India Ulema and Mashaikh Board
All India Ulema and Mashaikh Board
February 10, 2013
http://www.islamicpluralism.org/2194/save-india-from-taliban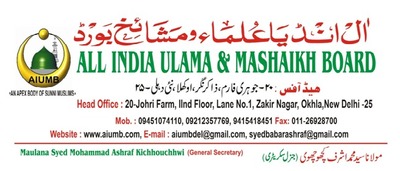 Bikaner, Rajasthan, India
On February 10, the grounds of the historic Sadul club filled with more than two million Sunni Sufis from across India. It was a memorable sight when the assembled people chanted 'Bhaarat Zindabaad' (Long Live India!) and 'Wahhabi Murdabad' (Wahhabism, go to hell!).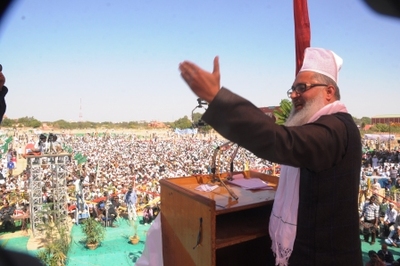 Maulana Syed Muhammad Ashraf Kichowchhwi at the Bikaner assembly.
General Secretary of All India Ulema and Mashaikh Board (AIUMB) Maulana Syed Muhammad Ashraf Kichowchhwi said we shall not allow the use of Indian soil for spreading extremism. He blamed Saudi Arabian petrodollars for continuously ruining the world Islamic heritage and culture and affirmed that true Indian Muslims will not accept the imposition of a Saudi Wahhabi agenda on India. Maulana Ashraf recalled that Saudi Wahhabi ideology only targets the soft Sunni countries like Pakistan, Afghanistan, Tunisia, Egypt, Mali, Libya, Iraq and now Syria. Maulana Ashraf warned Wahhabi elements they would be punished under the law, if they try to hamper India's secular social fabric founded on coexistence.
Maulana Ashraf lambasted the Indian political class as not understanding the need for representation of Sunni Muslims in politics. Maulana Ashraf denounced the radical Wahhabi fake Sunni Muslims in looting the rights of 80 percent of traditional Sunni Muslims. He reiterated that Sunni Sufi Muslims make up 80 percent of India's Muslim population, but its participation in power is zero. He offered the dictum that a true Indian Sunni Muslim is neither going to submit to Wahhabi religious leaders nor accept Wahhabis as political mentors.
In an emotional tone, Maulana Syed Jalaluddin Ashraf Quadri Mian said the catastrophe of the Islamic world is caused by the foolishness of fanatical Wahhabis. He said we shall not allow Wahhabism to capture India. Maulana Quadari said they have tried it from Africa to Pakistan to Afghanistan to Syria, but they will not be successful here in India as we are aware of the dirty game of the Saudi Arabian regime.
Ajmer Dargah presbyter and All India Ulema and Mashaikh Board Patron in Chief Maulana Syed Mehdi Mian declared that the mystic land of Indian Saints and its culture are unwelcome to Wahhabi "Salafi" ideology.
The All India Ulama and Mashaikh Board's National Secretary Syed Babar Ashraf warned that 80 percent of the Muslim population of the country, in the context of government programs, planning and policy, find no place. The Wahhabi agenda hinges on seizure in India of Islamic monuments, dargahs [Sufi shrines], mosques and madrasas. A letter embodying this message was passed around the Sadul Club ground, with more than two million people repearting in unison, "Please accept, please accept it," as a slogan echoing in the vibrant sky.
Chief Conservators of Dargahs, Ulema, the imam of the local mosque, and the city Qazis [Islamic jurists] of Rajasthan attended the assembly. Sunni Islamic da'wa institutions, including many local organizations, worked to make the program successful.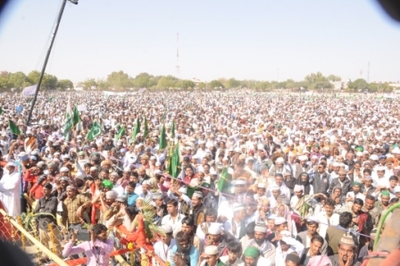 Participants in the Bikaner assembly.
Related Topics: Deobandism, Pakistan, Wahhabism, WahhabiWatch receive the latest by email: subscribe to the free center for islamic pluralism mailing list