CIP Executive Director Schwartz Speaks on Sufi Self-Defense
by Stephen Schwartz
Hudson Institute
June 15, 2013
http://www.islamicpluralism.org/2246/new-release-cip-executive-director-schwartz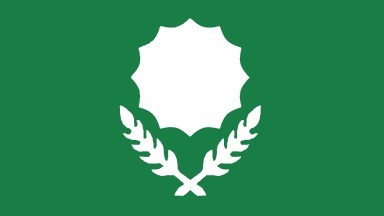 The flag of the Bektashi Sufi order – Illustration Via Flags of the World.
May 15, 2013, 12:00- 1:30 PM - Hudson Institute, Washington, D.C. Headquarters
Hudson Institute's Center for Religious Freedom invites you to attend...
The Rise of Islamism: Its Impact on Religious Minorities
Wednesday, May 15, 2013
12:00 – 1:30 PM
Executive Director Schwartz's speech appears at https://www.youtube.com/watch?v=GF0IrZA_tjs.
Submit questions via Twitter: @HudsonInstitute
Moderator Nina Shea, Hudson Senior Fellow and Director of the Center for Religious Freedom, and our expert panel discussed Islamism's impact on religious minorities and recommendations to strengthen the cause of religious freedom and cultural pluralism.
Panelists included former Pakistani Parliamentarian (2008-12) Farahnaz Ispahani; Professor of Iranian, Central Eurasian, and Islamic Studies at Indiana University Jamsheed K. Choksy; and Executive Director of the Center for Islamic Pluralism and author Stephen Schwartz.
Related Topics: African-American Muslims, Albanian Muslims, Alevism, American Muslims, Balkan Muslims, Bektashi Sufis, Bosnian Muslims, British Muslims, Canadian Muslims, Central Asia, Chechnya, China, Deobandism, Dutch Muslims, European Muslims, French Muslims, German Muslims, Indonesia, Iran, Iraq, Kazakhstan, Kosovo, Kurdish Islam, Kyrgyzia, Macedonia, Malaysia, Moldova, Montenegro, Muslim Brotherhood, Muslim-Christian Relations, Muslim-Jewish Relations, Pakistan, Russia, Saudi Arabia, September 11, Shariah, Shiism, Singapore, Sufism, Takfir, Terrorism, Turkish Islam, Uighurs, Uzbekistan, Wahhabism, WahhabiWatch receive the latest by email: subscribe to the free center for islamic pluralism mailing list