Wadi-e-Ashraf (Utelwa), Jagdishpur-Amethi (Uttar Pradesh, India)
15 December 2013
More than two lakh [200,000] Sunni Sufi Muslims gathered here to record their protest against foreign interference in the internal affairs of India, and declared that they would put up stiff resistance to radicalization of Muslim youth and propagation of an extreme, alien ideology which hurts both the community and country.
This huge ground at Utelwa on the Lucknow-Sultanpur road near Jagdishpur in Amethi district of Uttar Pradesh witnessed a huge crowd. They sometimes chanted a single slogan "wahabiyonki na imamat qabool na qayadat qaboolhai." (Neither do we accept religious leadership by Wahhabis nor do we accept their political guidance).
The gathering, titled the Sunni Conference, was organized by the All India Ulema and Mashaikh Board, a leadership body of Sunni Sufi Muslims, who constitute more than 80 percent of the Muslim population of India.
The growth of extremism in the country was the main subject along with representation of Sunni Sufi Muslims in Muslim bodies like Hajj Committees and Waqf [endowment] boards, and government bodies requiring Muslim participation, like the Maulana Azad Education Foundation and Minority Finance and Developmental Corporation.
AIUMB has been active for a decade in educating Muslims about the sorry state of affairs imposed on them by a small group of people who have hijacked representation of the community. AIUMB has been enlightening them about ways to oppose this.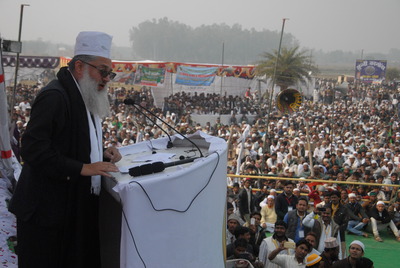 Maulana Syed Mohammad Ashraf Kichowchhwi addresses the Jagdishpur conference. Photograph by AIUMB.
Hazrat Maulana Syed Mohammad Ashraf Kichowchhwi said that it is known that the Sufi shrines, khanqahs, astanas and dargahs are spiritual centers revered by all, including non-Muslims, and so the heads of the spiritual centers found it necessary to come out, to save the country and the community from an extreme alien ideology which is destroying the social fabric and creating social strife.
He was critical of government apathy towards the community which is proud to be the second largest Muslim population in the world.
Maulana said that the time has come when the Indian union and state governments will have to change their view and stop seeing Muslim issues from the eyes of Wahhabi/"Salafi" elements who have grabbed high positions in Muslim bodies and government bodies requiring Muslim participation.
The conference was addressed also by Syed Mehdi Mian and Syed Abdur Rab (Chand Mian), Maulana Ansar Raza, Syed Sayedul Anwar Syedi Mian, Maulana Junaid Khan, Maulana Syed Alamgir Ashraf, Maulana Nooruddin Asdaq, Maulana Shakil Misbahi, Syed Aamir Masoodi, and Syed Tanvir Hashimi.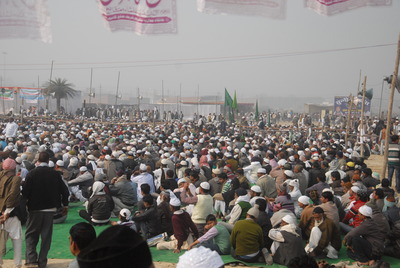 Audience at the Jagdishpur conference. Photograph by AIUMB.
Jagdishpur Sunni Conference Leading Participants
1. Hazrat Maulana Syed Mehdi Mian Moini Chishi, Chief Patron AIUMB & Gaddi Nashin Dargah Ajmer Sharif
2. Hazrat Maulana Syed Mohammad Ashraf Kichhouchhwi, Founder & President AIUMB
3. Syed Babar Ashraf, General Secretary AIUMB
4. Syed Hasan Jamee, National Secretary AIUMB
5. Hazrat Maulana Shah Ammar Ahmad Ahmadi Nayyar Mian, AIUMB president for Uttar Pradesh (U.P.)
6. Hazrat Maulana Syed Alamgir Ashraf, AIUMB president for Maharashtra
7. Hazrat Maulana Syed Tanveer Hashmi, Bijapur, Karnataka
8. Hazrat Maulana Syed Nooruddin Asdaq, AIUMB vice-president for Bihar
9. Hazrat Maulana Syed Meraj Ashraf-Sajjada Nashin Jais Sharif and Patron, Faizabad Commissionary
10. Hazrat Maulana Syed Shahid Mian Moini Chishti, President Ajmer Commissionary
11. Hazrat Maulana Syed Mohammad Ahmad Ashraf, Raibarely (U.P.)
12. Hazrat Syed Hasan Ashraf, Kichhouchha Sharif, Ambdedkar Nagar (U.P.)
13. Hazrat Syed Arshad Ashraf, Kichhouchha Sharif, Ambdedkar Nagar (U.P.)
14. Hazrat Syed Ghaus Ashraf, Kichhouchha Sharif, Ambedkar Nagar (U.P.)
15. Hazrat Mufti Syed Waseem Ashraf, Badaun (U.P.)
16. Hazrat Syed Masood Ashraf, Khanqah Faridia, Paighambar Nagar, Barabanki (U.P.)
17. Hazrat Syed Misbah Ashraf, Khanqah Ashrafia, Paighambar Nagar, Barabanki (U.P.)
18. Hazrat Syed Amir Masoodi- Khanqah Rabbania, Banda
19. Hazrat Abul Aas Hasan Misbahi-Khanqah Gulzaria, Amethi (U.P.)
20. Hazrat Mohammad Arif Ali Naqshbandi, Khanqah Sandila, Lucknow (U.P.)
21. Hazrat Syed Shahid Raza, Jamshedpur, (Jharkhand)
22. Jb. Murtaza Husain, Jamshedpur (Jharkhand)
23. Jb. Hasan Raza Taji Rizvi, Member Hajj Committee of India
24. Jb. Abdul Lateef, Imam Jama Masjid Sultanpur (U.P.)
25. Jb. Sufi Sajid Ali Habibi Aasvi, Rai Barely (U.P.)
26. Iftikhar Ahmad Ashrafi, Mudarris Madarsa Kunhati Sultanpur (U.P.)
27. Jb. Ajmal Sultanpuri, Sultanpur (U.P.)
28. Jb. Chaudhry Asad Husain, Mahona, Amethi (U.P.)
29. Jb. Moinuddin Qadri, Lucknow
30. Jb. Mohammad Wasim Akhtar Misbahi, Rudauli Sharif (U.P.)
31. Jb. Syed Mohd. Akmal Ashrafi Kanpur (U.P.)
32. Jb. Syed Faraz Ahmad Aamiri, Khanqah Asar Sharif, Jama Masjid, Delhi
33. Maulana Mohammad Shoeb Aaswi, Allahabad
34. Maulana Mohammad Ishteyaq Qadri, Madarsa Tajul Uloom Ashrafi, Bhikipur, Amethi (U.P.)
35. Qari Mohammad Merajul Hasan Khan, Khanqah Ashrafi Faizunnaim, Jais Sharif (U.P.)
36. Jb. Syed Mohammd Tariq Ahsraf, Jamu Road, Jagdishpur
37. Jb. Syed Neyaz Ashraf Jaisi, Jamia Arbia, Sultanpur (U.P.)
38. Jb. Syed Noor Ashraf Jaisi, Jais, Amethi (U.P.)
39. Jb. Mohammad Suleman, Satthin Sharif, Amethi (U.P.)
40. Jb. Mohammad Mahmood Akhtar Qadri, Darul Uloom Habibia Gulshane Raza, Raibarely
41. Jb. Mohammad Zakir Husain, Tiloi, Amethi (U.P.)
42. Jb. Mohammad Meraj Raza Qadri-Barabanki (U.P.)
43. Maulana Shahbaz Anwar Ashrafi, Darul Uloom Jais, Amethi (U.P.)
44. Maulana Nasirul Islam Ahmad Qadri, Amethi (U.P.)
45. Jb. Mohammad Nizamuddin, Mahona, Amethi (U.P.)
46. Jb. Ziaul Mustafa Barkati, Jamia Mustafa Qadria, Ibrahimpur, Sultanpur (U.P.)
47. Jb. Qurban Ali, Mudarris Jamia Mustafa Qadria, Ibrahimpur, Sultanpur (U.P.)
48. Jb. Mohammad Faizan Raza, Pure Gauhar, Amethi (U.P.)
49. Jb. Mehdi Hasan Khan, Graiter Noida (U.P.)
50. Jb. Maulana Mohammad Ashfaq, Jamia Ashraful Uloom, Nawazgarh, Amethi (U.P.)
51. Jb. Maulana Mohd. Akhlaq , Madrasa Misbhaul Uloom Nizamia, Saraon, Amethi (U.P.)
52. Jb. Master Meraj Ahmad, Kanpur (U.P.)
53. Jb. Syed Abdul Aziz, Gujarat
54. Jb. Syed Suja Ashraf, Sultanpur (U.P.)
55. Maulana Zahid Nizami, Barabanki (U.P.)
56. Maulana Mashooq Ahmad Ashrafi, Rasoolabad, Amethi (U.P.)
57. Maulana Abdul Khaliq Khan Ashrafi, Sultanpur (U.P.)
58. Maulana Nadim Akhtar, Darul Uloom Ghausia, Mohanganj, Amethi (U.P.)
59. Maulana Mahboob Alam Barkati, Jamia Mumtazia, Kunda, Pratapgarh (U.P.)
60. Qari Sakhawat Husain, Sambhal (U.P.)
61. Jb. Asad Ashrafi, Moradabad (U.P.)
62. Jb. Syed Anwar Ali Badaun (U.P.)
63. Qari Amir Raza, Moradabad (U.P.)
64. Qari Rahat Ali, Sambhal (U.P.)
65. Qari Margoob Husain, Sambhal (U.P.)
66. Maulana Wasi Ashraf, Sambhal (U.P.)
67. Maulana Qutubuddin Khan, Mahona, Amethi (U.P.)
68. Maulana Ghulam Dastagir, Ranchi (Jharkhand)
69. Jb. Mohammad Ali, Bikaner (Rajasthan)
70. Jb. Abdussattar, Bikaner (Rajasthan)
Related Topics: Wahhabism, WahhabiWatch receive the latest by email: subscribe to the free center for islamic pluralism mailing list