Without the permission of Waqf members, Waqf property should not be used by others

Celebrating Indian Republic Day
by Abdul Moid Azhari
All India Ulema and Mashaikh Board
January 26, 2014
http://www.islamicpluralism.org/2339/without-the-permission-of-waqf-members-waqf

In a meeting organized by the All India Ulema and Mashaikh Board at Johri farm, Jamianagar, it was agreed that the best way to celebrate Republic Day, the national Indian holiday, is to save the land from hateful preaching, so that Muslims across India will reject and rebuff hardline Wahhabism and work to promote peace, harmony, and brotherhood as the heritage of India.
On the eve of Republic Day, a memo was sent to the Honorable President [Pranab Mukherjee], in which Indian Muslims asked the highest supreme constitutional Indian bodies to take a direct interest in Muslim affairs. The All India Ulema and Mashaikh Board, a representative body of 80 percent of Indian Muslims said they will not tolerate the interference of unwanted people who take the name of Islam but who are actually not Muslims. It may be that in the Government of India or local Government of Delhi some bad people are betraying Muslims in the name of Islam, for their vested interests, under the influence of corrupt leaders of other countries.
AIUMB General Secretary Syed Babar Ashraf pointed out in his speech the engagement of corrupt and evil people, who are against peace, in the national Waqf [Islamic pious endowment] board.
He said, "The government must chose only responsible people for these boards and committees who are committed to unity and peace among the communities, but political pressures make them appoint wrong people to these posts. If Waqf property is handed over to the any person illegally unaffiliated with that Waqf it's a crime". He further added that the National Waqf Development Corporation may prove to be a boon if manned and managed by loyal Indian Muslims, i.e Sufi Sunnis, and if given to those working on behalf of extreme foreign funded organizations will prove to be a bane.
He further added that Burari camp, managed by the Delhi Urs Committee [for celebrations of mawlid, the birthday of Prophet Muhammad sallallahualeyhisalem] is solely a Sufi affair but the former Delhi local Government handed over this event to those loyal to their politics, not to the community. He also sent a memorandum on both issues to the concerned Ministers of the Central Government and Delhi Chief Minister Mr. Arvind Kejriwal, in which the AIUMB demanded they tackle these issues seriously, which are crucial for 15+ crores [150 million] Muslims in India.
The AIUMB Vice-President for Delhi, Syed Faraz Ahmed Amiri Chishti, said it is a historic fact that all the Waqf properties belong to Sufis, who are peace-loving, but at the behest of extreme organizations their management has been given to those who don't care about the intention of the Waqf's creation, but utilized these places to promote extremism, which is rejected by Indian Muslims to whom the political parties will not listen.
The AIUMB General Secretary appealed to all the Indians to please join with your families and friends to celebrate India's Republic Day. Enjoy Cultural Programs, reflecting not only the diversity of India but the unique way to reject extremism in our beloved nation.
Abdul Moid Azhari
Delhi Spokesman, All India Ulema and Mashaikh Board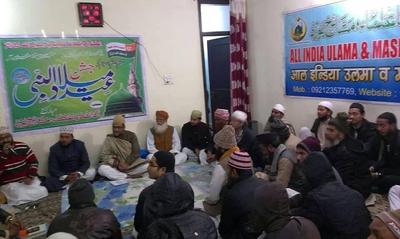 AIUMB meeting, 22 January 2014. Photograph by AIUMB.
Related Topics: Pakistan, Wahhabism, WahhabiWatch receive the latest by email: subscribe to the free center for islamic pluralism mailing list