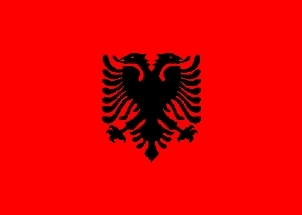 The flag of the Albanian nation.
Prishtina
The name of Alma Lama, a feminist political leader in the Balkan republic of Kosova, is unknown to Americans and Western Europeans. That is unfortunate, because Lama has taken a necessary, strong stand in favor of women's rights. Although Kosova is under U.S. protection, the legacy of Yugoslav Communism and recent radical Islamist infiltration have merged to foster incidents of aggression against dissenters.
Ostracism is a common form of intimidation employed by the Stalinist left. While fascists and Islamist extremists act typically against their opponents by direct physical assault, Stalinists in the West have reserved such crude methods for the few opponents they consider genuinely dangerous to them. They prefer, when they can, to isolate their critics by oral slander and gossip, supplemented by printed libels, with the aim of discrediting them and preventing a wider audience from paying attention to their views.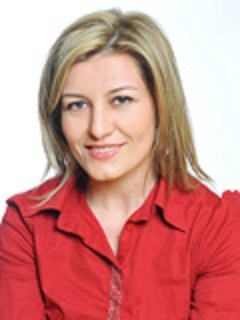 Alma Lama.
Alma Lama, interviewed in Kosova in late in February, represents such a case. Born in Albania, she graduated from the University of Tirana in language and literature, then in 2002 went to Kosova, where she contributed to media agencies[1]. She also visited the U.S., honing her professional skills by participating in the Women in Public Service program sponsored by the State Department at Wellesley College, in 2012. Mainly, however, she worked for leading Albanian language media, including the public Radio Television Kosova (RTK) and the most popular broadcaster in Albania, Top Channel; and she became known as a promoter of investigative reporting in the Western style, basically unknown in the region.
Lama was then solicited in Kosova to join the Self-Determination Movement, led by a charismatic radical philosopher, Albin Kurti, who had been active in the political wing of the Kosova Liberation Army (KLA) during the 1998-99 NATO intervention, and was imprisoned in Serbia after the war. He launched the Self-Determination Movement (known in Albanian as LVV) in the first decade of the 21st century, with a message of resistance to foreign meddling in Kosova -- a message welcomed by many.
It was often said, before the decline of professional journalism and the rise of advocacy polemics, that journalists should not work for politicians or become political activists themselves; many referred to such actions as "crossing the line." But as public attitudes polarized, such instances became common, and the temptation to become involved in "a cause" has been strong, especially in ex-Communist countries such as the successor states of former Yugoslavia. Moreover, the Serbian onslaught against the civilian populations of Slovenia, Croatia, Bosnia-Hercegovina, and Kosova compelled journalists to take sides.
To many, including Lama, Kurti seemed the only honest political figure in Kosova. She joined LVV, and when the movement became an electoral party and presented her among its candidates for the Assembly of Kosova, the national legislature, she was one of 12 members elected in 2010. The success of LVV at the ballot box was a surprise to some observers, who had not realized the depth of the disaffection Kosovar Albanians felt toward local politics.
Lama remained an LVV deputy in the Assembly until 2013, when she broke with its parliamentary delegation[2]soon after Kosova Muslim women were assailed by an Islamist extremist, Imam Irfan Salihu. Salihu was relieved of duties at his mosque in the southern Kosova spiritual center of Prizren, as described in The Weekly Standard in June 2013, after he erupted in a diatribe against Kosova Muslim women, whom he deemed insufficiently observant of Islamic morals as he prescribed them. He railed against them as alleged "prostitutes" and called on husbands to abandon them. Salihu criticized only the supposed immorality of women, not of men.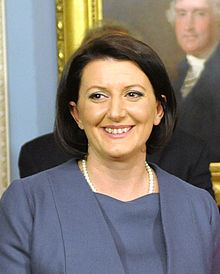 Atifete Jahjaga, President of the Republic of Kosova.
Although its population is at least 85% Muslim, Kosova is defined constitutionally as secular. For example, the headscarf and religious instruction are excluded from public schools. Women including Kosova president Atifete Jahjaga are prominent in official capacities, but dress according to fashionable Western norms. Salihu was condemned by women from the three main parties in the Assembly. Lama, representing LVV, Teuta Sahatçiu from LDK, and Vlora Çitaku, the Kosova minister for European integration and a former deputy from the Democratic Party of Kosova (PDK), which is made up of prominent KLA leaders, joined other female Assembly members in denouncing Imam Salihu.
Lama, however, said she was then shocked when LVV leader Kurti, who had been known throughout his career as an atheist, proposed a political opening to a tiny Islamist entity, the Justice Party (PD), which had only three seats in the 120-member Assembly and was apparently modeled on the Turkish Justice and Development Party (AKP) of Recep Tayyip Erdoğan. Kurti and LVV refused to defend Lama against attacks by the Islamists, and, according to Lama, LVV further called for protecting the headscarf and introducing religious lessons in state schools, just as the Islamists demanded. Lama, who says she is not religious but respects the rights of believers, stated that as a feminist she refuses to accept any compromise with restrictions on women's dress or other habits.
The shift by Kurti toward the Islamists, coming so quickly after the crude assault on the reputation of Kosovar Muslim women by Salihu, was not only surprising, it seemed both opportunistic and unproductive. An alliance with Islamists would not improve LVV's political chances, but could harm its credibility as a principled party. (Kurti and the rest of the LVV leadership, previously cooperative with media efforts, have failed to respond to requests for interviews.)
In addition, Lama said, "The influence of Wahhabis and the Muslim Brotherhood is political suicide for Kosova." She explained a paradox about life under past Serbian rule that had previously been mystifying: the terror regime of Slobodan Miloševič had allowed mosques to remain open in Kosova, meanwhile expelling local Albanians from their jobs, excluding them from schools, and denying them health care. The intention of the Serbs, according to Lama, was to divide the Albanians along religious lines and to reinforce the image of the latter as Islamists.
Lama's rejection of complicity with Islamists is hardly unique in her environment. On February 19, media in Albania and Kosova published an interview with Veton Surroi, a leading journalist and author; it was entitled, "The 'anchor' of the Albanians must be set in Berlin, not in Ankara." He criticized the regional intrigues of the current Turkish administration, noting drily that, "the Erdoğan idea of democracy is rather different from that of Europe."
Similarly, on February 24, Koha Ditore [Daily Times], the high-quality Kosova journal of record, founded by Surroi, printed a column by Ramiz Lladrovci, "Serbian ideology and Wahhabism, two major risks for Kosova;" it warned that, "the Islamist movement, oriented firmly toward Wahhabism… is already present in Kosova, but is advancing, with its leaders, both known and unknown, becoming more aggressive, and more vocal in their interference in people's lives... political leaders, even including Albin Kurti, take care not to offend such groups." Lladrovci charged that officials of Serbian intelligence agencies, whom he identified by name, had long established a network of collaborators inside the Kosova Islamist movement.
Her former party associates insulted and shunned her, after Muslim radicals threatened her on e-mail and social networks. People who had been trusted as friends responded to mention of her with crude slurs. One said that someone should "nail" her, and topped it with unprintable sexist epithets. When reminded that in America "nail her" also has a sexual connotation, he said, "Do that, too." Another accused her of being anti-Muslim, although a leading Kosovar Sufi was quick to express his respect for her.
Lama pointed out that the propaganda against her by Muslim radicals alleged she had become an apostate from Islam, and deserved the death penalty. Although she is an elected legislator, she requested police protection, which continues. At the end of the interview, she mentioned her anxiety about going home on her own late at night.
Notwithstanding the defamation she faces, Lama continues working productively and conscientiously for her fellow-citizens. Last year, the Kosova Assembly passed a law she had written and proposed, to shield journalistic sources -- perhaps the most advanced such regulation anywhere in the world. The shield law covers "printed media (including brochures, posters, leaflets, magazines and newspapers), film/video records, radio transmissions and television transmission, audio recording and reproductions, transmissions of services by messages." Its guarantees extend to "cameramen, photographers and their support staff, such as drivers and translators, etc.," as well as self-employed news-gatherers. Safeguards are established on all work materials including "documents, notepads, sound or film cassettes, recordings, video, photographs or other unpublished means."
It further establishes a right to silence by journalists for protecting sources, both in court and during criminal investigations. Journalists may be compelled to identify sources only to prevent a homicide, based on a court order, and after appropriate legal arguments. Absent such a procedure, "searches of houses, buildings of media companies, or any online public communication company, news agency, cars of these companies or agencies, or homes of journalists" are prohibited. Journalistic source content is even shielded when it is received from a third party who has obtained it illegally, if journalists choose to remain silent.
Lama has continued her media dialogue with the Kosova public. On February 24, 2014, in the Kosova daily Zëri [The Voice], under the title, "Building democratic culture," she wrote, "Society in Kosova has two options, either to fight the evils within it, crime and corruption, or to remain on the margins of democratic countries, where failure and dysfunction dominate... [O]rdinary citizens tend generally to shift blame from themselves to politicians, whom they view as the bearers of crime and corruption... but a comprehensive means to exit a corrupt system is required... Votes are said to be for sale – meaning the purchase of intentions and a conscience... [Electoral] commissioners arrange deals among the parties, trade off votes and candidacies, and discuss who pays the most... [Deputies] who are illiterate or have finished no more than middle school, or with criminal records, use the parliament to shelter their crimes."
Her criticism of political venality articulates the grievances heard among millions of people in ex-Communist countries today, most notably in Ukraine, but also in the Balkans, especially Kosova, Albania, and Bosnia-Hercegovina. She warned in Zëri that in Kosova's elections "the cause of democracy has been betrayed by many people, including some who won seats without deserving election to them." She identified the manipulation of the electoral commissioners as the main problem, especially in remote villages where local officials distribute votes in advance among parties. She called for public counting and scrutiny of ballots, by all commissioners acting as a group, in the presence of observers from civil society, as well as the Central Electoral Commission, rather than in the closed company of their party adherents. She pointed out that Albania has adopted such practices, producing a significant increase in electoral transparency. Finally, she warned that foreign embassies in Kosova cannot secure the integrity of voting, and that no international power can erect a democratic state or culture in Kosova, despite the vast payments they have distributed there.
Lama concluded, "The time is now for every citizen to be held accountable in the vote, to abandon the mentality of voting according to family or clan affiliation, for young people to clean up the parties, with each party renouncing the deformation of the citizens' wishes, and for all institutions to guarantee fully elections that are free and fair, while they now stand at the edge of crisis."
She deserves support around the world.
[1] Such as the Institute for War and Peace Reporting, United Press International, The Washington Times, and BBC News.
[2] After some months as an independent legislator, she eventually joined the conservative, non-violent Democratic League of Kosova (LDK), which unlike LVV and other leading forces in government, had not been involved in the KLA.
Note: An Albanian-language text of this article is accessible at http://www.islamicpluralism.org/2362/kercenimi-i-islamit-radikal-ne-kosove.
Shënim: Teksti në gjuhën shqipe i këtij neni është i arritshëm në http://www.islamicpluralism.org/2362/kercenimi-i-islamit-radikal-ne-kosove.

We Are One.
Related Topics: Albanian Muslims, Balkan Muslims, Bektashi Sufis, European Muslims, Kosovo, Macedonia, Montenegro, Muslim Brotherhood, Wahhabism, WahhabiWatch receive the latest by email: subscribe to the free center for islamic pluralism mailing list