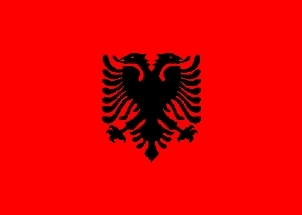 The flag of the Albanian nation.
On September 8, about 20 members of the Kosova Democratic Youth, a wing of the Democratic Party of Kosova (known by its Albanian initials as the PDK), set fire to an "Islamic State" [IS] flag in Prishtina, the country's capital. In doing so, they participated in a campaign that began in Lebanon and has swept Arab countries, called the #BurnISISFlagChallenge, and inspired apparently by the "ice-bucket challenge" to support medical research. The PDK is the dominant political force in the Balkan republic, and is led by veterans of the Kosova Liberation Army (KLA) in the 1998-99 war.
The flames of the banner led to arguments by some representatives of Islam in Kosova that "the flag is being used unjustly and it is being misused by ISIS, a terrorist organization which allegedly acts on behalf of Muslims; however, this does not give the right to anyone to desecrate Islamic symbols or symbols of any other religion." Still, the Kosovar Albanians who destroyed the emblem of brutality did not apologize. They said their protest was directed against criminality by terrorists, not religious feelings among ordinary Muslims, according to Kosova state radio-television broadcaster RTK.
Meanwhile, the international resurgence of ultra-Wahhabi terrorism continues to grow. In Syria and Iraq, it takes the form of the so-called Islamic State. In Western Europe, a veteran of the war in Syria, French citizen Mehdi Nemmouche, remains in jail as the alleged killer of four people in an attack on the Jewish Museum of Brussels in May.
In Pakistan, a "new" local terrorist group has been summoned to action by Ayman Al-Zawahiri, the successor to Osama Bin Laden. The band's members call themselves, "Al Qaida in the Indian Subcontinent," and have asserted that they hijacked the Pakistani naval vessel Zulfiqar on September 6. The Pakistani ship was commandeered in an attempt to fire on U.S. naval ships in the Arabian Gulf, but the attack was thwarted by loyal Pakistani sailors. The Voice of America cited the Pakistan Taliban as claiming the terror assault was assisted by "insiders." Pakistan has arrested some naval personnel as suspects in the plot.
In recent developments, on September 16-17 in the Lyon region, France detained six recruiters of young Muslim women to fight for IS. In Australia, on August 18, 15 people were arrested in a gruesome conspiracy to kidnap and publicly behead random local victims, record their deaths on video, and broadcast them as IS propaganda.
Most political leaders, both in the West and in the Arab states of the Middle East, appear confused as to how they will proceed against IS. Writing in the London Financial Times of September 16, Pakistani commentator Ahmed Rashid warned that while Washington seeks to create a new coalition to rescue Iraq and defeat the bloodthirsty dictatorship of Bashar Al-Assad in Syria, "the U.S. is distrusted, disliked and even hated by all the regimes it is dealing with."
In the Balkans, authorities in Sarajevo, Bosnia-Hercegovina and Kosova have moved quickly against attempts by IS to infiltrate their communities. Bosnia-Hercegovina, partitioned between a Serbian "republic" and a Muslim-Croat "federation," has a Muslim plurality of 40% percent, according to the CIA World Factbook. Kosova has a Muslim majority of at least 80%.
Kosova authorities revealed, on August 11, the arrest of 40 men believed to have gone to Syria and Iraq as jihadist combatants. The Kosova government took action after an image was posted on Facebook by Lavdrim Muhaxheri, a Kosovar Albanian, beheading a Syrian "spy." Shock and dismay swept Kosova, and, as noted by the London Economist of August 21, rumors have circulated that Muhaxheri was killed by Kurdish forces opposing the Wahhabi bandits in Syria or Iraq. The claim has not been confirmed.
Next, in Sarajevo on September 3, officials of the Bosnian State Investigation and Protection Agency [SIPA] announced the arrest of 16 people who they said were "connected to financing, organizing and recruiting Bosnian citizens to depart for Syria and Iraq, and taking part in armed conflicts in Syria and Iraq, fighting on the side of radical terrorist groups and organizations."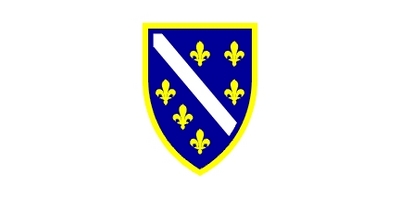 The flag of the Republic of Bosnia-Hercegovina.
The Bosnian raid took place in Gornja Maoča, a north Bosnian village that is a center of Wahhabi fundamentalism. Bosnia-Hercegovina has criminalized fighting or recruitment for jihad, with prison sentences of up to 10 years.
A second Kosova police operation on September 17, as reported by Radio Free Europe/Radio Liberty, pulled in 15 of the most prominent radical Islamists in the republic. They included Fuad Ramiqi, the leader of a political party, the Islamic Movement for Unity (known by its Albanian initials as LISBA), who has been outspoken in support of the Hamas regime in Gaza. In addition, Shefket Krasniqi, imam of the Grand (Imperial) Mosque, the main Islamic religious structure in Prishtina, was held in custody. Krasniqi, known for his vicious hate speech against Mother Teresa, had been interrogated by police two weeks earlier.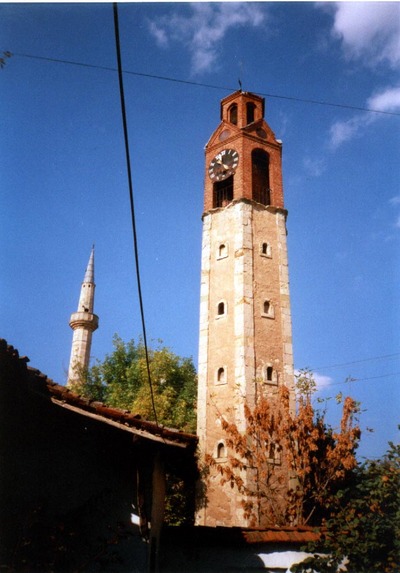 The Ottoman sahat-kulla (clock tower) and minaret of the Grand (Imperial) Mosque, Prishtina, Kosova – Photograph 2000 by Stephen Schwartz.
Radio Free Europe/Radio Liberty stated that others in the group who were rounded up included Enes Goga, imam of a mosque in the western Kosova city of Peja, and Enis Rama, imam of a mosque in the northern city of Mitrovica. Enis Rama is the head in Kosova of Peace TV, an international Wahhabi broadcast enterprise directed from India, Saudi Arabia and Dubai by Zakir Naik, a bombastic radical preacher. Mitrovica is a tense community partitioned by Serbs, who control its northern districts and adjoining region.
The highly-reputable Kosovar daily of record, Koha Ditore (Daily Times), added to the list of those held Mazllam Mazllami, a radical cleric from the southern Kosova city of Prizren, along with an individual from Kaçanik, on the Kosova border with Macedonia, identified only as Sh. K. The last was said by Koha Ditore to be an associate of the previously-mentioned Lavdrim Muhaxheri. Kaçanik has become a center of Islamist agitation, where Muhaxheri claims influence.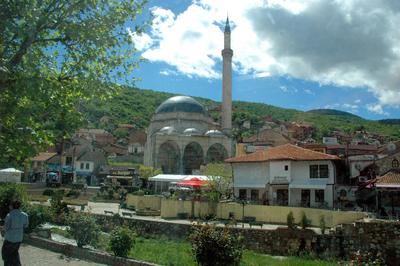 Prizren, Kosova – Photograph Via Wikimedia Commons.
Visar Duriqi, an investigative reporter who has followed the careers of Muhaxheri and other Islamist fanatics in Kosova, has been threatened by radicals and accused of apostasy from Islam. On September 3, Reporters Without Borders, the international monitor of press freedom, warned of the menace facing Duriqi, who works for the Kosova news portal Express.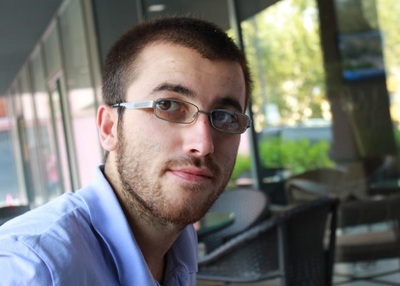 Visar Duriqi.
On September 18, Artan Haraqija, an internet journalist who cooperated with Duriqi to expose radical Islam in Kosova, was said by Koha Ditore to have received death threats after he appeared on local television denouncing religious extremism. The Kosova Association of Journalists (AGK in Albanian), declared, "The AGK expresses concern over such threats and calls on fellow reporters not to fall under the influence of threats. We also encourage Haraqija as well as all reporters to inform law enforcement authorities about such cases."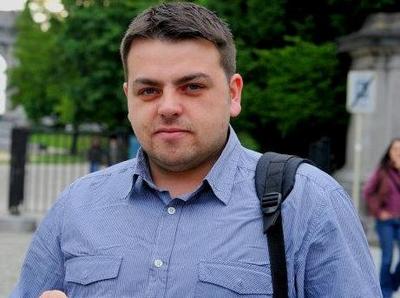 Artan Haraqija.
Kosovar and Bosnian Muslims may prove more reliable allies against the eruption of ultra-Wahhabism worldwide than indicated by the typical indifference of global political and media leaders to their role regarding extremist Muslims. The burning of an Islamic State symbol by Kosovar young people could be eloquent evidence of where Balkan Muslims stand on Islamist fanaticism. They, like the two investigative journalists, Duriqi and Haraqija, deserve to be supported and protected.
Related Topics: Albanian Muslims, Balkan Muslims, Bosnian Muslims, European Muslims, Iraq, Kosovo, Macedonia, Montenegro, Muslim Brotherhood, Muslim-Christian Relations, Takfir, Terrorism, Wahhabism, WahhabiWatch receive the latest by email: subscribe to the free center for islamic pluralism mailing list