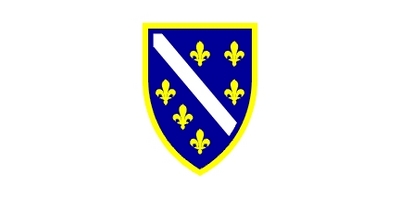 The flag of the Republic of Bosnia-Hercegovina.
Muslim political and religious leaders in Bosnia-Hercegovina, which is partitioned between a "Republic of Serbs" and a "Muslim-Croat Federation," have taken firm measures to stop agitation and recruitment for ISIS.
On February 7, according to the Al-Arabiya television network, Bosnian police raided the country's notorious center of Wahhabi fundamentalism, the northern village of Gornja Maoča. The law-enforcement action came after Bosnian Federation Television showed images of ISIS flags displayed in the settlement. (The ISIS ideology is an especially virulent form of Wahhabism.)
Al-Arabiya portrayed Wahhabism as an ongoing problem in Gornja Maoča. A small group of Bosnian and foreign fanatics, who had been present but without significant impact in the 1992-95 Bosnian War, were encouraged to move to the isolated location after the fighting ended, apparently to keep them away from large groups and make them easier to monitor. In 2010, Gornja Maoča was swept by Bosnian police. But in 2011, a Muslim with Serbian citizenship who had passed through the extremist colony, Mevlid Jašarević, fired at the U.S. Embassy in Sarajevo with an automatic weapon.
In 2014, recruitment for or service in combat abroad – meaning in Syria and Iraq – was criminalized by the Bosnian government, with provision for 10-year prison sentences. In Gornja Maoča, 26 people were detained on suspicion of assisting ISIS. The trial of one among them, Husein Bosnić, began in Sarajevo on February 11, 2015.
As described by Radio Free Europe/Radio Liberty, Bosnić was charged by state prosecutor Dubravko Čampara with having incited Muslims, in public events and on video, to support ISIS. Čampara declared that six people Bosnić sent to Syria had been killed but that others, who are believed to still be there, "represent a threat for security in Bosnia once they return." RFE/RL and other sources estimate that some 180-200 Bosnians have gone to ISIS-occupied territory, with 20-40 killed and 50 returned to the Balkans. Čampara said Bosnić benefited from a "significant amount of money" donated in Arab countries.
Meanwhile, on February 17-18, in a fresh police operation at Gornja Maoča, six people were detained for involvement with ISIS. Their names deserve to be recorded since they may become newsworthy again. They include Nevad Hušidić and Merin Keserović, youths from the remote northwestern district of Velika Kladuša. The two were nabbed at Sarajevo's airport as they attempted to fly to Istanbul en route to the Syrian border. Edin Tabaković was arrested in his apartment in Sarajevo.
Additionally, Husein Erdić, Ramiz Ibrahimović, and Alaudin Ibrahimović were seized in the small city of Maglaj and the remote frontier town of Bužim. The latter is known for Wahhabi agitation but is not under the strict Wahhabi domination seen in Gornja Maoča. Ramiz Ibrahimović is said to have fought in Syria. His son Alaudin Ibrahimović, now 23, is reported to have lost his hands and an eye in a bomb explosion when he was eight. In the environs of Zenica, a large city, Midhat Trako was taken in on suspicion of financing terrorism.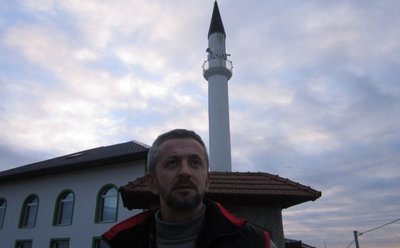 Imam Selvedin ef. Beganović at his mosque.
Selvedin Beganović, a moderate cleric and opponent of Bosnić from Trnovi, a hamlet in the Velika Kladuša "hot zone," has suffered four physical attacks by Wahhabis in the past month and a half. Most recently, on Sunday, February 22, he was stabbed three times, but survived. Bosnian police held four people believed to be involved in the latest incident. Last year, Beganović issued an open letter against recruitment for ISIS. Attacks on anti-radical clerics are a new and shocking phenomenon in Bosnia-Hercegovina, though they have occurred for some years in nearby Kosova.
Unfortunately, ISIS has also attracted enthusiasts in the Bosnian-American community, which has its largest concentration in St. Louis. Four Bosnians residing there were among six indicted on February 5 for conspiring to provide financial and military assistance to ISIS, the Nusra Front, and Al Qaeda in Iraq. Ramiz "Siki" Hodžić, 40, Sedina Hodžić, 35, and Armin Harčević, 37, of St. Louis, have pleaded not guilty. Mediha Medy Salkičević, 34, of Schiller Park, Ill., a Chicago neighborhood, is to be transferred to Missouri jurisdiction. Nihad Rosić, 26, comes from Utica, New York. The last of the defendants, Jasminka Ramić, 42, was caught in Germany.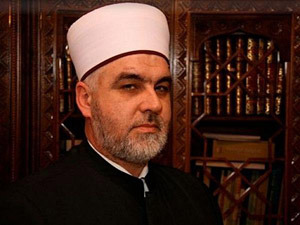 Bosnian chief Islamic cleric (reis-ul ulema) Husein efendija Kavazović.
The Bosnian Muslim clergy have taken a strong position against radical Islam in general, and not just that of ISIS. On February 7-8, the Sarajevo daily Oslobođenje (Liberation) published an extensive interview with Husein Kavazović, who, since 2012, has served as the head of the country's Islamic clerics. Kavazović impressed Bosnian and European opinion by the clarity with which he denounced the Charlie Hebdo attack as "the terrorism that occurred in France." He affirmed, "Crime should be condemned as crime... the victims were innocent. It should be condemned without any 'buts.' It should be condemned and the matter closed. It was a crime."
Referring to the accused ISIS operative Bosnić and others like him, Kavazović said, "None of those who call for violence and acts of violence can stand shoulder to shoulder with our imams and Islamic Community. That is definite. We must say that we cannot accept advocacy of exclusivity, radical views and incitement to violence. And we must condemn them."
Asked how to stop recruitment of Bosnians to fight for ISIS, Kavazović replied, "We have a state. The state must prevent it. The Islamic Community must condemn it and authorities prevent it. We have to say clearly that it is wrong. The Islamic Community should speak, and the government must do its job. It must prevent it."
Kavazović has made a significant change in Bosnia's Muslim institutions by inviting women into all its leading bodies. In the recent interview, he insisted that the participation of women was necessary at all levels, including mosque administrative committees. He advocated speedier reforms in Bosnian political life, to enable entry into the European Union. He emphasized that Islamic officials had assisted local Serbs in dealing with floods in Bosnia last year, and that the Muslim leadership looks forward to a Sarajevo visit by Pope Francis in June 2015.
In sum, Bosnia's Muslim luminaries have taken an exemplary position against radical Islam. Let's hope they are emulated by other Muslims.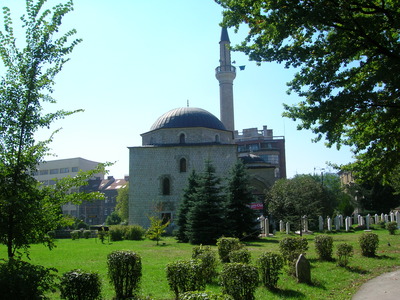 The 16th c. C.E. Alipaša mosque, Sarajevo -- Photograph Via Wikimedia Commons. The most beautiful and moving site in the city. Fatiha for the heroes interred there.
Related Topics: Albanian Muslims, American Muslims, Balkan Muslims, Bosnian Muslims, European Muslims, German Muslims, Iraq, Kosovo, Takfir, Terrorism, Wahhabism, WahhabiWatch receive the latest by email: subscribe to the free center for islamic pluralism mailing list