Press Release and Summary of Memorandum
New Delhi, 13 June 2015
[Addressed to the President and Prime Ministers of India, with 12 other high officials of Government]
The Jantar-Mantar Peace Protest
The Sufi Voice of India (SUVOI), a prominent body of Sufi Sunni Muslims, has been engaged in uplifting the community, educating them on all social, educational, cultural and other issues and highlighting their plight. It calls for necessary actions from the government and other authorities. We have organized huge conferences (Maha Panchayats) and smaller gatherings in many parts of the country. Sunni conferences and Maha Panchayats have passed resolutions which have been forwarded to government authorities, but no tangible results have been seen as yet.
In a continued effort to reaffirm our stated position, we have once again organized a mass protest in a peaceful and democratic manner at Jantar-Mantar on 13 June 2015. It was organized to demonstrate the mainstream Indian Muslims' anger against the impending dangers of the extremist Wahhabi ideology in our peaceful country.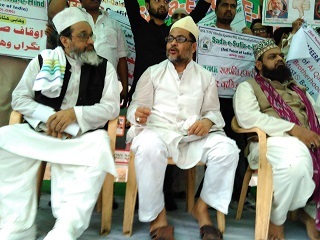 Sufi leaders at the Jantar-Mantar protest.
Misuse of Waqf [Religious Endowment] Boards/Property -- State Waqf Boards are the biggest tool to promote extremist Wahhabi ideology:
Waqf Boards in India are organizations constituted by the government to manage the affairs of Waqf properties, especially mosques, graveyards, khaniqahs, astanas and dargahs (Sufi shrines). They are also there to ensure that Waqf properties are not utilized against the will of the endowers. But regrettably, these bodies been subjected to the worst exploitation in past and present.
The Waqf Boards have become a hub for propagation of extremist Wahhabi Ideology. They capture mosques with the help of Waqf Boards and use them to propagate their extremist, radical and exclusivist ideology for nefarious political ends, thus exposing national and internal security to danger. This nexus between Wahhabi organisations and government and semi-government bodies is damaging the Indian Sufi cultural heritage.
SUVOI in this mass protest at Jantar-Mantar demands that no Wahhabi (Deoband/Nadwi/Salafi/Ahle Hadith) adherent should be elected/nominated/appointed to the Waqf Boards, in the interest of the nation and of Muslims. It is the duty of the government to ensure that places under the supervision of Waqf Boards are used to propagate peace and harmony as per the will of the endowers, not for propagation of hatred or extremism in the society, as has been the case during all these decades of independent India.
Misuse of Mosques:
That Waqf Boards have become the biggest tool to promote Wahhabism, i.e. extremism, on Indian Soil must be taken seriously. Therefore, SUVOI demands that a government order/directive be issued forbidding residence by anyone other than the appointed mutawalli [mosque trustee], imam and muezzin in the premises of a mosque.
Wahhabi Takeover of Waqf Boards:
The following incidents give us a silhouette of the nexus between Wahhabi organisations and the Sunni Central Waqf Board (Uttar Pradesh) and the Delhi Waqf Board.
These are some of the mosques, for instance, that were previously managed by Sufi Sunnis. But Wahhabi forces, with the allegiance of Waqf Boards, were able to usurp them:
1. Masjid Gauri Bibi, Waqf-56, mosque at Qaiserbagh, Lucknow;
2. Masjid-Maqbara Peeron Wali, Khasra No. 242 (area 2 bigha 15 biswa) Village Lado Sarai, Mehrauli, New Delhi, Near Qutub Minar Metro Station;
3. Eidgah Chattarpur;
4. ASI mosques.
SUVOI demands that the extremist Wahhabis' hegemony over the above mosques and Eidgahs be ended with full effect. We demand that the management of all the above age-old Sufi Endowments be handed over to SUVOI, which is the true representative of the Sufi Endowers in India, and not the Wahhabis who are too young to lay any claim on them. It will bring justice to the will of the Sufi Endowers.
Review of Islamic Curriculum and Faculties:
This protest at Jantar-Mantar resolved to demand from the Government of India and state governments of India that the curriculum prescribed to teach Islamic theology (Islamiyat) from primary school to University level be reviewed. Radical changes must cleanse the curriculum of extremist, exclusivist and xenophobic attitudes to represent a true and clear picture of history and teachings of Islam.
A University dedicated to the name of Mahboob-e-Elahi (Hazrat Nizamuddin Aulia) should be established to propagate Islamic thought based on Sufi Culture. Also, the Gharib Nawaz Arabi-Farsi University in Lucknow (UP) should be reconstructed and made a centre of excellence in Islamic studies.
Mainstream Muslims' Problems during Hajj:
SUVOI demands that the mainstream Sufi-minded Indian Muslims be allowed to perform Hajj, Ziyarat (pilgrimage) and Ibadat (Prayer) according to the narrative of faith they profess and have practiced since the advent of Islam all over the world. It was disturbed only 250 years ago when the radical cleric Ibn Abd Al-Wahhab Najdi produced an extremist and religio-fascist ideology to disturb and destroy the age-old Muslim culture and heritage.
SUVOI demands that the Hajj House in Delhi and Hajj Committees in other states be sanitized from Wahhabi Saudi elements and that the Kingdom of Saudi Arabia be made to ensure that Indian Muslims are freely allowed to practice all the rituals of Hajj, Ziyarat and Ibadat in their way.
Mentors of Extremism: Sponsoring Radicalism
The radical mentors of religious extremism such as Yusuf al-Qaradawi, Recep Tayyip Erdoğan and the emir of Qatar, Tamim bin Hamad Al-Thani, are actively engaged in implanting their exclusivist agendas through the International Union of Muslim Scholars in more and more countries with Muslim populations... The Muslim Brotherhood has oppressed the Egyptian people brutally. Coptic Christians were intimidated and threatened to such an extent that some emigrated to other countries.
What Steps Should India Take to Counter Extremism?
Most importantly, the oldest Sunni-Sufi Islamic institution, Al-Azhar University, has denounced the Wahhabi ideology of terror. The head of Al-Azhar, Ahmad al-Tayeb, declared the Wahhabi interpretation of Islamic theology to be the root cause of violent extremism in the Muslim world. Therefore, he called for a radical change in the curricula.
Further Practical Measures:
Ensure freedom of Waqf Boards from Wahhabi/Deobandi influence;
Appoint renowned Sufi Muslims as members of Waqf Boards;
Educate the Muslim youth with enhancement of skills for productive employment;
Modernise medresas and ensure that government support is limited to those medresas that teach science, mathematics and other subjects to their students, apart from religious education;
Review of study material and content by a board of renowned Sufi leaders;
The Wahhabi faction does not believe in shrines or dargahs, which they treat as places of idol-worship. They should be removed from any position whatsoever in dargahs, shrines and khaniqahs, which belong to Sufis;
Waqf laws should be modified to allow all Muslims to establish and control their mosques without interference of Waqf Boards unless the mosque is created on Waqf property and the Waqf registration considers the will of the waqif in establishing a Waqf for the mosque;
Waqf Boards should be compelled to establish a technology-based system of maintaining their records to avoid misplacement of Waqf property documents, and such records should be made searchable by the public in the way company records are searchable online under official regulations;
Waqf Boards, Urs Committees, the National Minority Commission, Hajj Committee and other Muslim bodies should be compelled to embrace modern technology and become transparent, with appointment to such bodies also made transparent;
We further state that this problem is still curable as most Sunni Sufi Muslims, also called Barelvis, are deeply uncomfortable with the growing influence of the Wahhabis and are of the view that the spread of Wahhabi radicalism needs to be checked — for the good of the community and the country. We urge the government to support the Sufi cause and join hands with Sufi organizations to curb the menace of Wahhabi extremism from this country.
Signed by Syed Babar Ashraf and 11 other Indian Sufi Leaders.
[The full text of the Memorandum on the occasion of the Jantar-Mantar protest is extremely enlightening, and is available from the Center for Islamic Pluralism.]
Related Topics: Central Asia, Deobandism, Muslim Brotherhood, Muslim-Christian Relations, Saudi Arabia, Takfir, Terrorism, Turkish Islam, Wahhabism, WahhabiWatch receive the latest by email: subscribe to the free center for islamic pluralism mailing list