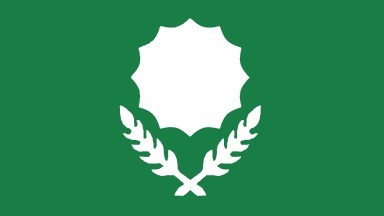 The flag of the Bektashi Sufi order – Illustration Via Flags of the World.
In Muslim communities from the Balkans through Central Asia, celebration of the festival of Nevruz, also known as Nowruz, Nouruz, Nauryz, and by other spellings, has begun. Nevruz commenced in Iran on March 20, 2014 CE, which is the 19
th
day of Jumaada-L'Ula, 1435, in the
hijri
calendar, and the 29
th
of Esfand, 1392, by the Persian solar calendar.
Sultan Nevruz will be observed as an official Islamic holiday in Bosnia-Hercegovina on March 21. In Albania, where the Bektashi Sufi tradition is influential, Sulltan Nevruz is a national holiday, and will be held on Saturday, March 22. For Bektashis, Sulltan Nevruz marks the birthday of Imam Ali, Peace Be Upon Him. The occasion will be accompanied by pilgrimages to shrines in the Albanian cities of Kruja (the Haxhi Ismail Baba teqe), Cakranit-Fier (the Hambaraj teqe), and the Kapaj-Mallakastër teqe.
Sulltan Nevruz is not only spelled in various forms, it is also described and interpreted differently. It is often called the Kurdish New Year, and those lucky enough to receive Kurdistan Television from Iraqi Kurdistan will be treated to dancing and other commemorations.
But Nevruz will be exalted by many correspondents of the Center for Islamic Pluralism, from the Kurdish diaspora in Western Europe to India.
To all of them we wish a fulfilling remembrance.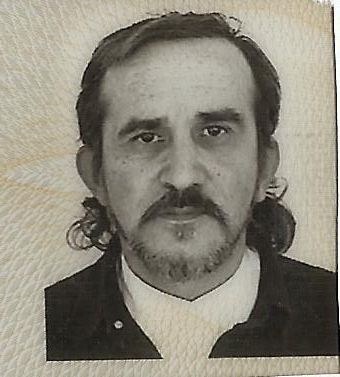 Rahmetli Senad Mičijević, 1960-2013. Fatiha.
For those of us who have worked in Bosnia-Hercegovina, Nevruz will be associated currently with a day of mourning. One year ago, our brother, friend, and shaykh
Rahmetli
Senad Mičijević
of Mostar died, too young. We recall him as a faithful disciple of the Sufi tradition and a tireless researcher into its legacy in the Balkans. Among other achievements, our brother
Senad
taught himself the Albanian language to better learn about Bektashism. His extensive manuscript on Bektashism is now being edited by the blessed Baba Mumin Lama of Gjakova, Kosova, for publication in Bosnian.
Nevruz comes this year, additionally, as Albanian opinion has been drawn by a report in the Turkish Muslim newspaper World Bulletin, claiming discovery of a tomb dedicated to the great Islamic mystic Sari Salltuq, in Plava, a village of the Dragash district, near Prizren in the southern mountains of Kosova, between Albania and Macedonia.
The Turkish newspaper asserted that the mausoleum of Sari Salltuq and the associated Haxhi Hysein mosque are 725 years old and were built by Seljuq Turks, who arrived in the area, according to World Bulletin, prior to the Ottomans.
The periodical declared, "While many think Islamic history of Balkans began with Ottoman expansion in the region, they were not the first Muslim steps in eastern Europe. Centuries ago, Seljuks(,) another Turkish-Muslim community(,) arrived in (the) Balkans and were influential in (the) spread of Islam."
That Muslims entered the Balkans before the arrival of the Ottomans is hardly news. It is questionable, however, that a tomb of Sari Salltuq may be authenticated in the Dragash region, much less one associated with the Seljuq Turks. The photograph accompanying the article in World Bulletin shows a memorial tablet inscribed in the Gorani Slav language, a variety of Macedonian, written in Latin letters. There is no surviving Turkish link with this ethnic minority. While the distinguished historian H.T. Norris, in his 1994 volume Islam in the Balkans, associates Sari Salltuq with a Seljuq warrior, Izzeddin Kaikaus, who entered the Black Sea region of Dobruxha in the 13th century CE, this account is controversial.
One of Sari Salltuq's miracles is said to have been the liberation of Masud, the brother of Izzeddin Kaikaus, from imprisonment by a Byzantine ruler. Masud converted reportedly to Orthodox Christianity, and Izzeddin Kaikaus is credited as the progenitor of the unfortunate Gagauz community, a Turkic nationality of about 140,000 people living on the western coast of the Black Sea and practicing Russian Orthodox Christianity today. Indeed, while the story has been ignored in most Western media, February 2014, saw a referendum in Gagauzia, an autonomous region of independent Moldova, in which local residents allegedly voted to secede from Moldova, reject Moldovan integration with the European Union, and join Russia.
This year's earlier mischief in Moldova by Putin and his clique should be seen as a rehearsal for the invasion and fake referendum staged in Crimea. Russia's adventures in the implantation of puppet regimes to split and undermine its former possessions began in Moldova in 1990 with the imposition of "Transnistria," a phony "republic" unrecognized by any United Nations member state.
In a manner often anticipated by Sufis, the spiritual events of the past have echoes today – in tormented Crimea, under the Russian boot, as well as in Gagauzia.
Sari Salltuq is a major figure in Bektashism. His provenance is Persian rather than Turkish; he is said to have been a disciple of the 12th century C.E. predecessor of Bektashism, Hoxha Ahmet Jesevi. F.W. Hasluck, in his Christianity and Islam Under the Sultans, first published in 1929, identifies Sari Salltuq with Crimean Tatars who emigrated in an Ottoman-sponsored Islamizing expedition in Dobruxha.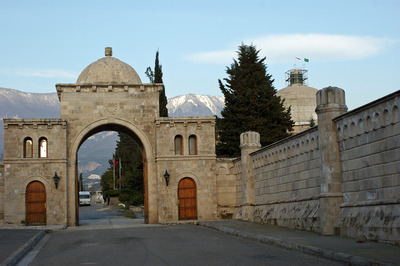 The Headquarters of the Bektashi Sufis, Tirana, Albania.
The World Court of the Bektashi Supreme Grandfather –
Kryegjyshata Botërore Bektashiane
– in Tirana, which is the headquarters of Bektashism, identifies 18 holy sites with Sari Salltuq. In Albania, these are his grave on Shkëlzen mountain near Tropoja; a holy site on Pastrik Mountain, in Hasë; a cave of Sari Salltuq near Kruja; a trail near Kruja; another cave at Mamuras; a special site at Laç; a monument at Shijak; the village of Rade by Durrës; "Salltuq's Stone" at Tepelena, and a location in the Lazaret mountains near Gjirokastër.
Further, the Kryegjyshata certifies remains of Sari Salltuq in Kosova in the region of Zejnel Aga near Peja; near the village of Qyshk; and in the village of Zagatar Opoja, close to Prizren. More of his traces are found at Ohër (Ohrid) in Macedonia; at Corfu in Greece; at a cave in Bosnia-Hercegovina (Blagaj, of which more below); another site in Dobruxha; and a mausoleum in Romania. Of all these, the sanctuaries in Albania, Bosnia-Hercegovina, and Romania are best known.
Our brother Senad Mičijević contributed a study of Sari Salltuq, so far available only in Bosnian, titled "Sari Saltuk – Historija i Mit" ("Sari Salltuq – History and Myth"), presented to the Džemal Bijedić University in Mostar. Brother Senad researched structures associated with Sari Salltuq in great deal, and was especially dedicated to the preservation of the Sufi shrine at Blagaj in Hercegovina, near his home. Blagaj is among the most famous Islamic spiritual places in Bosnia-Hercegovina. It has been rehabilitated recently by Turkish agencies, and I was pleased to note, in a visit during early March, that a plaque installed there now acknowledges its Bektashi origin.
Blagaj is sumptuously beautiful and inspiring for metaphysical Muslims. It is set at the source of the river Buna, below high cliffs, and the sensation of untamed nature enhances its prestige as a shrine to almighty Allah. It is understandable that the Bektashis loved it, that our brother Senad dedicated so much of his life to its preservation, and that it remains a source of delight today, as we begin Sulltan Nevruz – conscious as we are of evil in the world, whether in Crimea, or in Iran where Sufis are persecuted. Sulltan Nevruz has come; Spring has arrived, in Allah's world, not the domain of shaytaans. And Allah knows best, and the will of Allah is evident, true, and can neither be opposed nor thwarted. It is in this sense that the Center for Islamic Pluralism hails Sulltan Nevruz.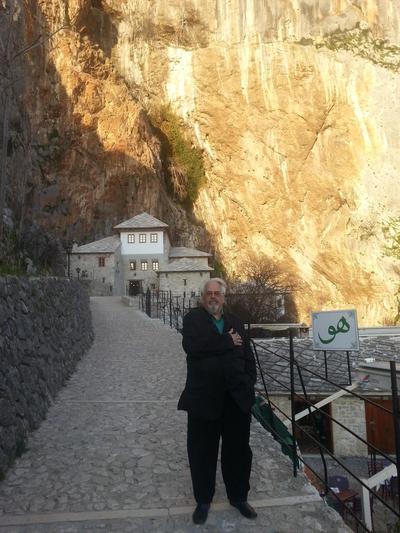 The author at Blagaj, 2014. The placard says "Hu!" -- the Sufi greeting. Photograph by Kamal Hasani, CIP.

Related Topics: Albanian Muslims, Alevism, Balkan Muslims, Bektashi Sufis, Bosnian Muslims, Central Asia, China, European Muslims, German Muslims, Iran, Iraq, Kazakhstan, Kosovo, Kurdish Islam, Kyrgyzia, Macedonia, Moldova, Montenegro, Muslim-Christian Relations, Russia, Shiism, Sufism, Turkish Islam, Uighurs, Uzbekistan receive the latest by email: subscribe to the free center for islamic pluralism mailing list