Latest Documentary by Shahriar Kabir on "The Ultimate Jihad"
by South Asian People's Union Against Fundamentalism and Communalism
CIP
December 6, 2013
http://www.islamicpluralism.org/2324/latest-documentary-by-shahriar-kabir-on-ultimate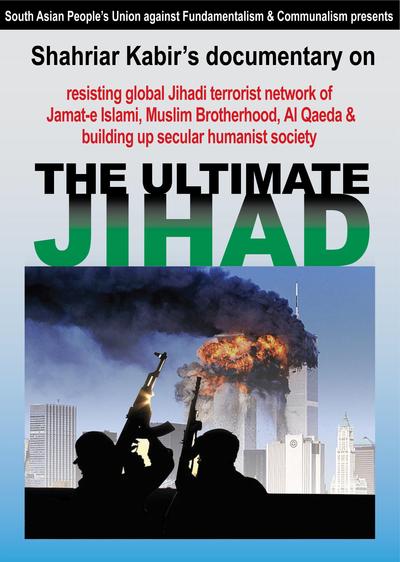 Publicity for Shahriar Kabir's "The Ultimate Jihad.'"
The human rights activist Shahriar Kabir's latest documentary film, 'The Ultimate Jihad,' is the concluding part of Shahriar Kabir's 'Jihad Trilogy.' The third part of the trilogy reveals the South Asian Jamaat-e Islami's links with Al-Qaida, the Muslim Brotherhood and its global terrorist network, including in the UK.
The film is being screened by the International Forum for Secular Bangladesh in association with the Bangladesh High Commission on Tuesday, 10 December, at 6pm, at the High Commission for the People's Republic of Bangladesh, 28 Queens Gate, London SW7 5JA.
'The Ultimate Jihad' contains a series of interviews with Muslim scholars, politicians, experts on terrorism from South Asia, Middle East, Europe and the U.S. who reveal the global jihadi network of Wahhabism, and how young immigrant Muslims of the second generation are being attracted by jihadist preachers.
The keynote speaker will be Dr Irfan Al-Alawi, international director of the Centre for Islamic Pluralism.
In the film experts opine that there is a need to build a platform of secular humanists to protect secular democracy and ensure peace in Bangladesh, and across the world.
Related Topics: British Muslims, European Muslims, Irfan Al-Alawi, Pakistan, Wahhabism receive the latest by email: subscribe to the free center for islamic pluralism mailing list