Anti-Islam Law
by Luka Tetičkovič
Svet 24 [Slovenia]
March 4, 2015
http://www.islamicpluralism.org/2468/anti-islam-law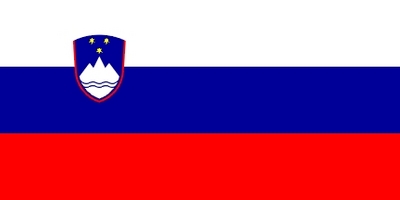 The flag of the Republic of Slovenia.
Who did Austrian Foreign Minister Sebastian Kurz have in mind when he told the BBC that the new Austrian law seeks to restrict the political influence of certain Muslim countries? Former Slovenian mufti Osman Djogić points out that the Islamic world is very heterogeneous, and that sources of funding may be legitimate or illegitimate. He states, "Among the illegitimate donors often some come from the kingdom of Saudi Arabia, with Muslim communities given help to implement projects, but this does not convert the latter to a radical interpretation of Islam. Still, I agree that many of those who benefit from these sources are under the influence of a radical, or rather, puritanical interpretation of Islam."
The Austrian Parliament last week approved a sharp change in the law on Islam, which, inter alia, will prohibit the funding of mosques from abroad and establish that the national law excludes Sharia. The law, which was introduced from the right side of the political spectrum, has already become the target of criticism that it discriminates unconstitutionally against Muslims. We have considered its most controversial provisions.
The Turkish journalist Ilnur Çevik points out that Austria was considered previously a society that had best harmonized with Islam, with Turkish imams who were always considered moderate leading prayers in the mosques. This was confirmed to us by Stephen Sulejman Schwartz of the Center for Islamic Pluralism in Washington. He stated that in the German-speaking lands, official foreign financing of mosques was normal, even as the Turkish government is secular.
"A relatively marginal branch of Islam has begun to be promoted by marginalized countries, that have access to a wealth based on petrodollars. According to my estimates, such puritans only represent five per cent [of Muslims worldwide], and of course they have every right to cultivate their beliefs," concludes [former Slovenian mufti] Djogić. The role of petrodollars reflects the economic dominance of the U.S. dollar, whose value is based on black gold.
Concretely, we can discuss the Wahhab or "Salafi" movement, as created in the 18th century by Muhammad Ibn Abd Al-Wahhab. He claimed to purify Islam of local influences and to return it to its roots. He helped establish the first Saudi kingdom and founded a dynastic alliance between the royal family and his own offspring, who still dominate the clerical institutions of the kingdom. The expert Schwartz notes, however, that the Kingdom of Saudi Arabia reduced its worldwide ideological campaign after 2005, when the late King Abdullah assumed the throne.
The "Salafi" movement is also present in Slovenia, the best known group being the Jesenica "Truth/Al-Haqq" circle, directed by the Islamic theologian Alim Hasanagić. He denies ever receiving Saudi funding, but said "the [Slovenian] state should not interfere with donations from abroad, since the development and functioning of religious communities and religious structures provides a sense of identity and belonging to the society in which we live."
Hasanagić has acquired a reputation as an extremist because of his religious beliefs, although his activities remain within the constitutional order of Slovenia. He states, "in Slovenia and all other countries that allow religious freedom for people Sharia law may exist. Almost 90 percent of Muslims follow Islamic law. Some issues cannot be avoided, such as inappropriately high taxes, which Islam prohibits. Otherwise, I do not see any problems.
"Of course it would be much easier if the state were to facilitate access to halal food, protect the right to take religious holidays off from work, and guarantee the right to pray in the workplace or in educational institutions. Over the years, we have learned that these things may be gained through relevant dialogue, but that we cannot do some things on our own, and because of this we need for the state to protect our rights against discrimination," he explained.
Djogić argues that the article of Austrian law favoring national civil law over Sharia is not relevant. Sharia may be state law, but if it is not, Muslims may still observe it in private as moral guidance. "I, for example, do not drink alcohol, regardless whether a law has been passed prohibiting it," Djogić stipulated. "Muslims themselves can establish moral networks based on Sharia."
[Translation by Center for Islamic Pluralism]
Related Topics: Bosnian Muslims, European Muslims, German Muslims, Saudi Arabia, Turkish Islam, Wahhabism receive the latest by email: subscribe to the free center for islamic pluralism mailing list