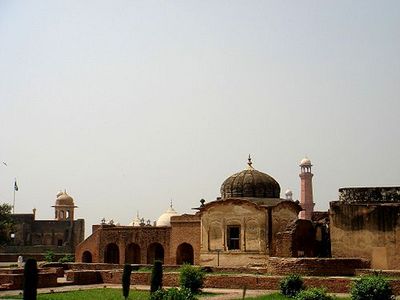 Lahore Fort – Photograph 2006 Via Wikimedia Commons.
Pakistan's jihadist movement, Jamaat-e-Islami (JEI), is its dominant radical Muslim group, historically responsible for many acts of brutal violence in Pakistan, India, and Bangladesh. The JEI has currently chosen to expose its own followers to a fatal risk by convening its "Ijtima-e-Aam" or national assembly of its youth wing, the Islami Jamiat Talaba (IJT) or Islamic Students' Congregation, at Punjab University in Lahore, Pakistan, on October 15-17, according to the online paktribune.com, despite the fact that Lahore is the center of a national outbreak of dengue fever – a tropical illness carried by mosquitoes, that has already killed over 250 people there, according to the Pakistani news source,
The Nation.
Because of the dengue epidemic, the Pakistani authorities postponed the regional Olympic games that were scheduled in Quetta, a city in Baluchistan, from the current month of October to April 2012. In addition, the national government cancelled all swimming and related water sports events to prevent further spread of dengue mosquito larvae; swimming pools have been drained.
JEI has also created a moral danger to its young members by inviting one of the most prominent and retrograde Wahhabi clerics from Saudi Arabia to attend the Lahore event: Sheikh Abdur Rahman Al-Sudais, Friday preacher at the Grand Mosque in Mecca, Saudi Arabia. Al-Sudais has been barred from entering Canada because of his hateful diatribes against non-Muslims. Earlier this year he travelled to India to bond with the inspirers of the inspirers of the Taliban, the Deobandi sect of Islam. Al-Sudais has been called to the Lahore meeting along with many prominent Islamists from around Pakistan, including writers, speakers, sports stars, and others, aside from religious leaders.
For the leaders of JEI, the ideology that impels them to violence is apparently the most urgent matter with which they are involved, surpassing even the public health considerations.
Founded by an Indian Muslim, Abu'l Ala Mawdudi (1904-79), JEI has long been allied with Saudi Wahhabi clerics and with the Muslim Brotherhood. It operates extensively in Britain, and also in the U.S., where it controls a front group, the Islamic Circle of North America (ICNA), that holds title to many mosques in which it imposes a radical outlook.
As the Islamist group is well-organized in all the public universities of the country, thousands of young people from around Pakistan are expected to attend the JEI youth meeting
JEI threatens both the bodies and minds of its acolytes and those who make contact with it. It is not only exposing its activists to a tropical disease; it is also standing behind suicide bombers and other terrorists, and indoctrinating its followers in imitation of the most rigid form of Saudi Wahhabism. Bringing the JEI youth to Lahore at this time not only exposes its adherents to a deadly illness in this mammoth event, which like other JEI mass spectacles will doubtless be designed to overawe and intimidate the Muslim public by the number of its participants; it also threatens to carry dengue fever from Lahore to other places around Pakistan as the participants return home.
The concentration of dengue fever in Lahore, according to the BBC, is caused by substandard hygiene, a lack of epidemiological control measures, and a second year of heavy rains that have swelled local rivers and clogged sewage systems, making them ideal for the proliferation of the dengue mosquito. In addition, Lahore has large open spaces and parks flooded with water. Doctors have cautioned Pakistanis not to go to Lahore now unless they absolutely must.
Dr Javed Akram, a local doctor, blamed the Punjab provincial government for not warning people of the risk and for failing to enforce travel restrictions. According to the Pakistan Daily Times, a session of the Punjab Assembly, or provincial parliament, was called to address the dengue crisis on October 14; but the session fell apart when a legislator, Nargis Faiz Malik, from the Pakistan People's Party (PPP) --the party of Pakistani president Asif Ali Zardari who is its co-chairman -- brought up the case of a five-year old girl raped in the city of Rawalpindi, as well as two recent attacks on girls' schools by a gang of 70 fundamentalists in the same town.
Malik charged that the Punjab chief minister, Mian Shabaz Sharif, has no control over the province and that law and order are increasingly absent there.
Sharif belongs to the Pakistan Muslim League (Nawaz), known as the PML-N, and headed by his brother, Nawaz Sharif, who is viewed as a strong Wahhabi sympathizer. When PML-N assembly members began shouting Nargis Faiz Malik down, she commented that they had probably left their own daughters in Saudi Arabia, which explained their indifference to the rape case. The PML-N members then left the session, which was dissolved for lack of a quorum.
Perhaps as JEI leaders have been shielded by the Pakistani government from taking the action necessary to abate their incitement against those with whom they disagree, they might believe that their fundamentalist prayers and terrorist commitments will protect them against the dengue fever in Lahore.
But the extremist doctrine, while it may be a powerful bulwark against an accounting by the government of their actions, cannot protect JEI from the nature of disease and its transmission by mosquitoes. Mawdudi himself knew this; rather than trust Pakistani medical standards, he died in a hospital in Buffalo, New York, where he had gone to be treated for his kidney and heart ailments.
JEI's sending its youth to Lahore is an act of irresponsibility toward the Pakistani people that is of criminal proportions.
Related Topics: Deobandism, Irfan Al-Alawi, Pakistan, Saudi Arabia, Terrorism, Wahhabism receive the latest by email: subscribe to the free center for islamic pluralism mailing list