Tirana, Albania
On November 28, Albania celebrated the 100th anniversary of its independence from the Ottoman Empire. The small and enigmatic republic had an atrocious history of strict isolation, after World War II, under the Communist dictatorship of Enver Hoxha. Its population of three million is described typically as 35 percent Sunni Muslim, 35 percent spiritual Bektashi Sufis, whose creed is derived from Shia Islam, 20 percent Christian Orthodox, and 10 percent Catholic.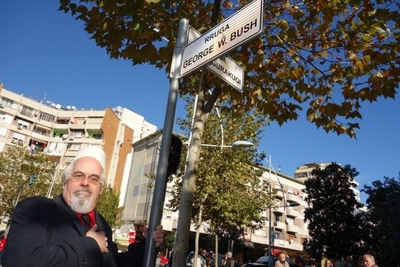 The author at George W. Bush Street in Tirana, 2012.
The office and bookstore of the official Islamic Community of Albania, representing the Sunnis, are located in the capital, Tirana, on a main street named for George W. Bush. Albanians see no irony in that. They love Bush, who recognized the independence of Kosova when it was proclaimed in 2008, just as they love Presidents Woodrow Wilson and Bill Clinton. Since the middle of 2011, the town of Fushë-Krujë, which Bush visited in 2007, has been adorned with a monument depicting Bush in rolled-up sleeves, waving as if to a crowd. (Prishtina, the Kosova capital, named a street for him in 2008.)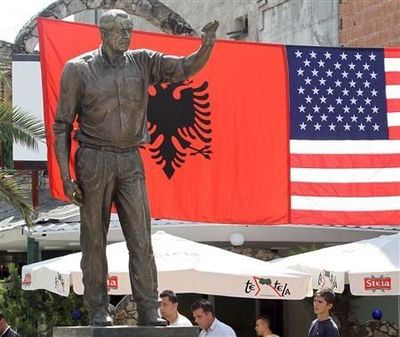 Statue of President George W. Bush erected in 2011 in Fushë-Krujë, Albania, which the president visited in 2007.
Albanians have long memories. On November 21, as part of the independence ceremonies, a statue of Wilson was unveiled in Tirana. Wilson is credited with saving Albania, at the Paris Peace Conference in 1920, from partition by Greece, the former Yugoslavia, and, along its shoreline, Italy. Albanians have repaid their moral debts to the U.S. repeatedly. According to the State Department, "[I]n Iraq, Albania was one of only four nations to contribute troops to the combat phase of Operation Enduring Freedom." The Albanian Army contingent left Iraq in 2008. Before then, an Albanian-American immigrant, U.S. Army PFC Ervin Dervishi, participated in the capture of Saddam Hussein, and was killed in action on January 24, 2004. The Albanian Army remains in the U.S.-led coalition in Afghanistan, its soldiers fighting alongside U.S. and British personnel.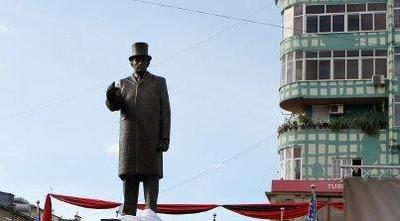 Statue of Woodrow Wilson Inaugurated in Tirana, Albania, November 21, 2012.
Although Muslim in demographics, Albania is not an "Islamic" state, much less one aligned with the Arab powers or Iran. On November 16, the Albanian Ministry of Foreign Affairs denounced severely "the (Gaza) missile attack of Hamas and its allies against the state of Israel."
Still, the Palestinian Authority has diplomatic relations with Albania. Tirana recognized the PA in 1988, under Albanian Communist rule, but never sent an ambassador to the Palestinians. The PA embassy in Tirana protested against the Albanian position on Gaza, complaining that Albania's attitude was more pro-Israel than that of the U.S. government or the European Union. The leading local daily newspaper Shqip (The Albanian) described Albania as "the country that supports Israel more than any other state in the world." At the U.N. General Assembly on November 29, Albania was the only Muslim-majority nation to abstain from backing the Palestinian bid for status as a non-member observer.
As one of the few Muslim-majority lands in Europe (Kosova is another), Albania is courted aggressively by Arab and other Islamist governments. During the independence festivities, dignitaries came from Morocco, Pakistan, Kuwait, and Qatar. Kuwait has committed significant investments to Albanian infrastructure, including construction of major highways. Albania and Kosova are objects for diplomatic and commercial overtures by the Turkish regime of Recep Tayyip Erdoğan and his Justice and Development party, or AKP. Turkey is eager to revive its past dominance over the Balkan region, most of which was under the Ottomans from the 15th century until 1912. Turkey and Albania have sponsored Kosova for membership in the Organization for Islamic Cooperation.
The U.S. engineering giant Bechtel was joined by the Turkish firm ENKA in a project for a four-lane highway from the Albanian port of Durrës on the Adriatic coast across Albania and Kosova to the border of the latter republic with Serbia. But Kosova has its own way of dealing with "friendly" Muslim states. The Kosovars have, for example, offered to export wine to Turkey, while Erdoğan seeks to curb consumption of alcohol as an element in his project for re-Islamization.
Albanians are caught between Islamic solicitation and secular modernization. At the beginning of December, Albania signed a Council of Europe Convention on preventing and combating violence against women and domestic violence, prohibiting both arranged marriages and so-called "honor" murders.
During the independence ceremonies, nearly all Albanian politicians alluded vaguely to the division of the Albanian ethnic community between Albania proper, Kosova, and large groups in neighboring Montenegro, Macedonia, southern Serbia, and Greece, most of which were torn away from the mother country beginning in 1912. But none called for revision of borders or creation of a so-called "Greater Albania."
That appeal was, however, taken up by an ethnic Albanian Sunni cleric who heads the official Islamic Community of Macedonia, Sulejman Rexhepi. Late in 2011, Rexhepi shocked Balkan Muslims by offering "reconciliation" to Saudi-financed fundamentalist Wahhabis and other extreme Islamists who have penetrated the region, and implying a reprimand of Sufis who warn against radical infiltration.
Macedonia has lately been troubled by episodic confrontations between its Slav and Albanian residents, Rexhepi's statement that "unification of Albanian lands was God's will" was interpreted in the classic Balkan manner as a deliberate, if convoluted provocation aimed along with his outreach to Wahhabis at isolating Sufi and other moderate elements among Macedonia's Albanian Muslims. The atmosphere around Albania has become so envenomed that Macedonian president Georgi Ivanov cancelled his planned appearance in the Tirana observances marking Albanian independence. Greek Foreign Minister Dimitris Avramopoulos similarly shunned the Albanian centennial in umbrage over remarks by Albanian politicians about the expulsion of Albanians from northern Greece in the 20th century.
Meanwhile, Albanians continue to receive threats from the radical nationalist government of Serbian president Tomislav Nikolić, who ranted during the Albanian jubilee, which he did not attend, that "Kosovo should stay within Serbia, and I should go to Priština as Kosovo's president. . . . Kosovo is what Serbia agrees to, not what the U.S. and some other U.N. members say it is. Kosovo can never be taken away from Serbia," he declared.
Facing hostility to its east and south—the Montenegrin government to the northwest refrained wisely from embroilment in these Balkan contentions—Albanians had reason to emphasize their friendship with the United States. But other divisions over the nature of the commemoration bedeviled Albanians at home. Two grand public programs were held, one by the conservative government of Prime Minister Sali Berisha in Tirana, and another sponsored by the ex-Communist and nationalist opposition in Vlora, a port city founded by the ancient Greeks. There self-determination was proclaimed and the Albanian flag, dating to the era of resistance to the Ottoman invasion more than half a millennium ago, was raised in 1912.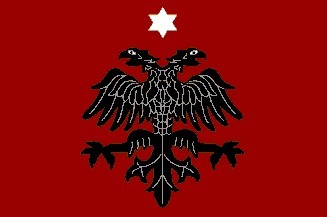 Albanian flag raised by Ismail Qemali, Vlora, 1912.
Tirana has many new and shiny high-rises, but lacks a central bus station. To reach any outlying city, a visitor must first locate the intersection or park from which buses, or minibuses called "furgons," depart, usually frequently and cheaply.
On the morning of November 28, I walked to the place whence the furgons, charging $6.50 each way for a trip usually requiring two hours, left for Vlora. Ticket-sellers cried out, "Vlora! Vlora!" to passersby, as if to dramatize the city's role in Albanian history. The night before and during the centenary day, hundreds of thousands of people descended on Vlora from Albania, Kosova, the neighboring countries, and Albanian diaspora outposts in the United States and Western Europe. Two hours into the trip, traffic was jammed and people got out of their cars and the furgons, waiting for the congestion to clear. The furgons were halted altogether on Vlora's outskirts, and I joined others who had to walk a about two-thirds of a mile to the city center and "Flag Square."
To demonstrate that the two patriotic rituals were politically non-sectarian, Prime Minister Berisha and socialist opposition leader Edi Rama shook hands, somewhat ostentatiously, and raised the flag anew.
Later, the crowd spread through the town, which has a population of about 80,000. Older people looked for cafes in which to drink coffee or brandy, and the young lingered in Flag Square, dancing to pop tunes that had been broadcast repetitively for days, emphasizing the unity of all Albanians. The red and black colors of the Albanian flag were seen everywhere.
I wandered into the city's historical museum, which displays centuries-old gravestones and other artifacts. The current exhibit included a rendition of the American flag in plastic pearls by a Macedonian Albanian, Zeqir Memeti. I was disappointed to learn that no ceremonies would be held at the house where the Albanian flag was raised a hundred years before. The act symbolizing self-determination had been organized then by the father of Albanian independence, an Ottoman diplomat and Bektashi Sufi, Ismail Qemali, whose name was repeated and image reproduced throughout the country for weeks.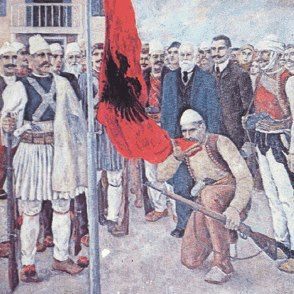 The flag-raising of 1912.
So I found a furgon to take me back to Tirana, and reached the capital in time to watch fireworks burst above the city, as a light rain fell. The moment seemed symbolic of Albanian hopes, and of Albanian challenges, as a new century in their history began.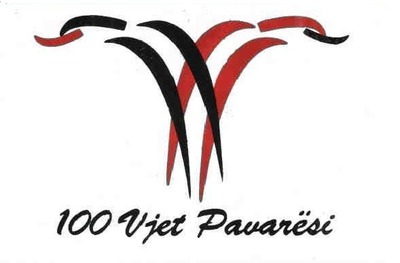 One Hundred Years of Albanian Independence.
Related Topics: Albanian Muslims, Balkan Muslims, Bektashi Sufis, European Muslims, Kosovo, Macedonia, Montenegro, Muslim-Christian Relations, Muslim-Jewish Relations, Sufism, Turkish Islam, Wahhabism, WahhabiWatch receive the latest by email: subscribe to the free center for islamic pluralism mailing list