The Assembly of Kosova -- the republic's national parliament.
The young state of Kosova—with an Albanian majority of more than 90 percent, of whom 80 percent are Muslim—declared its independence in 2008, but now faces a "risk from extremist religious currents, which requires . . . counter-measures at a strategic level." Further, Kosovar Albanians have an agenda for a return of their people and culture to Europe, not an orientation toward the Middle East.
So argues the Balkan republic's foreign minister, Enver Hoxhaj (no relation to the deceased former dictator of Albania, Enver Hoxha). A cabinet member representing the Democratic Party of Kosova (known from its Albanian name as the PDK), Hoxhaj made these comments in an interview with Zëri (The Voice), a major daily in the Kosova capital, Prishtina, on January 3.
Without hesitation, Hoxhaj identified a menace to Kosova from "various religious currents seeking to spread Islam in our public life, to bring it to bear in our public discourse, to impose a different way of life . . . that may threaten the state of Kosova." He added, "certain sectors, [including] the Interior Ministry, other ministries, and various agencies need to be more attentive and to speak out about this."
Underscoring his and his government's pro-Western attitude, Hoxhaj emphasized "the security aspect" of Kosova's situation. Queried as to whether continued European visa restrictions on Kosovar Albanians were caused by the potential for jihadists to transit through the country, he appealed to "everybody to maintain vigilance, and not to react naively to efforts at exporting Islam via the Kosova Republic. I think that Kosova has no need to export or import Islam." He said radical Islamists are more influential in the Muslim-majority Sandžak area of southwest Serbia, to Kosova's north, and in Bosnia-Hercegovina, than in Kosova.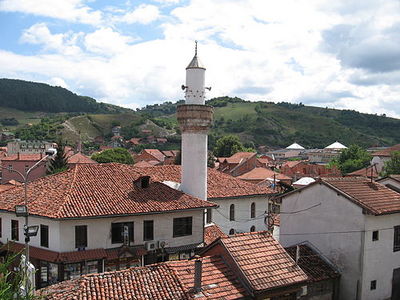 Novi Pazar, Sandžak, 2008 -- Photograph by Lumen Roma, Via Wikimedia Commons.
Elsewhere in the Zeri interview, Hoxhaj affirmed, "secularism is a sacred value of the Kosova state, with a past history, expressed in concrete acts." Referring to a ban on the Islamic headscarf and religious instruction in public schools, enacted in 2011, Hoxhaj said, "as I supported the headscarf decision, I expressed a commitment to the secular state at the level of the individual."
Hoxhaj added pointedly, "secularism is not something we discovered at the end of 2013. The Albanian political elite through the late 19th and the 20th centuries were always secular. We must reject any attempt to associate a nationalist conception with religious elements. Albanian nationalism has always been secular nationalism, our patriotism has always been secular patriotism."
The PDK, to which Hoxhaj belongs, heads a coalition in the current Kosova government. It is the main party representing veterans of the Kosova Liberation Army (KLA, UÇK in Albanian), which led an armed struggle for ethnic Albanian independence from Serbia in 1997-99, assisted militarily by the United States and NATO. Kosova prime minister Hashim Thaçi, the top PDK figure, was the most prominent KLA commander during the NATO intervention.
A small but loud radical Muslim fundamentalist party, the Islamic Movement to Unite, known by its Albanian-language acronym as LISBA, attacked Hoxhaj for his remarks. A LISBA communiqué sent to Kosova media labeled the minister a "profiteer" and an Islamophobe, accusing him of seeking to change the allegedly-Islamic profile of the country's people.
LISBA asserted, "Islam and the Muslims will remain the main factor in the identity and general welfare of this nation." The Islamist party offered Hoxhaj, in patronizing fashion, schooling about Islam, faith, and nationality. It concluded its outburst by calling the minister a "mercenary of forces seeking the destruction of the country and people."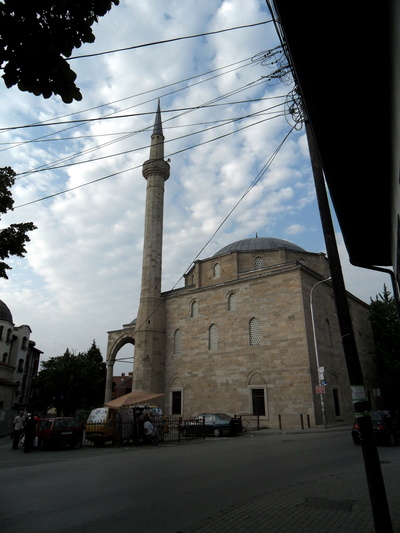 The 15th c. CE Imperial Mosque, Prishtina – Photograph 2010 by Krzystof Dudzik, Via Wikimedia Commons.
Having made his position clear previously, Hoxhaj did not reply to LISBA. But LISBA, which gained no seats in the Kosova municipal elections of 2013, has also been criticized sharply by an opposition party representing more militant veterans of the KLA, the Alliance for the Future of Kosova or AAK. Created by a charismatic field commander of the guerrilla force, Ramush Haradinaj, AAK has the fourth largest delegation in the Assembly of Kosova, the country's parliament.
Haradinaj had expressed respect for all religions, including local adherents to Islam, but contempt toward young Islamist radicals with their characteristically-prominent beards. The AAK leader's remarks appeared in a December 25 interview with the Albanian-language daily Bota Sot (World Today), which is read widely by Albanians in the Balkans and in their global diaspora.
LISBA denounced him, as it assailed foreign minister Hoxhaj soon afterward. The Islamist party claimed that "all the great personalities" of modern Albanian history had beards, from Ismail Qemali, the father of Albania's independence in 1912, to Adem Jashari, the best-known KLA hero, who was killed in his home, with his extended family, by Serbian forces in 1998.
Anticipating its rude tone toward Hoxhaj, LISBA offered Haradinaj "leniency" and a free course by "high level" teachers who would instruct him in "the history of his people." LISBA alleged that "bearded men" had fought under Haradinaj in 1998-99 "for the pleasure of God [a well-known jihadist slogan] and to serve the country, and not as war profiteers." LISBA demanded that Haradinaj repent and seek forgiveness from Kosova Muslims.
Ismail Qemali, 1844-1919.
AAK, Haradinaj's party, responded with equal, if not greater vigor. "Your beards are not the same as those of Ismail Qemali and Adem Jashari," AAK said.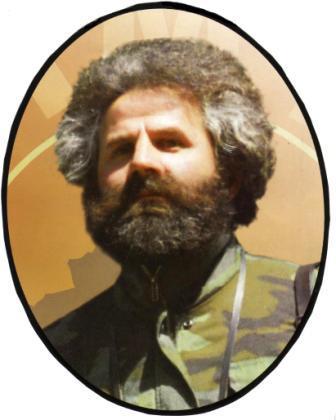 Adem Jashari, 1955-98.
Haradinaj's party invoked, in addition to them, two leading 19th-century Albanian patriots,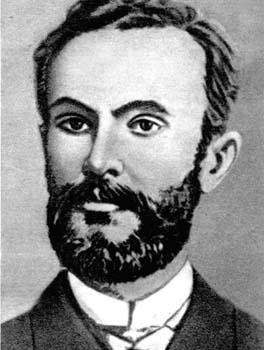 Sami Frashëri, 1850-1904. Known in Turkey as Şemseddin Sami.
Sami Frashëri and Vaso Pasha—the first a member of the heterodox Bektashi Sufi order, which is an object of
violent aggression
by Islamists, and the second a Catholic. AAK said these esteemed figures had "clean beards" and honored the tradition of Skanderbeg, a 15th-century Albanian Christian opponent of the invading Turks, considered their ultimate ethnic champion by nearly all Albanians, including Muslims. AAK branded LISBA as haters of Skanderbeg, since he was anti-Ottoman. But Albanians are
known
to nearly all who observe them for putting their nationality and language ahead of religious identity. As Vaso Pasha wrote, "the religion of the Albanian is Albanianism."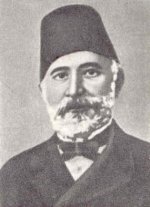 Vaso Pasha, also known as Pashko Vasa, 1825-92.
The AAK rejoinder averred that Haradinaj would like to receive further education, but not in "the school of Abdić and Milošević." The New York Albanian-American semiweekly Illyria, in an English-language post to its website on December 28, explained this as a charge that Islamists are working for Serbian interests, by splitting Albanians and presenting the Kosova cause as religious. Fikret Abdić was, the Albanian-American paper noted, a rich Muslim warlord in northwestern Bosnia-Hercegovina, who proclaimed autonomy from the Sarajevo government during the 1992-95 Bosnian conflict, and allied with the Serbs. The founder of LISBA, radical agitator Fuad Ramiqi, is a veteran of the Yugoslav army in the Bosnian war, and is said to have fought on the Serbian side.
"Islam is 500 years old in Kosova and has lived in perfect harmony with the other religions of Albanians," AAK's statement said. "Muslim Albanians don't need people like those of LISBA to rediscover Islam for them."
The statement by Haradinaj's party concluded, "We can promise you that in Kosova there will never be space for fundamentalism. No fundamentalist movement will be able to uproot traditional Islam in Kosova."
In addition to repudiation by Kosovar politicians, radical Islamists who have seized the leadership of the country's Muslim clerical apparatus continue to encounter resistance by local, conventional believers. Kosova's supreme Muslim religious functionary, chief cleric Naim Tërnava, changed the constitution of the official Islamic Community, which limited him to two terms. After filling the post in two five-year periods from 2003 to 2013, Ternava, who is aligned with Arab radicals, assumed a third term last year.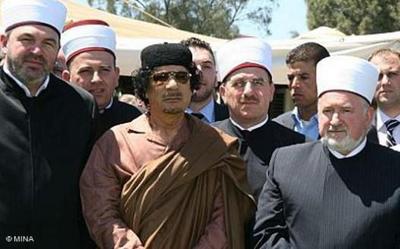 The current chief cleric of Kosova, the pro-Wahhabi Naim Tërnava, behind and to the left of the late Mu'ammar Al-Qadhdhafi. Directly left of and next to Al-Qadhdhafi stands former Bosnian chief Islamic cleric Mustafa Cerić.
An editorial post on the Kosova-based news portal standardi.info (
The Standard
), dated January 4, predicted that Kosova Muslims would organize a "citizens' initiative" for a New Islamic Community structure, "stripped of all foreign political and ideological trends." The commentary condemned Tërnava as a "fanatic and despot," who has run the official Islamic institutions for years as if he were an Ottoman pasha, excluding anybody who disagreed with him, and monopolizing control over mosques and religious schools by limiting their administrative positions to his personal appointees. An organizational reform of the Islamic community is, the post said, necessary for Kosova's integration into Europe—once again, the touchstone of Kosovar Albanian aspirations.
Related Topics: Albanian Muslims, Balkan Muslims, Bektashi Sufis, European Muslims, Kosovo, Muslim Brotherhood, Sufism, Wahhabism, WahhabiWatch receive the latest by email: subscribe to the free center for islamic pluralism mailing list