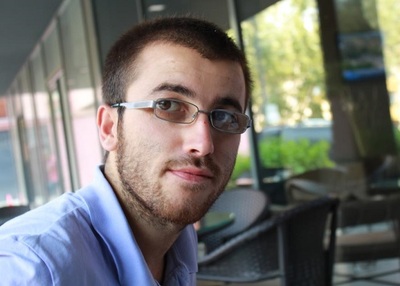 Visar Duriqi -- Photograph by Illyria Press.
The atrocious murders of American journalists James Foyle and Steven Sotloff exemplify the strategy of global terror pursued by the so-called "Islamic State" (formerly the Islamic State of Iraq and Syria, known as ISIS or ISIL).
On Wednesday, September 3, the worldwide monitor of media freedom, Reporters Without Borders, based in France, demanded that authorities in the Kosova Republic protect Visar Duriqi, a well-known Kosovar investigative reporter, from a similar menace.
Kosova has a Muslim majority but is a secular state, and its Islamic tradition is moderate. Yet it has been targeted by radical preachers and their financial patrons.
Writing for the Kosova daily news portal Express, which has an English translation site here, Duriqi specializes in exposing such infiltration among local Muslims. He has uncovered penetration of the official Kosova Islamic Community by supporters of fundamentalist Wahhabism and the Muslim Brotherhood, along with incitement and recruitment of Kosovar Muslims to fight in Syria.
At the end of July, a Kosovar participant in the Syrian conflict, Lavdrim Muhaxheri, posted images on his Facebook page in which he beheaded a Syrian soldier. On August 11, the Kosova government announced the arrest of 40 citizens on suspicion of involvement with terrorism in Syria and Iraq.
Duriqi has followed Muhaxheri's career in Kosova closely. In May 2014, Duriqi revealed that Muhaxheri had worked in the official Islamic apparatus in Kaçanik, a town near the southern border of Kosova with Macedonia, and claimed influence over the choice of local clerics.
Journalistic work by Duriqi resulted in a denunciation by the Muslim Youth Forum (MYF, designated FRM by its Albanian initials.) On August 15, MYF posted a claim on Facebook that Duriqi is an apostate from Islam. The Muslim Youth Forum is a small group in Kosova. During the recent Gaza war, MYF summoned Muslims (not Kosovars in general) to protest against Israel, with little success.
But in Islamic law, apostasy is punishable by death.
Duriqi says he has received more than 10 violent insults since the posting of the MYF's allegation of his apostasy. He told Reporters Without Borders, "I received many threats, mainly via Facebook, after the communiqué was published… The MYF statement is a death sentence. I am being threatened with beheading. I hope the police will investigate this quickly. I do not feel safe at the moment."
Reporters Without Borders secretary-general Christophe Deloire said, "Duriqi's plight is extremely worrying and the threats should be taken seriously." Deloire appealed to Kosova interior minister Bajram Rexhepi to furnish Duriqi with police protection and to investigate and identify those responsible for intimidation against him, followed by firm court action.
Minister Rexhepi had promised to issue an international arrest warrant against Lavdrim Muhaxheri after the jihadist posted his Facebook beheading pictures.
In 2012, Duriqi and Artan Haraqija, then affiliated with the Kosova Center for Investigative Reporting, published a series of articles about ideological zealotry in the official Muslim community. They showed that highly-placed clerics had received financing from a private Islamist entity based in Saudi Arabia and dedicated to the spread of Wahhabi doctrine, Al Waqf Al Islami (AWAI or The Islamic Foundation). AWAI, which has operated in The Netherlands and Bulgaria, had provided funds for building and reconstruction of mosques in Kosova.
The pair described how the allotment of $25,000 from AWAI for a mosque in a village near the northeast Kosova town of Podujeva led to division within the local Islamic apparatus and the removal of a moderate imam, Idriz Bilalli. Bilalli was replaced by Fadil Sogojeva, a hard-line Wahhabi who called for segregation of unmarried men and women plus covering of women's entire body, including a prohibition on sandals and requirement for concealment of the lower legs and feet. They noted that a similar attitude was expressed by Mazllam Mazllami, a radical preacher in the southern Kosova city of Prizren, who advocated a prohibition on men and women swimming together.
Duriqi and his colleagues have chronicled a continued Islamist campaign as well as resistance to fanaticism among Kosovars. A series of assaults on moderate Muslim clerics and intellectuals, in 2008-09, included a scandalous attack on Osman Musliu, a prominent cleric in the Drenas area of Kosova, known for his patriotism.
The Duriqi-Haraqija series disclosed that Kosova police produced a three-page memorandum warning, "Wahhabis can kill any Muslim that does not join their sect."
The reporters finally interviewed minister Rexhepi, who said that in 2003-04, when he was prime minister and "new and radical currents controlled no mosques and had no influence," he proposed a draft law for Kosova against religious extremism. Law in Kosova is supervised by the European Union Rule of Law Mission In Kosovo (EULEX). [Note: CIP does not support the role of EULEX in Kosova.]
Rexhepi said, "I was told by the Council of Europe in Strasbourg we could be sued for denial of religious freedom. . . . I asked [the Europeans] 'if your states were to consider their national security at risk because of this problem, would you maintain such abstract respect for human rights? Probably not. Then why experiment on us in Kosova?' "
With Western Europeans and Americans alike concerned about "Islamic State" terrorists, who, having gone to Syria, may return home and commit atrocities, the attitude of Western political leaders toward Muslim ultra-fundamentalism may have changed. As a front-line state confronting radical Islam in Europe, Kosova must take strong initiatives.
Protecting courageous journalists like Visar Duriqi is a necessary measure for the moral health of Kosova – and of the world.
Related Topics: Albanian Muslims, Balkan Muslims, European Muslims, Iraq, Kosovo, Macedonia, Montenegro, Takfir, Wahhabism, WahhabiWatch receive the latest by email: subscribe to the free center for islamic pluralism mailing list