Indian Sufis Welcome Statement by Prime Minister Narendra Modi on Al-Zawahiri
by All India Ulema and Mashaikh Board
All India Ulema and Mashaikh Board
September 20, 2014
http://www.islamicpluralism.org/2411/indian-sufis-welcome-statement-by-prime-minister

The All India Ulama and Mashaikh Board (AIUMB) has welcomed cautiously the statement of Prime Minister Narendra Modi, who said in an interview on Friday, September 19, that he was confident the Al Qaida conspiracy to establish a South Asia wing, i.e. through Qaedat Al-Jihad, will fail in India, as Indian Muslims would never dance to the tune of and never accept the philosophy of the terror group.
Maulana Syed Mohammad Ashraf Kichowchhwi said in a statement released from the central office of AIUMB that in an interview with CNN's Fareed Zakaria, Prime Minister Modi said rightly that the terror groups do not target a community but humanity as a whole.
Kichowchhwi said that for the first time the present head of government has said on an international news channel that the patriotism of Indian Muslims is above question. "An Indian Muslim will live and die for his country;" this statement by Modi vindicates the stand taken by AIUMB, that a huge population of Indian Muslims is Sufi in practice and profession, and have refused flatly to accept this foreign, infamous, intolerant ideology represented by ISIS, Al Qaida, Boko Haram, the Muslim Brotherhood, and others working for the same ideology under several names and styles.
The president and founder of AIUMB said Indian Muslims have always followed the path of Peace and Pacifism, Tolerance and Togetherness, Amity and Accord along with Compassion and Concern and have never supported any infamous intolerant ideology, though they have been denied their rightful place in Indian society by successive governments at the centre and/or states of Indian union.
They have been denied their place in Muslim representation by a very small section of those elements who are led by monarchies and fed by oil and gas money.
These elements have gained access to the administration, bureaucracy, the political class, and even the corridors of power by faking Muslim representation while the Indian Muslims are ignored in every aspect of national life affecting the welfare of the community.
In this context, there is certainly no immediate threat to Indian security from the Al-Zawahiri Al-Qaida tape but we cannot take refuge in a seeming "feel good" situation as there is certainly a very small group of Muslim individuals and institutions at work who subscribe to the Al-Qaida or Al-Zawahiri ideology and they are looking for an opportunity to demonstrate their worth to their handlers sitting in gulf countries like Saudi Arabia and Qatar.
Maulana Syed Mohammad Ashraf Kichowchhwi said the Prime Minister stated rightly that the Indian Muslim will live or die for the country because history holds testimonies that Indian Muslims never went in such [extremist] activities anywhere. The Indian Muslim kept his spiritual contact with Khanqahs, Aastanas, Dargahs, mosques and other centres of reverence and veneration and worked for harmony and coexistence in society.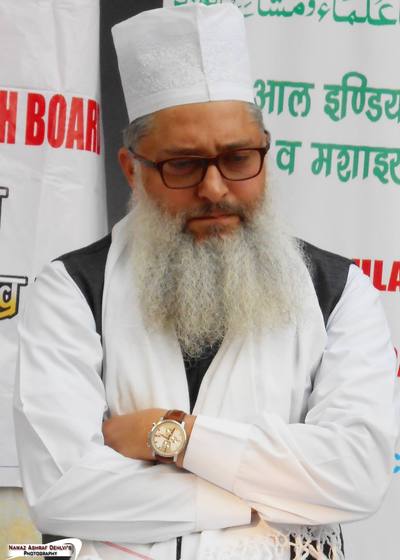 Maulana Syed Mohammad Ashraf Kichowchhwi.
Related Topics: British Muslims, Deobandism, Muslim Brotherhood, Pakistan, Saudi Arabia, Sufism, Takfir, Wahhabism, WahhabiWatch receive the latest by email: subscribe to the free center for islamic pluralism mailing list