Ramadan in Kerala, India
by Suhail Hussain
CIP
June 18, 2015
http://www.islamicpluralism.org/2498/ramadan-in-kerala-india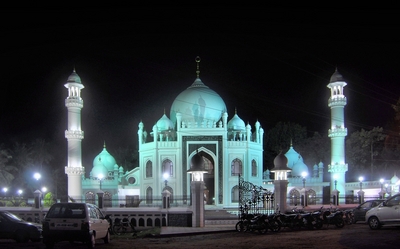 Illuminated mosque in Kerala – Photograph 2009 by Challiyan at ml.wikipedia, Via Wikimedia Commons.
[In posting this article the Center for Islamic Pluralism wishes Ramadan Mubarak/Ramadan Karim to Muslims everywhere.]
The Islamic holy month of Ramadan brings days of spiritual joy, illuminating a special, devotional love and an affection for all of humanity. In the Indian state of Kerala, a clear truth encompasses the festivities of Ramadan. It joins the sacrifice of fasting with the glorification of Islamic mercy.
From dawn to dusk during Ramadan in Kerala worship takes place. Kerala Muslims are activists. The discourse of Ramadan reinforces the stability of the social order while expressing the encounter of Islam with modernity. Archetypal urdis or vernacular spiritual sermons, embodying the progress of enlightenment, begin with the first day of Ramadan. Religious students in south India supported this practice in an effort to make Ramadan a month of opportunity.
In many mosques in towns, villages and urban neighborhoods, the common system of preaching by the students fulfills an important function of spreading Islam while recognizing the diverse, subjective forms of Islam in the community. The urdis held in Sunni mosques after prayers are aimed at a specific Sunni milieu. Prolific preaching every day, by several speakers, creates a high level of interaction, resulting in a spontaneous appreciation of the event. The difference between moral requirements and their public fulfillment is overcome, and the students are happy, as are the believers, when moral values are delivered and heard freely.
As in every Muslim community during Ramadan, those in Kerala also articulate their hope for and experience of a world free of oppression, conflict, poverty, and boredom. Iftar dinners at sundown each night become a powerful and authentic expression of the human condition. Iftars are conducted by various welfare groups and social institutions, such as the Relief and Charitable Foundation of India (RCFI), which has extended a torch of hope to the Rohingyas adrift in the seas of southeast Asia along with their fellow-Muslims trapped in Myanmar. Symbolic actions dramatize the situation of Muslims in north India as well as of workers inside Kerala and abroad.
Kerala's Muslim population assumes a celebratory mood during Iftar, while anticipating the Eid marking the end of the holy month. Large crowds go to the bazaars daily as Ramadan approaches. Mosques are crowded as religious hymns are sung and Qur'an is recited. Young and old find their spirits wakened and are reminded of the meaning of life, the path from birth to death. And so Ramadan exalts the atmosphere of Kerala.
Among the Muslims of Kerala, Ramadan would be impossible among Sunnis, who comprise more than 90 percent of the Islamic community, without pilgrimages to the tombs of saints, especially those belonging to the traditional Sufi orders that came across the sea from westward. They include Malik Bin Dinar of Kozhikode, who brought Islam to India in the generation of Companions of Muhammad (peace be upon him), and the Yemeni Ba'Alawi-Qadri Sayid Alawi of Mamburam, who lived in the 18th and 19th centuries C.E. and opposed British rule. Pilgrimages to saintly tombs remain the essential element of Sunni observance, notwithstanding criticism by Wahhabis in Kerala of such mystical engagement.
Iftar gatherings of Muslims without social divisions, and including mass prayers and chants, are a pluralistic and jubilant occasion for religious institutions to hold public gatherings open to the participation of everyone, merging pilgrimages, sermons, and spiritual offerings. Additionally, public programmes include Ramadan Da'wa (Islamic outreach), legal classes for women, daily assistance to the poor, and similar efforts.
In northern and southern Kerala, the culture of Ramadan is varied. Northern Kerala, with a higher Muslim population and greater Islamic public activity, experiences a heightened sensitivity to Islamic observance, as in Muslim-majority lands. In southern Kerala, Ramadan is viewed as a social festival beloved to Muslims and enjoyed by non-Muslims.
The holy month of Ramadan in Kerala will be remembered by the faithful as a moment lasting in sweet memory, for renewed commitment and a strengthened human feeling.
Madeenathunoor College of Islamic Science
Kozhikode, Kerala, India
Related Topics: African-American Muslims, Albanian Muslims, Alevism, American Muslims, Balkan Muslims, Bektashi Sufis, Bosnian Muslims, British Muslims, Canadian Muslims, Central Asia, Chechnya, China, Dutch Muslims, European Muslims, French Muslims, German Muslims, Indonesia, Iran, Iraq, Kazakhstan, Kosovo, Kurdish Islam, Kyrgyzia, Macedonia, Malaysia, Montenegro, Pakistan, Russia, Saudi Arabia, Singapore, Sufism, Turkish Islam, Uighurs, Uzbekistan, Wahhabism, WahhabiWatch receive the latest by email: subscribe to the free center for islamic pluralism mailing list