On Tuesday, August 18, U.S. authorities unsealed a warrant that had authorized searching the homes of two individuals from the vicinity of Raleigh, N.C. The pair were among eight men charged late last month with plotting Islamist terrorism. The target zones for the extremists: Israel, Jordan, Kosova, and Pakistan. The federal document revealed that authorities seized several weapons, $14,000 in cash, and media clippings about the atrocities of September 11, 2001, from the home of Daniel Boyd. An American-born 39-year-old, Boyd became Muslim and claims he fought against the Russians in Afghanistan from 1989 to 1992.
When he was arrested, Boyd entrusted Khalilah Sabra of the Muslim American Society Freedom Foundation (known as MAS Freedom, and identified with the international radicals of the Muslim Brotherhood) to deliver a statement on his behalf. Sabra declared, "He was there [in Afghanistan] fighting against the Soviets with the full backing of the United States government." But the chronology of Boyd's adventures as an armed tourist is mistaken, since the Russians withdrew from Afghanistan in 1989.
According to the New York Times, Boyd and his brother were once threatened with amputation of their right hands and left feet by authorities in Pakistan for robbing a bank, but were saved by the U.S. State Department and the Pakistani Supreme Court. Daniel Boyd's journeys also took him to Gaza, though a second trip to Israel was prevented by that country's government.
The warrant also disclosed that a computer and jihadist literature had been seized from a second suspect in Boyd's group, Hysen Sherifi, 24. Boyd, Sherifi, and five more of their associates are in jail and have been denied bail as flight risks. An eighth suspect, Jude Kenan Mohammad, 20, remains at large.
Hysen Sherifi is the only arrested member of the group who is not a U.S. citizen. He is a Kosovar Albanian who has lived in the United States as a legal immigrant since the war in his homeland a decade ago. American and Kosova media both have reported that local police in the Balkan republic assisted in the investigation of Sherifi. The Kosovar suspect hails from the town of Gjilan, fairly close to the Serbian border. I have often traveled to Gjilan. Its residents are notably suspicious of local Serbs, whom they fear will be awarded administration of rich agricultural holdings inside Kosova, under the UN-backed plan for the country's "decentralization," aka ethnic partition. The border is also somewhat artificial, in that the part of Serbia on its other side has an Albanian majority. Albanian Christians are few on the ground in the area, and some old Albanian families in Gjilan still speak an archaic form of Turkish.
It has become fashionable, with the arrival of the Obama era of "good feelings" toward radical Islam, to downplay the significance of such cases. The same issue of the Times that reported the arrest of Boyd and his cohort added, "Federal officials in Washington said that the men charged on Monday were not seen as serious terrorist threats to the United States or American interests abroad, and that there were no indications of ties to Al Qaeda or other militant groups."
Albanians in Gjilan, and elsewhere in that small and distant land, were unconvinced. Kosovar sources said Sherifi planned to attack the U.S. military base at Camp Bondsteel. Radio commentator Hugh Hewitt recently visited Bondsteel, and described Kosova as "what has to be the most pro-American country on the globe outside of North America"--only two weeks before Sherifi's arrest.
With news of the alleged plot, rage at Sherifi swept the Kosovo media. The daily newspaper Express, published in Kosovo's capital, Pristina, and known for its firm stance against the new Wahhabi infiltration of the Balkans, gave Sherifi all the attention he could have wanted, had it not been uniformly negative. The Kosovo paper contacted the federal prosecutor in North Carolina and printed much more detail about Sherifi than appeared in U.S. media, including surveillance photos and transcripts from telephone conversations. Express publishes an online edition with a comment space, which proved well worth reading through.
For example, "Tahir" (a Muslim name), addressed Sherifi as follows: "Shame on you and cursed be the milk that your Albanian mother fed you with. You have no right to call yourself an Albanian. May you never see the light of the day again!" "Refik" (also Muslim) expressed himself in a similarly traditional idiom: "The Albanian people will forever be grateful to the saintly, generous and great nation of America because America has always helped our people. This bad seed that planned these horrible attacks is cursed forever by the people of Kosovo... We ask forgiveness from the American people for this ungrateful person who became part of a plot against America and Israel, another country that has helped the Albanians. May he never have enough bread, water and light." The denunciatory flood rose higher.
Then, on August 11, Sherifi's sympathizers, if not accomplices, struck back in Kosovo. The Express website was vandalized, with the screen showing the word HACKED in English, plus threats in English and Albanian, and an Al Qaeda flag.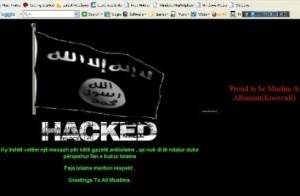 This act elicited even sharper online remarks. Besi from the city of Peja wrote, "Oh believe me, these wretches with beards are forcing me to leave Islam and convert to Christianity." The leading Bosnian and Kosovar Muslim clerics were accused of protecting the radicals, and one commenter called for Saudi-financed Wahhabism to be banned altogether.
As it happens, just before the hack attack on Express, the officially-Wahhabi kingdom of Saudi Arabia, which had held off recognizing Kosovo's independence for a year and a half, announced on August 8 that it would do so. Kosovar Muslims had complained that the Saudis viewed them pejoratively as "America's Islamic favorites," but with the "new and friendlier" message from the White House, the Arabs seem to have decided to renew their past Balkan ambitions. The increasingly serious Wahhabi campaign on Islam's European borderland may be a leading indicator of more al Qaeda flags showing up around the globe.
Thus, the most trenchant question was asked by a resident of Gjilan, Sherifi's home town, who called himself "Mr. X": "Didn't someone say a few days ago that there are no extremist Islamic groups in Kosovo? So what do you call these?" And one must add, do we not hear the same ameliorative claims about the Muslim leadership in America? So what do we call those like Khalilah Sabra and MAS Freedom, who twist the history of Afghanistan to whitewash the biographies of those charged with terrorism?
Related Topics: Albanian Muslims, Balkan Muslims, Bosnian Muslims, European Muslims, Kosovo, Terrorism, Wahhabism, WahhabiWatch receive the latest by email: subscribe to the free center for islamic pluralism mailing list