Grave Concern over Disappearances of Uyghurs Extradited to China

2nd Anniversary of Cambodia Extraditions
by Dolkun Isa
World Uyghur Congress
December 19, 2011
http://www.islamicpluralism.org/1958/grave-concern-over-disappearances-of-uyghurs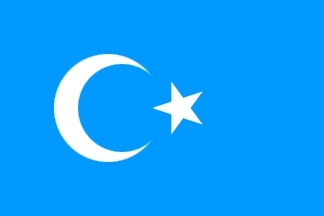 The Flag of East Turkestan.
19 December marks the second anniversary of the illegal and forcible return of 20 Uyghur asylum-seekers (including one woman and two children) from Cambodia to China and the Chinese authorities still have not disclosed their whereabouts and legal statuses. The Chinese government had promised the international community that it would deal with these Uyghurs transparently upon return. The World Uyghur Congress (WUC) is gravely concerned about their well-being and is also worried about other cases of enforced disappearances of Uyghur refugees and asylum seekers after their return to China from different countries in the Asian region.
Under the excuse of the "global war on terror," launched after the 9/11 attacks in the United States, the Chinese government has drastically increased its crackdown on all forms of peaceful political, social and cultural Uyghur dissent. The past ten years have proven that Uyghurs fleeing suppression and discrimination in East Turkestan are at extreme risk of being deported back to China, where they face enforced disappearances, arbitrary detention, torture and execution. In the past decade, at least 170 Uyghur refugees, many of whom had been granted UNHCR refugee status, have been forcibly returned from countries with strong economic and diplomatic ties to China:
A part from the Cambodian case mentioned above, Kazakhstan has deported at least 20 Uyghurs after 9/11, among them Ershidin Israel in May 2011. The same month, Tajikistan deported three Uyghurs with Turkish citizenship to China. Kyrgyzstan has extradited around 50 Uyghurs to China since 2001 and Uzbekistan another two, among them Huseyin Celil, who was sentenced to life imprisonment after his return. Myanmar forcibly deported 17 Uyghurs in January 2010, Laos returned seven Uyghurs in March 2010 and Nepalese authorities have extradited at least nine Uyghurs since 2001.
Since 9/11, Pakistan has deported 28 Uyghurs to China, most recently on 8 August 2011, when five Uyghurs, among them one woman and two children, were sent back to China. The Uyghur refugee Nur Muhemmed was handed over to Chinese officials in Bangkok, Thailand, on 6 August 2011. Only two weeks later, on 18 August, Malaysia extradited eleven Uyghurs to China.
Most of these people have "disappeared" after their forcibly return to China in a kind of black hole. "The disappearance of these Uyghur individuals is emblematic of the absence of the rule of law in China," stated Rebiya Kadeer, WUC President and former prisoner of conscience, and multiple-time Nobel Peace Prize nominee.
Although the Chinese government has alleged that these Uyghurs committed criminal and violent acts, the government has not produced any evidence to substantiate such allegations. The government routinely makes unsubstantiated accusations against Uyghurs of crimes and violence and also regularly equates Uyghurs' peaceful political dissent, as well as peaceful religious and cultural activities, with terrorism, religious extremism, and separatism.
Countries that handed over Uyghur refugees to China were granted economic and diplomatic benefits, ignoring the fact that these extraditions represented a flagrant violation of international human rights treaties, especially the UN Convention Against Torture, the 1951 Refugee Convention and its 1967 Protocol, as well as international customary law.
The WUC condemns these forcible returns in the strongest possible terms and calls on the Chinese authorities to immediately disclose these Uyghurs' whereabouts and to provide the charges, if any, that have been made against them.
The WUC also calls on the Asian governments to end their prioritization of questionable commitments with the Chinese government over their international human rights obligations – especially in regard to denials of asylum and forcible return of asylum seekers.
Background information in the Cambodian case:
On 19 December 2009, under pressure and influence from China, the Cambodian government forcibly returned these 20 Uyghurs before the United Nations High Commissioner for Refugees (UNHCR) had made a determination about their refugee status.
These people had fled China following July 2009 events in Urumqi, East Turkestan's regional capital, because they had witnessed Chinese security forces arresting and using brutal and lethal force against Uyghur demonstrators during the peaceful Uyghur protest in July 2009 in Urumqi.
After their extradition, China rewarded Cambodia for its reprehensible action by signing an agreement two days after the return to provide a reported US$1.2 billion in aid to Cambodia. Cambodia returned these Uyghurs to China while being fully aware that in China, they would be tortured and persecuted on grounds set forth in the 1951 UN Convention relating to the Status of Refugees and the 1967 Protocol to the Refugee Convention, of which Cambodia is a party.
See also:
"The World Uyghur Congress Is Gravely Concerned Over the Enforced Disappearance of 20 Uyghurs by the Chinese Government Since Their Forcible Return from Cambodia Almost One Year Ago"
WUC Press Release, 16 December 2011
http://www.uyghurcongress.org/en/?p=5767
Related Topics: China, Kazakhstan, Kyrgyzia, Malaysia, Pakistan, Uighurs receive the latest by email: subscribe to the free center for islamic pluralism mailing list