CIP endorses protest against Greek ban on Albanian TV journalist
by CIP
International Press Institute and South East Europe Media Organisation
August 22, 2012
http://www.islamicpluralism.org/2087/cip-endorses-protest-against-greek-ban-on
The Center for Islamic Pluralism endorses the following statement by the South East Europe Media Organisation, an affiliate of the International Press Institute. CIP supports recognition and redress of the rights and grievances of the Albanian Muslim Çams, many of them Bektashi Sufis, and other minority communities in or expelled from Greece. The text has been edited to conform to CIP style.
Vienna, August 22, 2012
On August 19, 2012, Martin Mema, a reporter with Albanian Top Channel TV was heading to Greece on a private visit when Greek border police denied him entry to the country, recalling a report of his on Greece a year earlier, Mema explained to SEEMO. He was handed a piece of paper on which he was allegedly described as a threat to national security and therefore persona non grata, he said.
The Vienna-based South East Europe Media Organisation (SEEMO), an affiliate of the International Press Institute (IPI), calls on the Greek authorities to explain why they have impeded Mema's entry to the country. "Reporters should be allowed to travel both as private citizens and as information professionals," said SEEMO Secretary General Oliver Vujović. "The border police appear to have violated several international standards by impeding the journalist's free movement. Press freedom cannot stop at countries' borders."
In an interview with the regional website Balkan Insight, Mema linked the ban to a TV report he did on the Çam population of ethnic Albanians who were expelled from northern Greece during World War Two.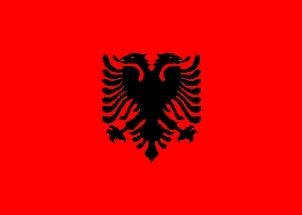 The flag of the Albanian nation.
A year earlier, as SEEMO reported, on August 16, 2011, the Skopje-based journalists, Goran Momirovski of Kanal 5 television and Milena Gjorgjievska, a journalist with the daily Vest, accompanied a group of senior citizens from the Republic of Macedonia, who were trying to obtain their birth certificates in Florina, northwestern Greece. These citizens, born in Greece, live in the Republic of Macedonia.
Momirovski told SEEMO that he was filming the people who were trying to obtain their documents and did not film any public buildings. Gjorgjievska did not film anything. They were detained in the street and held for two hours while police reviewed the filmed material in order to make sure no public buildings were filmed.
On November 11, 2011, Momiroski reported to SEEMO that he was denied entrance to Greece, while on a private trip. The police allegedly argued that the reporter was a threat to national security.
"Greece is a European Union country," Vujović said. "These actions of the Greek border police have to be investigated and explained. International organisations like the Council of Europe or the Organization for Security and Cooperation in Europe (OSCE) should also look into these practices."
Related Topics: Albanian Muslims, American Muslims, Balkan Muslims, Bektashi Sufis, European Muslims, Macedonia, Muslim-Christian Relations receive the latest by email: subscribe to the free center for islamic pluralism mailing list