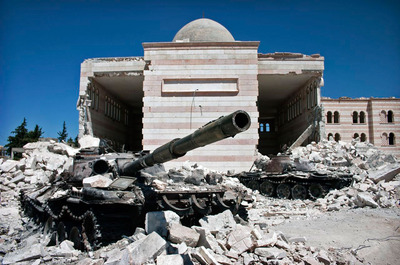 Damage to the Great Mosque of Aleppo.
Syrian dictator Bashar Al-Assad treats Turkish military reprisals as pin-pricks. Nonetheless, while massacres continue inside Syria, confrontations and counterblows proliferate along the country's border with Turkey, including exchanges of mortar-shell fire. But how long will this stalemate last?
Turkish Prime Minister Recep Tayyip Erdoğan, in his public comments, is addicted to candor, if not bluster. He condemns the weakness of the United Nations in the face of the Syrian bloodletting, yet is even more dismayed, it seems, to realize that Turkey cannot wage war on the Al-Assad regime. Turkey cannot save Syria; it cannot march to Damascus; it cannot remove the Al-Assad state apparatus, and it cannot reconstruct Syria as a Turkish protectorate.
The Syrian Army is a significant military force, and would respond with a wholesale offensive, devastating poor Turkish villages. The Syrian war is spreading into Lebanon; its extension northward could produce a general conflagration in the area.
For these reasons, and not out of sympathy for the Syrian tyrant, the overwhelming majority of Turks oppose a military campaign against Damascus. The Turkish political opposition calls on Erdoğan to renounce his bellicose rhetoric. Turkey will, it is hoped, avoid a war with Syria, even as Erdoğan postures as a great military figure and proposes a "vision" for resolution of the crisis.
Erdoğan tours the Middle East and in many places is applauded. This, of course, increases his popularity at home. Arab sympathy for Erdoğan most likely reflects his adoption of an anti-Israeli stance. He has also called for Islamic unity. "Brotherhood" and "community" are the pillars on which Erdoğan has constructed his project for a Muslim-dominated Mediterranean.
Turkish "neo-Ottomanism," combining Islamist supremacy with patriotic fervor, is not limited to Ankara's initiatives in foreign policy. Erdoğan 's Justice and Development Party, or AKP, has made Ottoman nostalgia a central feature of Turkish cultural life.
Examples of this attitude are plentiful. With an AKP municipal government, Istanbul every year now celebrates May 29, commemorating the conquest of the city by Sultan Mehmed II in 1453. In 2010, Istanbul was named the "European Capital of Culture," and the budget for the program emphasized renovation of Ottoman architectural sites. Istanbul no longer projects itself only as a bridge between east and west, but as the center of Ottoman civilization. None of these developments is reassuring.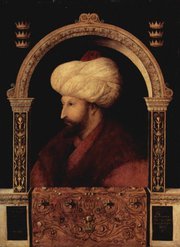 Portrait of Sultan Mehmed II 'El Fatih,' 1479. This work is generally attributed to the Venetian court painter Gentile Bellini.
NATO, in an urgent meeting on the Syrian disaster in June, declared clear support for Turkey. The hurriedly-assembled NATO ambassadors described Syrian attacks on the Turkish frontier as a breach of international law and a menace to regional security. But NATO concluded diffidently, "As indicated on June 26, the alliance is monitoring closely the Syrian situation."
The U.S. promised to support Turkey. Tommy Vietor, National Security Council spokesperson, said late last year, "We continue to call on other governments to join the chorus of condemnation and pressure against the Assad regime so that the peaceful and democratic aspirations of the Syrian people can be realized. President Obama has coordinated closely with Prime Minister Erdoğan throughout the crisis in Syria and will continue to do so going forward." The U.S. appealed to Al-Assad to step down from power, agree to an armistice in the fighting, and initiate a political transition.
After Turkey forced a Syrian passenger aircraft to land in Ankara on October 10, German foreign minister Guido Westerwelle visited his Turkish counterpart, Foreign Minister Ahmet Davutoğlu, in Istanbul. Westerwelle placed his country unambiguously on the side of Turkey. The German representative declared, "Under international law, Turkey must not tolerate transport through their airspace of weapons or military supplies to Syria." In a similar case, with a violation of German airspace, said his government would have done the same thing. "Turkey is our partner," Westerwelle added, "and they can count on our solidarity."
The German foreign minister, however, distanced Germany from Erdoğan's harsh criticism of the UN Security Council, which Erdoğan has said should be reformed, as at present two permanent members, Russia and China, possess veto power over any action on Syria.
Erdoğan repeats to the world that a humanitarian disaster is taking place in Syria. "If we wait for one or two of the [UN Security Council's] permanent members... then the future of Syria will be in danger," he insists. But his opinion is not supported by most of the rest of the world. Erdoğan, in an October 13 speech in Istanbul, invoked the Balkan tragedy that occurred two decades ago. "How sad is," he said, "that the UN is as helpless today as it was 20 years ago, when it watched the massacre of hundreds of thousands of people in the Balkans."
No one can predict where all this oratory will end up. It is only certain that there are victims on both sides of the Turkish-Syrian border, and in the conflict inside Syria. Since the beginning of October, the Turkish army has directed fire at 87 locations inside Syria, and has killed at least 12 Syrian soldiers, according to a report based on Turkish military sources, and published in the Turkish daily Milliyet on October 20. The paper stated that Syria had launched mortar rounds or other shells across the border 27 times, and that in the Turkish response, five Syrian tanks, three armored vehicles, one mortar, one ammunition transporter and two anti-aircraft guns were destroyed, with many more military vehicles damaged.
The Europeans tend to their own affairs, the five permanent members of the UN Security Council negotiate among themselves, Turkey claims it is considering unilateral action against Syria. But Erdoğan is, to many, no more than an impotent, tantrum-prone, and dangerous demagogue – which the Obama administration and other "concerned powers" will not publicly admit. Some say that notwithstanding a possible Erdoğan strategy for the establishment of Syria as a Sunni Islamist ally – or vassal – of an AKP-led Turkey, he and his party are needed for any positive action by NATO against Al-Assad. But presumptions that he can act consequently to rescue the Syrian people are mistaken. And the rest of us can only wait and hope for the best.
Related Topics: Turkish Islam receive the latest by email: subscribe to the free center for islamic pluralism mailing list