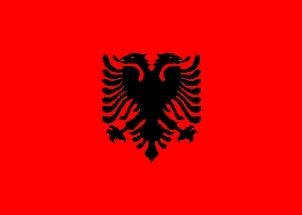 The flag of the Albanian nation.
Albania was the only country with a Muslim majority that dared to swim against the stream by not voting in favor of upgrading Palestine to observer-member status at the United Nations.
However, for those who know the country well, Albania is, in most aspects, more similar to the former communist countries of Eastern Europe than to the countries of the Middle East. Unsurprisingly, most of the Eastern European countries abstained as a group on this issue. (Two notable exceptions were the Czech Republic, which was among only nine countries which sided against Palestine, and Serbia, the latter which, as expected, voted in favor of it.)
With this information at hand it may come as a surprise that the Prime Minister of Albania was held out in a flagrant attempt at public embarrassment by a foreign leader. The Turkish Prime Minister, Recep Tayyip Erdoğan, told his country's media that he pressured the leader of another country to vote in favor of the Palestine resolution, but failed to convince him and added "the world is of full of cowards."
He did not reveal the name of the "straw man" leader, but the leading Turkish daily Hürriyet (Freedom) identified Albanian Prime Minister Sali Berisha, and Albania, as, respectively, the targeted leader and country that dared to resist Erdoğan's pressure, and made sure that at least one of the "cowards" of this world was not left unnamed.
While the aim may have been to place Berisha and Albania under scrutiny and embarrassment, this kind of behavior from a leader who oversaw the emerging of Turkey as a stronger player in the region does no service to the image of his country or to his own image.
It has often been very difficult to discuss the conflict between Israel and Palestinians in a normal manner, without being confronted with high emotions and moralistic postures. The recent vote at the UN was no different and, as always, some important elements of the case were missed or ignored. Here are some sobering details in this context.
First, Albania was one of the first countries to recognize the right of the Palestinians to have their own independent state and also one of the first countries to accept an Embassy of Palestine in its soil.
On the other hand, Albania enjoys excellent relations with Israel, but they cannot be compared with the Turkish-Israeli relationship as it was until only three years ago, when Erdoğan suddenly decided to turn upside-down his country's foreign policy in the Middle East. Those strong links were not immediately cut when Erdoğan came in power. On the contrary, he initially tried to make the most of them and, in an example of irony, was accused similarly of being a coward and toeing the U.S. line toward Israel.
This article will not evaluate Erdoğan's reasons for suddenly turning from a declared friend to a public foe of Israel, but it is clear that he should at least restrain himself from lecturing others on how to deal with the Middle East's most prominent conflict.
Unlike Erdoğan, Albania has been consistent: supporting a state for Palestinians but in the context of a regional peace. The last vote at the UN reflected this unchanged, principled position.
Erdoğan's motives and principles are an object of debate. There is an understanding that he bases his hostility towards Israel on his religious views. His opposition in Turkey accuses him of trying to turn back the clock and dismantle the secular status of his country. However, Erdoğan's religious positions are old and unchanged from the time when he was visiting Israel, embracing Ariel Sharon and trying to boost relations between the two countries. So religion alone cannot suffice to explain his change.
Another explanation may be the lure of the popularity that he has won in the Arab Street because of his harsh criticism of Israel. He hates to be surpassed by anyone else in this context, and certainly not by Iran's Ahmedinejad. To what extent personal satisfaction and ego prevail in his foreign policy decisions would always be hard to say.
Finally, polls such as that conducted recently by BBC have pointed out that Turkey ranks among the first, if not first in the world, when it comes to the percentage of public support for immediate establishment of a Palestinian state. This factor cannot be ignored, especially nowadays when for the first time in many years, Erdoğan's domestic ratings have been falling significantly as the minor Turkish economic miracle seems to have shifted naturally downward. This explanation would raise the question of whether domestic implications dictate his international positions.
There may be other explanations of his position on the Palestinian issue, but nothing seems to distinguish him as "brave," at least not to the point of having the right to call a "coward" the leader of another country, who makes his decisions based on different geopolitical, electoral and cultural parameters and circumstances. Using only his complicated yardstick to pass judgment on the decisions of another leader is arrogance in the worst case and carelessness and insensitivity in the best one.
Second, this UN vote in which Albania abstained, was not as historic as its proponents claimed it to be. Palestine won the vote, but nothing has changed in the ground. Palestine is still far from becoming a state or a member of the United Nations.
It may have had some symbolic value, but, for all its worth, Albania seems to have made the right decision opting to abstain until a serious proposal is set forth.
The last time that Prime Minister Sali Berisha spoke from the pulpit of the United Nations, he reiterated Albania's determination that Palestinians deserve their own state, but he emphasized that independence had to be part of a long term peace agreement in the region.
Some vocal supporters of this last Palestinian vote argue that the importance of the new status is that it would open the way to membership in the International Court of Justice, where Palestine can sue Israel for crimes against humanity. However, this is precisely the wrong approach to the conflict. It reveals that the intention of some of the actors is not peace for all the people of the region, but punishment and condemnation of Israel. It matters little that the cost of this legal adventure may be the prolongation of the exhausting conflict and more suffering for the Palestinian people. It is what you get when moral posturing and prejudice trump serious, realistic proposals and a sincere will for long-term peace.
Third, a calmer and alternative reading of the new situation and of the last vote would offer some interesting elements. The most recent military clash between Israel and Hamas increased the sympathy for the latter among Palestinians in the West Bank, raising concerns that the stature of Palestinian President Mahmoud Abbas is in decline. The vote at the UN may thus have been meant to restore the confidence of Palestinians in the West Bank-based Palestinian Authority and to reduce the domestic political momentum of Hamas.
This was perhaps the strongest point of the proposal at the UN, but one that was rarely mentioned by its proponents, who know that calls for the punishment of Israel draw more votes than political scenarios in which Israel, too, may see some benefits in the long term.
However, this kind of analysis also raises the question whether in this last UN endeavor Abbas was motivated by the interest of the Palestinian cause or by the needs of his own political career.
Leaders, diplomats, countries and institutions should not be divided between the brave and the cowardly, between those who are pro-Palestinian and those who are pro-Israel, or "anti-Semites" and "anti-Muslims," but between those who favor peace and those who favor the continuation of war, those who seek long-term solutions and those who prefer quick and cheap political shots, and those who contribute an open-minded approach and those who are fatally crippled by a propagandist, rigid, or ideological mentality.
Lastly, it would be ungrateful not to credit Erdoğan for taking the right stand on issues like Kosova, Syria, etc. His government is helping Kosova in its difficult campaign to win its deserved international recognition by Muslim countries as an independent country. Cynics would say that every Turkish Prime Minister would have done the same and that Erdoğan is compelled by the arguable idea that Kosova will eventually help the recognition of Northern Cyprus. However, in fairness, he has never mentioned the two topics in the same context, Turkish diplomatic support for Kosova has come about under his watch, and he deserves full credit about it.
However, if Kosova was part of the argument about why Albania had to vote in favor of Palestine, than it certainly was a poor way of promoting any cause. I wonder when the zeal to compare the two cases will be given a rest. Palestine and Kosova are not the same and anybody who harbors doubts about this should simply ask the parties directly concerned: Serbs and Kosovars, Palestinians and Israelis.
Israel and Palestinians disagree on most things, but neither is in a rush to recognize Kosova as a state.
The Palestinian President, who a few days ago asked for the right of self-determination for his people at the UN, has denied it several times to Kosova. In an official visit to Belgrade, the capital of Serbia, he said that Kosova's independence was a breach of international law and advised Kosovars to go back to the negotiating table and decide their status in agreement with Serbia. This is interesting advice, considering that it is exactly the opposite of what he is doing at the UN by asking for status while bypassing talks with Israel. Furthermore, Kosovars could only wish that Serbia would publicly agree in principle to a two-state solution, the way Israel has done. So, Abbas's advice is highly hypocritical.
Both Kosova and Palestine may be one day become members of the UN, but for now their international support differs.
Kosova would love to have the numbers that Palestine enjoys in the General Assembly, but on the other hand it has an important advantage, the full support of the West. There are, of course, reasons for this. Unlike Hamas and other Palestinian armed groups, the Kosova Liberation Army (KLA) never resorted to terrorism, despite mass graves, rapes, tortures and a blatant attempt at a massive campaign of ethnic expulsion by the Serbian regime. Nor did the political program of the KLA call for the elimination of Serbia from the map of the world or refuse to accept the right of Serbia to exist.
Many Albanians are upset by the deaths of civilians in Gaza, especially those of the children, but the KLA never used women and children as human shields. It is dishonorable to Albanian customs to involve women and children in violent disputes.
Nor have Kosova diplomats ever tried to win recognition for their state and diplomatic support by denying the right of self-determination to other people the way the Palestinian President did during his visit to Belgrade.
There are no angels in armed conflicts and crimes against Serbs took place as well. But the KLA from its first public statement to the end of the 1998-99 liberation war repeatedly condemned and discouraged any action against Serbian civilians and made a clear distinction between the Serbian regime and the Serbian people. The perpetrators of crimes are not awarded the status of heroes in Kosova. They would normally deny and hide any involvement.
Naturally, it is normal for Abbas to promote his cause in Belgrade, but he cannot have it both ways. He cannot have both the Serbian vote at the UN and the respect of the Kosovar people.
These and many other reasons make those who support the myth of a Kosova-Palestine similarity naïve or hypocritical if not straightforwardly malevolent.
After all, Kosova is clearly a sui generis case and does not need a Palestinian precedent to earn international recognition just as it is unlikely it will be used as a precedent for any other independence demand. This is not an argument against a future Palestinian state, of course, which is also a matter that stands alone.
It is impossible to end this comment without a reminder that this incident happened right after Albania celebrated the 100th anniversary of its declaration of independence, which ended five centuries of Turkish occupation. Albanians never looked back and were determined not to let Turkey ever again make decisions on their behalf. This remains true today, a century later.
However, over the years, the two countries have found a way to build a great bilateral relationship. This connection should be strengthened and improved for the betterment of the two countries, but only by respecting each other's differences and interests. This relationship should certainly not be tested by impositions on issues, which do not directly interest the relations between the two countries.
Erdoğan has been a relatively successful Prime Minister through years of impressive economic growth, and has strengthened the voice of Turkey in the international scene, including the Balkans. However, history tells us that successful leaders are tested more seriously than others. With a stronger voice comes greater responsibility for what one says. And many leaders are judged by history on the basis of how they administer their successes.
Erdoğan has, for some time, struggled with high expectations that came with his rise. This latest incident with Berisha does not reflect well on him and is telling.
Albanian views aside, any expert in international affairs and politics could inform Erdoğan that revealing delicate conversations, made in private and during a decision-making process, is a bad diplomatic precedent. In the long term, the person who is harmed the most is almost always the one who cannot resist running his mouth.
(Ruben Avxhiu is editor-in-chief of Illyria, a New York-based Albanian-American newspaper.)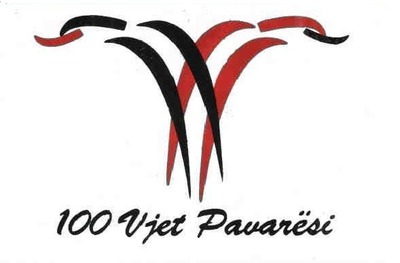 One Hundred Years of Albanian Independence.
Related Topics: Albanian Muslims, Balkan Muslims, Kosovo, Macedonia, Montenegro, Muslim-Jewish Relations, Turkish Islam receive the latest by email: subscribe to the free center for islamic pluralism mailing list