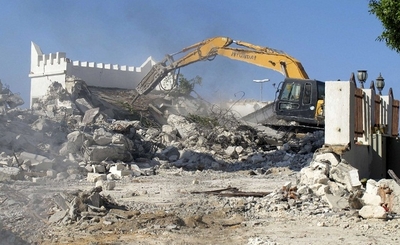 Destruction of the Abdallah Al-Shaab Mausoleum, Tripoli, Libya, August 25, 2012.
The following statement was released today, May 15, in connection with the Hudson Institute seminar, "Islamist Repression of Sufis and Other Religious Minorities," held in Washington, DC. Information on the seminar is available
here
. Further signatures are welcomed and should be e-mailed to CIP. The document will be retransmitted periodically as signatures are received.
# # #
As scholars of religion, we appeal to the United Nations (UN), its Educational, Scientific, and Cultural Organisation (UNESCO), and member states, both Muslim and non-Muslim, to undertake urgent action to end the current global wave of violence against the holy sites, shrines, and houses of worship of all religions.
In the most recent period, we note that Islamic Sufi shrines have been targeted for terror and vandalism in countries as diverse as India, Macedonia, Pakistan, Iraq, Egypt, Libya, and Mali. To cite the most prominent examples:
· In 1995, the Kashmir mausoleum of shaykh Nooruddin Rishi was bombed.
· In 2002, fundamentalist radicals began a campaign to take over the Harabati Baba Sufi shrine in Tetova, Macedonia, the largest Sufi installation, outside Albania, in the Balkans, and to eject its founders and owners for centuries, the Bektashi Sufi order. At present the aim of the extremists is nearly complete; the Harabati shrine has been almost fully occupied by the interlopers. A Sufi burial at the shrine was obstructed in 2009, while despoliation of its structures and cultural assets continues.
· In 2005, the imam Bari shrine in Islamabad, Pakistan, was bombed. The shrine is maintained by Barelvi Ahl-us-Sunnah Muslims but is visited by Shia Muslims. In the attack, at least 18 people were killed and up to 100 injured.
· In 2007, the mosque and shrine of Abdulqadr Al-Jilani in Baghdad was attacked with explosives, killing at least 24 people and injuring numerous others.
· In the same year, 2007, the most famous Sufi structure in India, the Moinuddin Chishti shrine in Ajmer Sharif, was bombed, with two dead and at least 10 injured.
· The year 2007 saw commencement of an extended campaign against Sufi institutions in Pakistan. The Abdul Shakoor Malang Baba shrine in Peshawar was nearly totally levelled by a bombing.
· In 2008, a rocket attack on the shrine of Hazrat Abu Saeed Baba near Peshawar killed 10 villagers. The Ashaab Baba shrine in the same district was similarly rocketed.
· In 2009, the shrine in Peshawar of the distinguished Sufi poet Rehman Baba was devastated by explosives, an incident that shocked the entire South Asian region. The next day the tomb of the Sufi Bahadur Baba in Nowshera near Peshawar was destroyed. The shrines of Chalghazay Baba and Shaykh Omar Baba in the Peshawar district were assaulted.
· In 2010, the Mian Umar Baba shrine in Peshawar was demolished. The same year, the Data Darbar Shrine in Lahore was struck, with 45 killed and 175 injured. The shrine of Abdullah Shah Ghazi, the "patron saint of Karachi," was bombed, leaving eight dead and more than 65 injured. The mausoleum of Baba Fariduddin Ganj Shakkar in Pakpattan, Pakistan, was blown up, killing six and injuring 15. At the end of the year shots aimed at the Ghazi Baba shrine near Peshawar killed three caretakers.
· Further in 2010, a bombing conspiracy against the Sufi observance of Ajvatovica in Bosnia-Hercegovina, which draws thousands of pilgrims, was prevented after an attack on a local police station killed one officer and injured six more.
· In 2011, a bomb planted at the Akhund Panjo Baba shrine near Peshawar killed seven people and injured 25.
· The year 2011 additionally saw mob attacks on Sufi mosques in Alexandria, Egypt, that were avoided thanks to action by local residents. A wave of shrine desecrations in the Nile Delta destroyed five Sufi sites before intervention by inhabitants of the area brought an end to the aggression.
· In 2011 and 2012, Sufi shrines and mosques were attacked in Libya and in Timbuktu, Mali.
· Numerous shrines of all religions have been destroyed in the Syrian civil war.
In addition, the devastation of shrines, cemeteries, and other religious sites is not limited to terrorist assaults or to targeting of Sufis or Muslims. Saudi Arabia and Lebanon, among other Muslim-majority countries, have allowed the loss of their precious Islamic architectural heritage under the pretext of urban renewal or development.
Shia mosques, husseiniyat (meeting houses), and shrines have been defiled in Saudi Arabia, Pakistan, Iraq, Bahrain, Afghanistan, and even in Belgium. In 2003, the main Shia mosque in Quetta, Pakistan, was attacked, with 53 killed. The Al-Askari Shia mosque in Samarra, Iraq, was destroyed in a series of bombings in 2006-07. In 2009, 60 Shia worshippers were killed and again in 2012, 72 were left dead, when the Imam Musa Al-Kadhim shrine in Baghdad was repeatedly targeted. Since the occupation of Bahrain in 2011, dozens of Shia mosques and husseiniyat have been closed and demolished.
Around the world, Muslim mosques in Myanmar; Buddhist cultural monuments, such as the Bamiyan statues wrecked in Afghanistan in 2001; Hindu temples in India, Pakistan, Australia, and the US; as well as Jewish synagogues in Tunisia, Turkey, and elsewhere; Christian churches in Iraq and Egypt, and the cemeteries of these and of other faiths and sects, have been objects of wilful and hateful destruction. Where houses of worship are violated, innocent worshippers die. On August 5, 2012, a stranger shot six people to death at a Sikh temple in Milwaukee, Wisconsin, USA, most probably in the belief that the Sikhs, who wear turbans and beards, were Muslim.
Our appeal is not sectarian. People of different faiths may disagree about their beliefs. But there should be no place for attacks on the people visiting, praying in and honouring shrines, sanctuaries, and cemeteries, or vandalism of them. The sacred, cultural, and historical sites of all religions belong to the people of the whole world. International bodies charged with protection of the world's common heritage must call on local authorities to act with deliberate speed to guard the legacy, no less than the members, of all the world's religions from malign ravage and careless exploitation. The holy places of all religions must be respected appropriately; the adherents of all religions must be secure in their observances. As believers, we can allow nothing less.
# # #
Irfan Al-Alawi, Executive Director, Islamic Heritage Research Foundation, London, UK
Edib Korkut, Distinguished Cultural Preservationist, Washington, DC, USA
Kemal Silay, President, Center for Islamic Pluralism, Washington, DC, USA
Stephen Suleyman Schwartz, Executive Director, Center for Islamic Pluralism, Washington, DC, USA
Murat Muftari, U.S. National Director, Center for Islamic Pluralism, Detroit, MI, USA
Salim Mansur, Canadian Director, Center for Islamic Pluralism, Toronto, Ontario, Canada
Veli Sirin, German Director, Center for Islamic Pluralism, Köln, Germany
Daut Dauti, UK Research Director, Center for Islamic Pluralism, London, England
Raheel Raza, President, Council for Muslims Facing Tomorrow, Toronto, Ontario, Canada
Sohail Raza, Board Member, Council for Muslims Facing Tomorrow, Toronto, Ontario, Canada
Arben Sulejmani, The Bektashi Community of the Republic of Macedonia
Imam Mateen Siddiqui, President, As-Sunnah Foundation of America
Shaykh Zymer Salihi, Imam of the Shaykh Nazim Mosque and Founder of the Albanian Mosque, London, UK
Ahmed Subhy Mansour, President, The International Quranic Center, Virginia, USA
M. Zuhdi Jasser, President, American Islamic Forum for Democracy, Phoenix, Arizona, USA
Shireen Qudosi, Editor, The Qudosi Chronicles, USA
Saeid Abedpour, Author, Sarajevo, Bosnia-Hercegovina
Aya Johanna Daniëlle Dürst Britt, Editor, al.arte.magazine, The Netherlands
Yuri Stoyanov, School of Oriental and African Studies, University of London, UK
Gëzim Alpion, University of Birmingham, UK
Yannis Toussulis, Independent Scholar and Author, USA
Robert Reilly, Independent Scholar and Author, USA
Paul Marshall, Hudson Institute, Washington, DC, USA
Michael McDonald, Author and Cultural Preservation Expert, Washington, DC, USA
Rachel Silverman, Independent Scholar, USA
Related Topics: Albanian Muslims, Balkan Muslims, Bektashi Sufis, Bosnian Muslims, British Muslims, Canadian Muslims, Dutch Muslims, European Muslims, Irfan Al-Alawi, Macedonia, Shiism, Sufism, Wahhabism, WahhabiWatch receive the latest by email: subscribe to the free center for islamic pluralism mailing list