Uyghur American Association calls on Chinese government

Substantiate terror claims with an open and independent investigation
by The Uyghur American Association
Uyghur Human Rights Project and Uyghur American Association
June 28, 2013
http://www.islamicpluralism.org/2253/uyghur-american-association-calls-on-the-chinese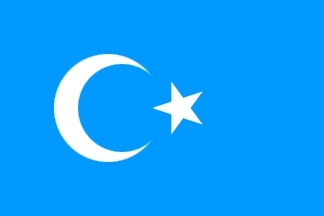 The flag of East Turkestan.
The Uyghur American Association (UAA) casts doubt on Chinese government claims that the June 26, 2013 incident in Lukchun [East Turkestan] was an act of terrorism until an independent verification of events is available. UAA is unequivocally opposed to any form of violence and condemns all violent actions. Furthermore, UAA urges the international community to remain skeptical of Chinese government claims of a terrorist motive in regard to the Lukchun incident, as Chinese state assertions of Uyghur terrorism have consistently lacked confirmation from independent sources.
"Terrorism should be condemned," said UAA President Alim Seytoff in a statement from Washington, DC. "What we see emerging from the Lukchun incident is a government struggling to save face before the world for the devastating effects of its failing ethnic policies." Mr. Seytoff added: "The way the Chinese state has managed this incident follows a pattern familiar to others that have happened in the past. After imposing a blackout of news and maintaining tight control of information, the state then uses its propaganda apparatus to label the incident 'terrorism' without presenting any evidence that can be independently proved. The loss of life is extremely upsetting. One wonders if Chinese officials will ever understand that to relieve tension in East Turkestan, they must not view Uyghurs as a hostile enemy."
According to a number of overseas media reports citing an English language Xinhua article, 27 people were killed after a series of attacks on police stations, government offices and construction sites in Lukchun, near Turpan, on June 26, 2013. The Xinhua report stated nine security personnel and eight civilians were killed in the attack. Security forces allegedly killed 10 of the assailants. Official Chinese media did not give a motivation for the attack.
Immediately following the incident, Chinese authorities imposed a media embargo on information about events in Lukchun on June 26. The English language article was removed from the Xinhua website. Reports in the Chinese language media, some purportedly containing images of the incident, were also deleted from websites. Overseas Uyghur activists made several unsuccessful attempts to call Pichan County, where Lukchun is located, after news of the incident broke. Furthermore, Chinese authorities enforced roadblocks in the Lukchun area. A June 27 AFP article described how two AFP journalists were stopped from entering the area at a manned roadblock 25 miles from Lukchun. A second AFP article dated June 28 stated: "Local authorities followed two AFP journalists in their car and detained them for about an hour, stressing that the site of the attacks was closed to media." The same article cited an interview with a Uyghur from Turpan who said text messages and calls to friends in Lukchun could not be completed.
Details of the attack remain unclear. As previously stated, official Chinese media claimed Chinese security forces had shot and killed ten Uyghur assailants; however, an article dated June 27 posted by the China Digital Times indicates that Chinese authorities understood the number of attackers killed by police to be around 20. A notice from the Karamay Municipal Public Security Bureau cited by the China Digital Times from the day of the Lukchun incident reveals, "20 thugs have been shot dead at the scene, three have been arrested (all are injured), and the rest are at large." In the days following the incident, state media raised the number of dead to 35 claiming the attackers killed 24 people and the police 11 with four attackers captured. An article from Radio Free Asia dated June 27 reported that at least 46 had been killed in the incident citing interviews with an imam who conducted burials for the dead and local officials. The imam believed 35 people from the security forces were among those killed, "I saw and and [sic] counted a total of 35 pieces of burial cloth, so I believe the death toll from the side of the authorities is 35."
Although official media did not initially specify a motive for the attack later reports issued from state news sources labeled the incident as "terrorism." A June 28 op-ed in the China Daily attacked the United States for its double standards over its response to the Lukchun incident. At a June 26 press briefing, US State Department Press Office Director, Patrick Ventrell urged "Chinese authorities to conduct a thorough, transparent investigation of this incident, to provide those detained the due process protections to which they're entitled under China's constitution, laws, and international human rights commitments." UAA believes China's terror claims in regard to the Lukchun incident lack credibility in the absence of an independent investigation and accusations against the United States are an attempt to divert attention from its policies towards Uyghur people. Chinese officials regularly exploit incidents in East Turkestan to evidence an alleged "terror threat" to the Chinese state. Allegations of Uyghur terrorism have received little credibility outside of officially sanctioned Chinese media.
UAA reported in a June 26 press release that tensions in the Lukchun area might have been heightened by the hacking to death of a seven-year-old Uyghur by a Han Chinese and by land disputes. A Radio Free Asia article published on April 22, 2013 quoted Abdulla Nuraji, deputy chief of the state-sanctioned Islamic Association of Pichan county, who said authorities must resolve the issue of land disputes, which is ultimately responsible for the tension between Han Chinese migrants to the area and Uyghurs who have farmed there for generations. Unconfirmed reports add that local officials had attempted to confiscate land from Uyghur farmers for development. Authorities employed a number of measures, such as cutting electricity and water to the area, to force the villagers from the land.
Related Topics: Central Asia, China, Uighurs receive the latest by email: subscribe to the free center for islamic pluralism mailing list