Same Mistakes, No Real Solutions From Beijing's Misguided 2013 Xinjiang Work Forum
by The Uyghur American Association
Uyghur Human Rights Project and Uyghur American Association
September 24, 2013
http://www.islamicpluralism.org/2298/same-mistakes-no-real-solutions-from-beijing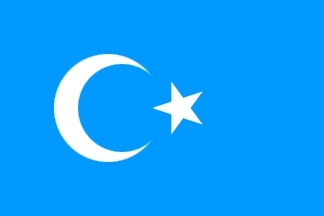 The flag of East Turkestan.
Chinese state media announced today that the fourth meeting of the "Xinjiang Work Forum" took place on September 23-24, 2013 in Beijing. The Uyghur American Association (UAA) believes that new employment and educational policies outlined at the latest forum employ assimilatory tactics aimed to dilute Uyghur culture and fail to address the authorities' growing reliance on brute force and repressive policies to ensure regional stability. The absence of any dialogue with the Uyghur population in the forum underscores the top-down approach to the initiative, which cannot solve the region's most pressing problems.
At the meeting top officials including Vice Premier Zhang Gaoli advocated a policy of migration to bring development and stability – encouraging Uyghurs to leave their homeland and Han to migrate to the region. Yu Zhengsheng, chairman of the National Committee of the Chinese People's Political Consultative Conference, said that to boost employment in the region, minority groups from southern regions and others should be encouraged to seek jobs in other regions. "Xinjiang still faces many special difficulties in development and stability. It needs the support of the entire country," Yu said. Yu also called for more inland elites to work in East Turkestan, "fostering local talent with professional quality and managerial capabilities," and providing "talent support."
In a statement from Washington, DC, UAA President Alim Seytoff said: "The policies from the latest Xinjiang Work Forum are misguided. The so-called 'talent support' from inner provinces insultingly suggests that Uyghurs and other ethnic groups in East Turkestan lack talent and this same deception has been used to justify widespread employment discrimination against Uyghurs in their homeland. Furthermore, these policies will dilute the Uyghur population in East Turkestan by driving more Han migrants from interior provinces to the Uyghur homeland and forcing Uyghurs and other minority residents to leave." UHRP documented systematic employment discrimination against Uyghurs in East Turkestan in a 2012 report, Uyghur Homeland, Chinese Frontier: The Xinjiang Work Forum and Centrally Led Development. Uyghurs forced to relocate to interior Chinese cities also face discrimination, as labor watchdog group China Labor Watch documented in a recent report about a factory in Shanghai.
With regards to education, "Yu stressed bilingual and vocational education as well as education on ideology and politics to promote scientific knowledge and competence among local people," said Xinhua. In the past, so-called "bilingual education" in East Turkestan has referred to the gradual reduction of Uyghur language education, as UHRP documented in a 2007 report, Uyghur Language Under Attack: The Myth of "Bilingual" Education in the People's Republic of China. The reference to ideological education and scientific knowledge also recalls China's repressive policies targeting Uyghur religion, the focus of a UHRP report earlier this year, Sacred Right Defiled: China's Iron-Fisted Repression of Uyghur Religious Freedom. In both cases, the policies focus on assimilation to the language and ideology of the Chinese state, and reduction of Uyghur cultural expression.
This year's forum occurs only three years after the last "Xinjiang Work Forum" in May 2010, a major event attended by then-President Hu Jintao. UHRP noted in a May 21, 2010 press release that the forum's ambitious development policies failed to address the root of social discontent that led to incidents of unrest in 2009, particularly the lack of Uyghur input in the development process. UHRP predicted that as a result, regional stability would remain elusive and prosperity outside the reach of the Uyghur people. These predictions have come to fruition, and a series of incidents of unrest in the past six months have led to a heavy-handed crackdown on the part of Chinese authorities and a rise in extrajudicial killings of Uyghurs.
"The latest policies aim to reduce Uyghur language, culture and even population in East Turkestan," said Mr. Seytoff. "They repeat the grave mistakes of the 2010 Work Forum – failing to consult with Uyghurs and to address the repressive policies that have caused social unrest. This will only lead to greater instability in the region." UHRP urges Chinese authorities to reconsider their approach by consulting with Uyghurs in East Turkestan and employing policies that will instead eliminate employment discrimination, allow Uyghurs and other ethnic groups to freely express their language, and address the Uyghur people's long-standing and legitimate political and human rights grievances.
Related Topics: Central Asia, China, Kazakhstan, Uighurs, Uzbekistan receive the latest by email: subscribe to the free center for islamic pluralism mailing list