On November 26, the Financial Times published an extravagant encomium to Lady Catherine Ashton by its Brussels bureau chief Peter Spiegel, under the headline "EU foreign policy chief Lady Ashton comes of age in Iran talks." Spiegel reported, "her team returned from negotiations in Geneva to a standing ovation . . . from EU ambassadors for their part in clinching a historic deal to limit Iran's nuclear ambitions."
EU High Representative for Foreign Policy and Security Ashton, to give her full title, had indeed been a star of the Geneva smile-a-thon with the Iranians. Spiegel wrote further, "It is not merely a one-off success, but the high point in a six-month stretch that began with the unexpected deal she brokered between Kosovo and Serbia in April, paving the way for two former foes to normalise relations." The so-called "Kosova agreement with Serbia," crafted in Brussels, was much less expansive than indicated by Spiegel, and attracted little American attention. It was hardly greeted with such enthusiasm by the parties involved, least of all on the Kosovar Albanian side.
As recorded on April 20 by the United Nations Mission in Kosovo (UNMIK) media monitoring service, when the promised pact between the two Balkan countries was announced by Ashton, she enthused, "I want to congratulate [Kosovar prime minister Hashim Thaçi and his Serbian counterpart Ivica Dačić] for their determination over these months and for the courage that they have. It is very important that now what we are seeing is a step away from the past and, for both of them, a step closer to Europe."
Early bulletins on the supposed diplomatic breakthrough claimed that Serbian parallel police and "de facto" courts in the violently-intransigent, Serbian-occupied northernmost corner of Kosova would be integrated into a unified Kosova legal system under the control of its Albanian-majority government. But Serbia had removed from the agreement a phrase that would have ended its policy of blocking membership for Kosova in the United Nations and other international organizations.
Albanians count 92 percent of Kosova's population, with Serbs included alongside other minorities in the remaining 8 percent by the CIA World Factbook. Thus, each state supposedly got something and surrendered nothing. Koha Ditore (Daily Times), the newspaper of record in Prishtina, the Kosovar capital, pointed out immediately that the prime ministers of each, Thaçi and Dačić, "came out with differing interpretations of what they had agreed to in Brussels."
Thaçi, representing the governing Democratic Party of Kosova or PDK, based in the leadership of the former Kosova Liberation Army (KLA), was seemingly focused only on continued approval by the EU. He offered low-key remarks redolent of Brussels-speak: "We managed to narrow down our differences and move towards a reconciliation, understanding, and . . . an agreement." Thaçi said he knew people both in Kosova and Serbia would oppose the "deal" but said it was the best possible solution for the two states as well as the region.
Serbian prime minister Dačić appeared to have the better of the bargain. "Normalization" of Belgrade's relations with an independent Kosova would mean accepting, presumably, the fact of the latter's separation from Serbia. In 2008, Kosovar sovereignty was declared, and was recognized by President George W. Bush, but has been rejected by Serbia and Serbs in Kosova ever since. Dačić spurned effective recognition of Kosova Republic authority when he commented on the April 2013 agreement. He also was concerned obviously to placate Brussels, in the hope of an accelerated Serbian accession to the EU, a process scheduled to begin formally in January. Slovenia and Croatia are the only ex-Yugoslav states with EU membership.
Still, Dačić boasted that under the agreement supervised by Ashton, his coethnics in northern Kosova would possess an autonomous "community" with a mini-capital in the turbulent northern part of Mitrovica, a divided mining city in northern Kosova where Serbs have driven Albanians out. The Serbian leader said the "community" would have its own "assembly, president, and council . . . a type of government."
Koha Ditore, in a sidebar, warned that the agreement was very different in reality from what little was leaked to media. The daily cited provisions it deemed illegal, for institutionalization of the Serbian parallel "judicial" structures by recognition of a separate Serbian appeals court in north Mitrovica, appointment of a Serb regional police commander responsible for four northern districts, and "supervisory authority" granted to an association of municipalities with "ethnically-cleansed" Serb majorities.
These concessions to Serbia violate three laws established by Kosova: those on police, courts, and local self-government, according to Koha Ditore.
Members of the Kosovar opposition to Thaçi and the PDK were more direct in their condemnation of the outcome of ten sessions of Kosova-Serbia talks. Vjosa Osmani, a representative of the moderate Democratic League of Kosova or LDK, which preached and practiced nonviolence historically and was inactive in the 1998-99 Kosova war, described the publicly-available text of the agreement as "mysterious." She disapproved of its failure to include disbanding of the Serbian parallel structures in northern Kosova, and its grant of executive power to their political backers.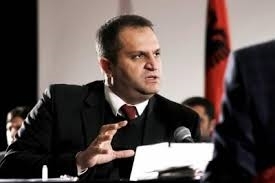 Shpend Ahmeti.
The
Self-Determination Movement
(known as LVV in Albanian), a mainly-young party that holds the third-largest number of deputies in the Assembly of Kosova, the national parliament, after the PDK and LDK, rejected Ashton's proposals. Through its deputy leader Shpend Ahmeti, LVV warned that the agreement would replicate the partition of Bosnia-Hercegovina in Kosova, with a territorial split between ethnic groups. The division of Bosnia-Hercegovina into a "Serbian Republic," founded on murder and expulsion of non-Serbs, and a "Muslim-Croatian Federation," was imposed by the Dayton peace conference of 1995 and is
unchanged
today.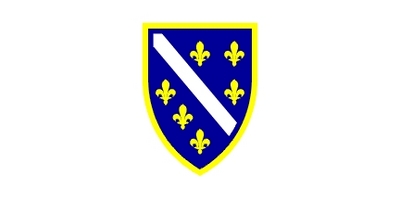 The flag of the Republic of Bosnia-Hercegovina.
In the nine months since Ashton revealed the outcome of the Kosova negotiations in Brussels, the situation inside Kosova has remained tense. The Serbia-Kosova agreement was ratified by the Assembly of Kosova in June. In September, as described in the Wall Street Journal, Audrius Senavicius, 35, a Lithuanian customs officer employed by the EU Rule of Law Mission in Kosovo (EULEX) died, and a Czech officer accompanying him was admitted to hospital after a shooting attack on their car in Zvečan, a Serbian enclave near north Mitrovica. Six EULEX employees, altogether, were riding in two vehicles when they were targeted.
The EU offered a reward of 27,500 euros (about $38,000) for information in the case, but no suspects have been identified, three months later.
The Lithuanian government said Senavicius had gone to Kosova in August 2012. Prior to June 2013, Koha Ditore revealed, EU customs officials had travelled to their work on the Kosova-Serbia border by helicopter. But in the aftermath of Lady Ashton's "success" with the Serbs and Kosovars in Brussels, and accompanied by her loud congratulations, the officers had begun driving to their stations. As Koha Ditore put it, "Roads in the north [are] deadly even for EU officials." [Note: CIP joins in mourning for the slain Lithuanian customs officer but does not support the presence of the European Union Rule of Law Mission (EULEX) in Kosova.]
On November 3 local elections were held, in Serbian-dominated northern Kosova along with the rest of the republic. But the voting in northern Kosova was disrupted by a Serb boycott, riots, attacks by masked men on voters and poll workers, destruction of ballot boxes, and an assault on Krstimir Pantić, a Serbian candidate. Pantić, seen as a traitor by Serbian hardliners for running in an election under EU administration and, supposedly, Kosovar Albanian jurisdiction, represents the "Serbian Land" ("Srpska") Civic Initiative.
Pantić was, nonetheless, elected to the mayoralty of north Mitrovica on December 1. He declared, "after these elections, Kosovo will never become a member of the United Nations," demonstrating that he is no moderate.
In addition, however, Shpend Ahmeti, the militant Self-Determination leader who had criticized Ashton for imposing a Bosnian-style ethnic segregation in Kosova, was voted in as mayor of Prishtina on December 1. Ahmeti is an alumnus of Harvard University, with a master's degree in public administration. He has also worked at the World Bank. Amid harsh winter weather that had been expected to limit participation, Self-Determination claimed large numbers of voters had turned out to support their candidate.
Ahmeti's victory was seen as an expression of Kosovar discontent with Lady Ashton and the Brussels agreement with Serbia.
On Ashton's performance regarding Iran, the FT's Spiegel gushed, "[her] supporters say the agreement, like the Kosovo one before it, has proved she can do the job despite its structural limitations." But the Kosova agreement has unraveled in discontent.
Catherine Ashton stands for the EU policy of accepting a stalemate between hostile forces and presenting it as a reconciliation, then treating continued discord and conflict with promises of new talks. That was visible in Macedonia, after inter-ethnic fighting in 2001, as well as in Bosnia-Hercegovina and Kosova. There is no compelling evidence that her performance with the Iranians at Geneva will produce a better result.
We Are One.
Related Topics: Albanian Muslims, Balkan Muslims, Bosnian Muslims, European Muslims, Iran, Kosovo, Macedonia, Montenegro receive the latest by email: subscribe to the free center for islamic pluralism mailing list