CIP Endorses Condemnation of Chinese arrest of Uyghur AIDS activist Akbar Imin

Calls for Immediate Release
by The Uyghur American Association
Uyghur Human Rights Project and Uyghur American Association
March 13, 2014
http://www.islamicpluralism.org/2365/cip-endorses-condemnation-of-chinese-arrest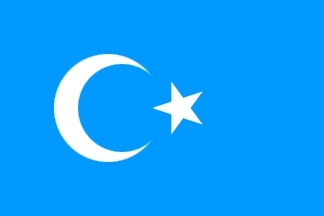 The flag of East Turkestan.
[Note: The Center for Islamic Pluralism endorses this statement by the Uyghur Human Rights Project.]
On March 7, the Aizhixing Institute, a Chinese AIDS prevention organization, announced that former employee Akbar Imin had been detained by police in Urumchi on January 15. Imin, who lives in Beijing, was in Urumchi to attend his father's funeral. He was taken on the same day as Uyghur scholar Ilham Tohti was detained in Beijijng. Chinese dissident Hu Jia told Reuters that like Tohti, Imin faces charges related to endangering state security, also possibly in retaliation for championing the rights of Uyghurs.
UHRP Director Alim Seytoff said in a statement from Washington DC: "The detention of Akbar Imin reflects the narrowing space for Uyghurs to say anything at all related to the improvement of their ethnic group, even in the face of a severe AIDS epidemic. That this detention was not known to the outside world for over a month after it took place reflects the lack of transparency with which the government is conducting its crackdown on moderate Uyghurs."
This is the latest case of several Uyghurs targeted in a recent crackdown against moderate voices involved in activism and research to improve conditions for Uyghurs in China, including linguist Abduweli Ayup and economist Ilham Tohti. The Aizhixing Institute called for government restraint: "We call upon Urumchi public security and relevant departments to cautiously deal with cases that involve our Uighur compatriots who participate in social and public welfare activities."
Imin, 32, came to Beijing from East Turkestan to attend the Central Minorities University in 2002 and graduated in 2006. He then worked in the inaugural phase of the Aizhixing Insitute's Uyghur Migrant Health Education and Rights Protection program, carrying out health education, running the Center's Uyghur website, and conducting research on the HIV/AIDS epidemic and prevention policy.
Imin went in 2008 to work for the ThinkTank Research Center for Health Development, the only other organization in Beijing dedicated to Uyghur migrants, where he was in charge of the Uyghur Migrant Population Drug Reduction program. Of their work, Imin explained to the state-run Global Times: "It's a harm reduction program. If we don't give them clean needles, they'll share a needle with others who are infected."
Chinese policies exacerbated the early AIDS epidemic amongst Uyghurs in the 1990s, as AIDS spread chiefly through needle sharing. In the absence of an effective antidrug program, Uyghurs in the border city of Ghulja organized religious gatherings called meshrep as an effective grassroots effort to combat drug use. After Chinese authorities banned the meshrep, ten to fifteen thousand peaceful protesters assembled on February 5, 1997. Police used batons, tear gas, high-pressure hoses and even shot at the peaceful protestors, killing as many as 30 of them and wounding more than 100 on the spot. Authorities subsequently rounded up thousands of the fleeing demonstrators, as well as people who were suspected of participating in the demonstration, and even their family members. Dozens and possibly hundreds of Uyghur people were subsequently executed and many more disappeared.
As in East Turkestan, the Aizhixing Institute in Beijing found high rates of infection and lack of education among intravenous drug users in the migrant Uyghur community in Beijing, compounded by housing and employment discrimination as well as police harassment.
AIDS activists in China face regular harassment, particularly those whose work involves the Uyghur community. For example, in Urumchi in 2008, an HIV education organization called Snow Lotus founded by Xinjiang Normal University student Chang Kun was shut down. As for the Aizhixing Institute in Beijing, in June 2010, the group faced police harassment, and in July the police prevented their screening of an AIDS-related film. In 2011, the Aizhixing Institute's website was shut down entirely.
The continued harassment and detention of those conducting research and support services on behalf of the community of Uyghurs who suffer from HIV and AIDS will only undermine stability within East Turkestan and in Uyghur communities in Inner China. UHRP urges China to release Akbar Imin so that he can continue his vital work.
* * * * *
The Uyghur American Association (UAA) works to promote the preservation and flourishing of a rich, humanistic and diverse Uyghur culture, and to support the right of the Uyghur people to use peaceful, democratic means to determine their own political future.
The UAA has undertaken the Uyghur Human Rights Project (UHRP) for the purpose of promoting improved human rights conditions for Uyghurs and other indigenous groups in East Turkestan, on the premise that the assurance of basic human rights will facilitate the realization of the community's democratic aspirations.
Related Topics: Central Asia, China, Uighurs receive the latest by email: subscribe to the free center for islamic pluralism mailing list