CIP Endorses Bosnian American Protest Against Murder in St. Louis [U.S.]
by Advisory Council for Bosnia and Herzegovina
Advisory Council for Bosnia and Herzegovina
December 1, 2014
http://www.islamicpluralism.org/2430/cip-endorses-bosnian-american-protest-against
[Note: The Center for Islamic Pluralism endorses this statement by the Advisory Council for Bosnia and Herzegovina.]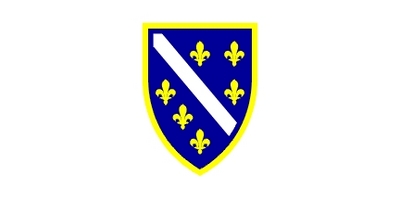 The flag of the Republic of Bosnia and Herzegovina during the 1992-95 war.
For Immediate Release
Contact: [email protected]
(202) 347-6742
ACBH Outraged Over Brutal Attack on
Bosnian American in St. Louis
December 1, 2014 - Washington, D.C. - The Advisory Council for Bosnia and Herzegovina (ACBH) mourns the loss of Zemir Begić , a thirty two year old Bosnian American man who was brutally attacked by at least three teenagers with hammers early Sunday in St. Louis, Missouri. Mr. Begić suffered injuries to his head, abdomen, face and mouth. He died at St. Louis University Hospital.
"ACBH is saddened and outraged by this horrific news and stands in solidarity with the Bosnian American community in St. Louis. Our heartfelt condolences go out to the family of Mr. Begić and we ask that authorities find those responsible and bring them to justice," stated ACBH President Mirzeta Hadžikadić.
Bosnian Americans peacefully gathered near the Bevo Mill area of St. Louis on Sunday evening to protest the killing of Zemir Begić, also recalling other recent Bosnian American victims of violence such as Haris Gogić, who at nineteen years old was fatally shot in May 2013 by a robber in his family's Bevo Mill convenience store. Given this history of violence, the Bosnian American community is afraid for its safety and while some suggest that the brutal assault is linked to the Ferguson unrest, St. Louis police Chief Sam Dotson spoke with residents at the street protest and reassured the protestors that the killing did not appear motivated by race or ethnicity.
St. Louis is home to the largest number of Bosnians outside of Bosnia and Herzegovina (BiH) who came to the United States as a result of ethnic cleansing and genocide during the 1992-1995 war of aggression against BiH. Throughout the years, the Bosnian American community has helped revitalize parts of St. Louis and has positively contributed to its development. ACBH implores the St. Louis authorities to ensure the safety of the Bosnian American community and bring the perpetrators to justice.
_________
ACBH is an independent, non-profit organization dedicated to advancing the interests of Bosnian Americans and works to improve relations between the United States and BiH. ACBH advocates for a united, democratic, multiethnic, and indivisible BiH with a primary goal of advancing the integration of BiH into the EU and NATO.
Related Topics: American Muslims, Balkan Muslims, Bosnian Muslims, European Muslims receive the latest by email: subscribe to the free center for islamic pluralism mailing list