Indian Sufi Condemns Pakistan Massacre
by Syed Babar Ashraf
Tahreek–e-Tahaffuz-e-Mazarat-e-Auliya Allah
December 18, 2014
http://www.islamicpluralism.org/2433/indian-sufi-condemns-pakistan-massacre
TAHREEK-E-TAHAFFUZ-E-MAZARAT-E-AULIYA ALLAH
Office: A-14-Flat No. 202, Noor Nagar Johri Farm
New Delhi 110025
India
E-mail: [email protected]
Sufi Leader Syed Babar Ashraf, Chief Patron of the Tahreek–e-Tahaffuz-e-Mazarat-e-Auliya Allah [Movement for the Protection of Shrines of Muslim Saints] and member of the Maulana Azad Education Foundation (Ministry of Minority Affairs) in the government of India, has expressed deep anguish and sorrow over the cold-blooded killing of 132 children and staff members at the Army Public School, in Peshawar, Pakistan on December 16. In a statement, Syed Babar Ashraf described the terror attack as a heinous crime against humanity and called upon the world community to defeat the ideology of terror.
"Our hearts go out to parents and family members of all those innocent children and staff members of the school who were gunned down by the bullets of terrorists, and we offered our prayers for them. Let the Almighty give them strength to bear this extreme pain of losing their bright sons and daughters," Syed Babar Ashraf said.
The Sufi Ashraf added that this cowardly act of mindless violence is a warning to the civilized world that enemies of humanity have reached our doorstep and the time has come to wage a war against the perpetrators of the ideology of terror, who are tarnishing the image of traditional Islam, which never supports killing of innocents under any circumstances.
He stated further that Saudi Arabia and Qatar both are mainly responsible for this tragedy. Their official ideology of Islam is Wahhabism or "Salafism." All these extreme terror groups follow the same ideology guided by Saudi Arabia and Qatar. It is high time for our beloved nation to draft a concrete policy so that Wahhabism should not grow in India, as it is the biggest threat to peace and humanity.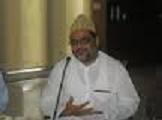 Syed Babar Ashraf, our brother and teacher.
Related Topics: British Muslims, Canadian Muslims, Deobandism, Pakistan, Sufism, Takfir, Terrorism, Wahhabism, WahhabiWatch receive the latest by email: subscribe to the free center for islamic pluralism mailing list