Indian Muslim Leader Denounces Wahhabism in Peshawar Bloodshed
by All India Ulema and Mashaikh Board
All India Ulema and Mashaikh Board
December 17, 2014
http://www.islamicpluralism.org/2434/indian-muslim-leader-denounces-wahhabism-in

The All India Ulema and Mashaikh Board (AIUMB), a leading body of Sufi Sunni Muslims of India, representing more than 80 percent of the Muslim population in the country, has condemned the killing of innocent school children in Peshawar, Pakistan, and said that no mercy should be demonstrated in crushing this extremist mentality, anywhere in the world.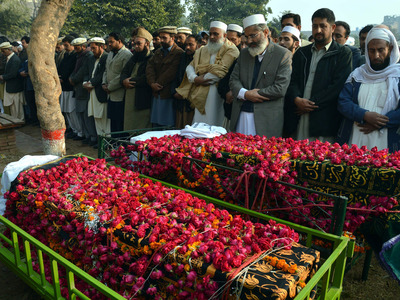 Janazah (Islamic funeral) of the Peshawar martyrs. CIP calls on all Muslims to recite Fatiha and read Surah Ya Sin for the victims. May Allah subhanawata'ala reward those sacrificed for truth.
The president and founder of the Board, Hazrat Maulana Syed Mohammad Ashraf Kichowchhwi, in a strong response, denounced this crime against humanity unleashed by the Taliban, with the massacre of more than 145 people, as among the worst crimes of Wahhabis.
The Wahhabi school of religious thought has created an atmosphere in all Muslim lands, including Pakistan, where killing of innocents is the only aim, to gain power and money.
The innocent children of the Army Public School in Peshawar had every right to acquire education and grow as responsible citizens, but the Taliban need to keep the whole society ignorant and illiterate so that their dictates are carried out easily.
Education is the main target of the Taliban and they destroy schools everywhere, with spiritual centres like Dergahs, Astanas, and Khaniqahs also under attack.
This Peshawar school massacre cannot be seen as an isolated or Pakistan-specific attack as it is continuation of international chaos created by the Wahhabi/"Salafi" elements, led and fed from Saudi Arabia and Qatar, who targeted the Buddhas of Bamiyan with the same zeal as they assaulted the shrine of Hazrat Sayyida Zainab in Syria and bulldoze other religious monuments in all Muslim societies, where progressive, egalitarian, secular governments work hard to feed and educate their citizens.
In India radical forces are gaining strength, and the government is unready to accept that it is contributing to the growth of extremism by providing them access to the bureaucracy, administration, and and the other corridors of power. Wahhabis and their handlers have as much influence over the Modi government as they did under the former regime of Manmohan Singh. It is high time to reexamine our priorities as to involvement in bodies requiring Muslim representation, since they have been hijacked by Wahhabis.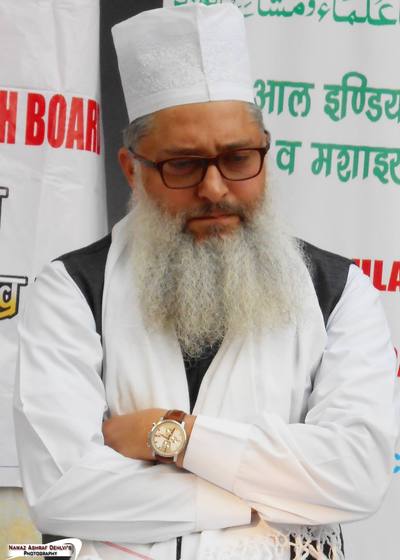 Hazrat Maulana Syed Mohammad Ashraf Kichowchhwi, our beloved mentor.
Related Topics: Albanian Muslims, Balkan Muslims, Bosnian Muslims, Central Asia, Chechnya, Deobandism, Iraq, Kosovo, Macedonia, Pakistan, Saudi Arabia, Sufism, Takfir, Terrorism, Wahhabism, WahhabiWatch receive the latest by email: subscribe to the free center for islamic pluralism mailing list