On Monday, December 15, as reported by the German news service Deutsche Welle (DW), some 15,000 people massed in Dresden, Germany, under the banner of a new and seemingly informal movement calling itself Patriotic Europeans Against the Islamization of the West -- PEGIDA by its German-language acronym. The incident was the ninth PEGIDA rally in Dresden since the marches began in October "in response to clashes between Kurds and Sunni Muslims [in Germany] over the West's intervention in Syria," according to DW.
German chancellor Angela Merkel has condemned the PEGIDA phenomenon, declaring, "There is no place in Germany for those who are instigating hatred against immigrants."
Americans and other Westerners have become accustomed to public criticism, some of it extreme, of Islam. But certain aspects of the Dresden events may have escaped their notice, and are enigmatic, to say the least.
Dresden, in the German state of Saxony, near the border with the Czech Republic, although the center of the anti-Islam movement, has the fewest population of foreigners in Germany, according to Rick Noack, writing in The Washington Post. Since Dresden is in former East Germany, or the "German Democratic Republic" (GDR), where economic immigration from Islamic lands was rare, most foreign workers in the GDR came from Communist Vietnam or from Soviet-aligned countries in Africa.
The pattern of German Muslim concentration in former West Germany, or the "Federal Republic of Germany" (FRG), has not changed. The whole of former East Germany -- the "new states" -- has only 25,000 Turks, or 0.2 percent of the entire population in the ex-Communist zone.
In 2010, even cosmopolitan Berlin had only 175,000 Turks, or 5 percent of its population of 3.5 million, overwhelmingly in the former West Berlin. This contrasts with the western industrial state of Nordrhein-Westfalen (NRW), with the largest Muslim representation, where Turks count a million, somewhat more than 5 percent of the total NRW state population of 18 million.
Why, then, are anti-Islam rallies taking place in a part of Germany where there are almost no Muslims? One explanation might be that having little experience with Muslims, the inhabitants of Dresden are frightened of any newcomers, especially refugees from Syria. "Many eastern Germans know only few or no foreigners; they are scared because they have no idea what to expect from the influx of refugees," said Dresden-based political scientist Werner Patzelt to the previously mentioned Rick Noack.
But other factors merit consideration. The Dresden anti-Islam demonstrations have included slogans decrying Chancellor Merkel's sharp attitude countering the aggressive machinations of Russian president Vladimir Putin in Ukraine and other former Communist countries, now independent.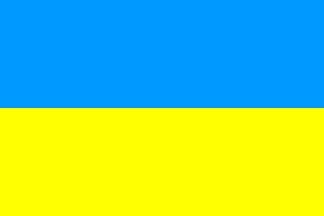 The flag of Ukraine. Every Muslim should stand up against Russian imperialism.
Two photographs reproduced on The Huffington Post UK on December 9 showed signs from a PEGIDA mass meeting reading "Frieden mit Russland! Nie wieder Krieg in Europa!" ("Peace with Russia! Never again war in Europe!") and "Wollt ihr den totalen Russlandfeldzug?" ("Do you want a total war campaign against Russia?"). The latter included a rudely defaced photograph of Merkel as an American servant.
Writing for Bloomberg View on December 17, Leonid Bershidsky offered a disturbing context for the Dresden turmoil. He pointed out that the anti-immigrant National Front in France "has loudly bucked Europe's ongoing policy of ostracizing the Russian president, and has received millions of euros from Russia in return." Given the PEGIDA mix of anti-Islam and pro-Russian slogans, he stated, "Putin's strategy seems to be to build up a 'fifth column' of far-right parties in Europe willing to cooperate with the Kremlin."
Bershidsky, crediting the authoritative German daily Frankfurter Allgemeine Zeitung, noted that a seemingly bizarre slogan displayed at the PEGIDA turnout on December 15 was "Putin, hilfe uns!" ("Putin, help us!").
The Frankfurter Allgemeine Zeitung itself published an image from the December 15 Dresden gathering of a placard reading "Weg mit der Kriegstreiber-Regierung! Deutschland RAUS aus der NATO!" ("Fight the warmongers' government! Germany OUT of NATO!").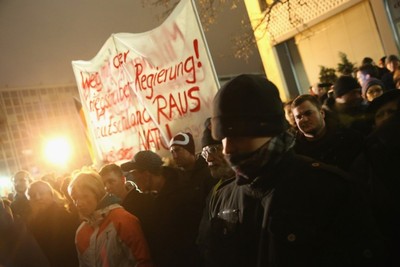 This image of the anti-NATO placard present at the December 15 Dresden PEGIDA episode was published in The Washington Post of December 16, 2014, with the above-linked article by Rick Noack.
Dresden and Saxony, like much of the rest of the former East Germany, remain influenced by Russia. Bershidsky referred to economic links, but political channels may be more significant. Vladimir Putin, serving as an officer of the former KGB, was headquartered in Dresden. It is certainly not beyond imagining that the Russians left networks behind them in Germany as "sleepers" after the Berlin Wall came down in 1989.
For her part, Angela Merkel was born in Hamburg (West Germany) but lived most of her life, before 1989, in East Germany. Her father, a Lutheran pastor, had gone to the Communist zone to administer a church there.
Putin may view support for the anti-Islam uproar in Dresden as a way to mobilize his former agents and an additional option in challenging Merkel over the destiny of the former Soviet empire. Raising a furor over Syrian refugees could also be a ploy to reinforce Moscow's alliance with Damascus dictator Bashar Al-Assad. Mingling of anti-Islam and pro-Russian rhetoric in Germany could reflect mere opportunistic exploitation of the former movement by adherents of Moscow, but that seems unlikely.
PEGIDA and its founder, Lutz Bachmann, have sought to distance themselves from neo-Nazi agitation against immigrants, especially Muslims. Rather, it claims, "We want to preserve our free-thinking, our free and open lifestyle for ALL people living in Europe!" Regarding participants in PEGIDA, Deutsche Welle has cited the academic expert Patzelt affirming that "the majority are completely normal people. Of course, they're not people who usually vote Green, or the Left party, or the SPD [Social Democrats], but they're not extremists."
Reviewing the pro-Russian verbiage visible at the PEGIDA manifestations, one may conclude confidently that Germany will not leave NATO, and that even in his most unrestrained moments, Putin would not interfere directly in the former East Germany as he has in Ukraine.
Many observers may see in PEGIDA no more than another example of the "new populism" in Europe. But an anti-Islam, pro-Russian alliance is dangerous for its advocates. Alignment of Russian ambitions and German discontent has been seen before: in the Stalin-Hitler pact of 1939, which allowed Germany to conquer most of Europe before turning on Russia. Germans should be wary about these issues.
Related Topics: Alevism, Balkan Muslims, Bosnian Muslims, Chechnya, European Muslims, German Muslims, Kosovo, Kurdish Islam, Muslim-Christian Relations, Russia, Turkish Islam receive the latest by email: subscribe to the free center for islamic pluralism mailing list