Prishtina, Kosova
The Balkan republic of Kosova, with an overwhelming Muslim majority and a median age of 27, has committed itself to a consequential struggle against radical Islam. While some Kosova Muslims are numbered in the ranks of the so-called "Islamic State" (ISIS), the Kosova government has criminalized participation in and recruitment for jihad.
Additionally, the Kosova authorities have hosted a series of annual conferences bringing together Muslim, Christian, and other global spiritual leaders against religious bigotry. This year, the topic of the event was "Interfaith Dialogue in a Time of Social Media: Enabling Agents of Change, Countering Violent Extremism and Hate Speech."
Benefiting from entrepreneurship, foreign assistance, and the enthusiasm of its youthful population for social media, Kosova is an ideal European – and Muslim – location for a campaign to oppose Islamist ideology using new and popular means. While many observers credit ISIS with clever use of social media, the Kosova government is matching and outwitting them.
In her introductory address at the 2015 conference, Kosova President Atifete Jahjaga praised "representatives of different faiths and people who have dedicated their lives to the power of spiritual union ... to demonstrate the value of interfaith and ecumenical dialogue ... [and] the importance of interfaith tolerance."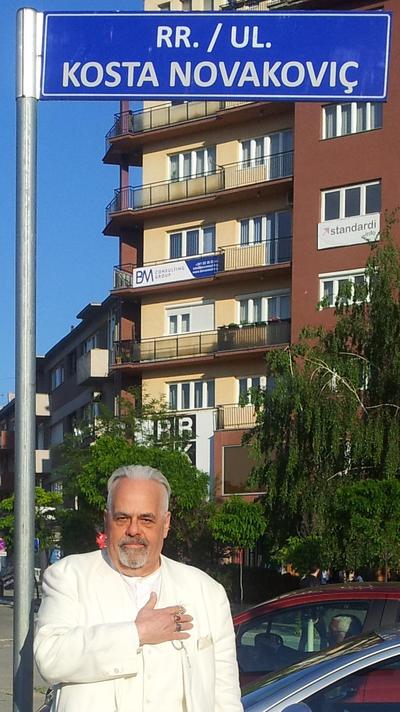 The author of this text at a street in Prishtina, Kosova, named in honor of the Serbian revolutionary Kosta Novaković [ca. 1886-1939], who defended Albanian rights and was murdered in the Stalinist GuLag. He was rehabilitated by Moscow in 1958. – Photograph 2015 by Gazi Berlajolli.
She explained, "This is an added value [for] Kosova's society, which has gone through difficult times.... The tradition of religious coexistence cultivated throughout the entire history of this place [is] ingrained in our Constitution ... mak[ing] Kosova a place of diversity and peacekeeping."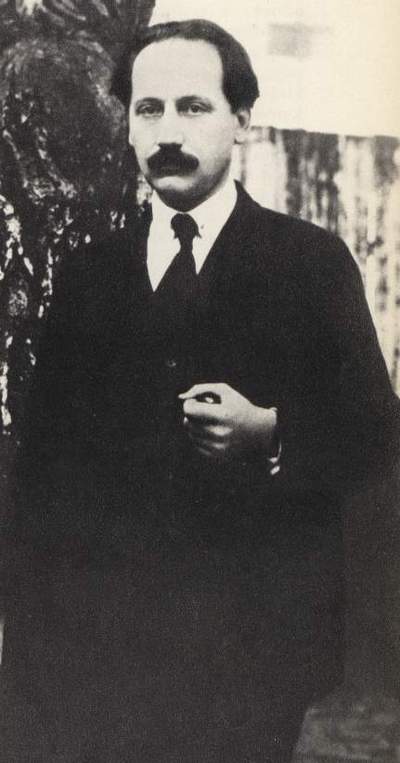 Kosta Novaković.
More bluntly, Kosova Deputy Prime Minister and Foreign Minister Hashim Thaçi, in a message to participants in the event, stated, "Kosova has approved ... [a] law against foreign fighters to stem participation on [the side of ISIS] in Syria and Iraq." The law provides for sentences up to 15 years in prison "for those participating and instigating participation in [the] bloody conflict in the Middle East."
Thaçi continued, "Kosova police and prosecutors have arrested and brought charges against almost 100 suspected foreign fighters as well as some individual imams who have been advocating for ISIS." Certain imams have been charged with money laundering. Thaçi declared that Deputy Foreign Minister Petrit Selimi "has been at the forefront of using digital diplomacy to engage international audiences with the new Kosova as well as to counter the extremist message from nationalist and religious fanatics."
Thaçi noted proudly that 85 percent of Kosova households have broadband Internet access, "which makes Kosova a particularly fertile soil for new platforms of interaction with young audiences."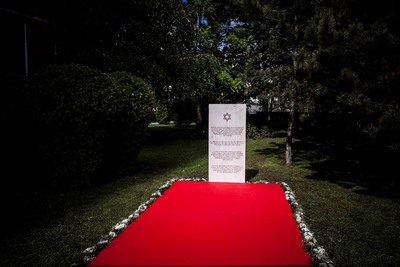 The Kosova Holocaust Memorial.
Kosova's efforts in this area include support for smaller religious communities such as the Kosova Jews and the Bektashi Sufis, as well as Instagram competitions, sponsored by the Norwegian government, and Wikipedia training camps for children.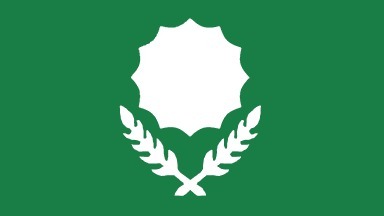 The banner of the Bektashi Sufis.
At the 2015 conference, Deputy Foreign Minister Selimi described the Interfaith Kosovo initiative by the government of the republic as "a native response to global challenges." Interfaith Kosovo was launched four years ago, with Kosova as a basis for in-depth discussion and development of "cutting-edge tools in promoting interfaith dialogue ... to resolve religious differences that in recent years evolved into violent extremism."
Interfaith Kosovo launched a multilingual Web portal, interfaithKosovo.org, followed by such programs as a workshop on the Jewish heritage of Kosova, placement of a monument to victims of the Holocaust in the garden of the Kosova parliament, lectures, books, support for blogs, and an annual summer school.
In 2014 participants of the annual interfaith conference, held in the historic multiethnic city of Prizren, formalized Interfaith Kosovo as a nonprofit, the International Institute for Interfaith Dialogue.
Selimi emphasized that Kosova is a "secular, democratic society" but is "still not healed from [the] wounds of war." Unfortunately, he said, "it is certainly not immune to the global threat posed by violent extremism."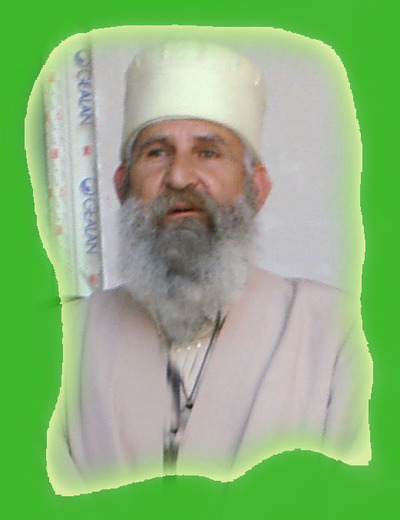 Baba Mumin Lama.
This year's conference book included wise counsels by participants in past events. Uniquely in the world, a prominent place was granted to representatives of the metaphysical Islamic Sufi communities of Kosova. Baba Mumin Lama of the Bektashi Community in the Kosova city of Gjakova said, "The limits of life are immeasurable, too wide, and the people are the ones who move in this wideness. Therefore, today we must perfect ourselves, to debate freely our own ideas, or our own religious choices, without feeling hurt."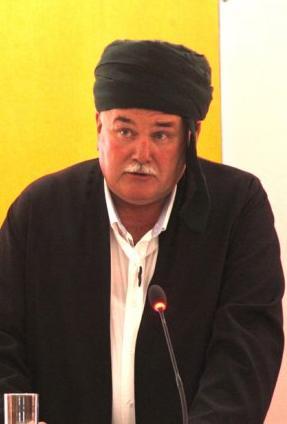 Sheikh [Shejh] Lulzim Shehu.
Sheikh Lulzim Shehu, a representative of the Union of Sufi Tarikats of Kosova, adapted a comment by the scholar Philip Jenkins, who wrote, "Through its poetry, music, dance, unique aesthetic sensibility, advocacy of peace, love, and mystical quest, the Sufi tradition seeks and celebrates direct love and communion with God, which mirrors a deep connection with one's own humanity."
Interfaith Kosovo is leading the way in responding to radical Islam and other problems of religious life.
Related Topics: Albanian Muslims, American Muslims, Balkan Muslims, Bektashi Sufis, European Muslims, Kosovo, Macedonia, Montenegro, Muslim-Christian Relations, Muslim-Jewish Relations receive the latest by email: subscribe to the free center for islamic pluralism mailing list