CIP Ramadan Greetings for 2016 CE, 1437 AH
by CIP
CIP
June 7, 2016
http://www.islamicpluralism.org/2572/cip-ramadan-greetings-for-2016-ce-1437-ah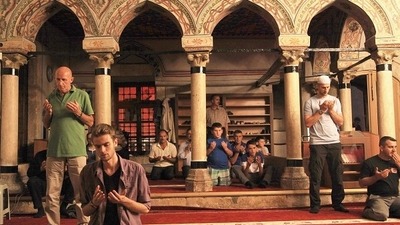 Ramadan celebrants at the 17th c. CE Sinan Pasha mosque in Prizren, Kosova.
The Islamic fasting month of Ramadan began during the night of June 6-7, according to the common calendar. Ramadan offers a period of spiritual sacrifice, meditation on our deeds and fate, and assistance to those, Muslims and others, whose conditions of life are difficult. Muslims will refrain from eating, beverages including water, smoking, and sexual relations during each day of the holy month.
Ramadan comes this year as atrocious bloodshed continues in Syria, Iraq, and Turkey. The Mediterranean refugee crisis, in which numerous Muslims have lost their lives, wears on. At the same time, Rohingya Muslims in Myanmar face attempted genocide, Uighur Muslims in China are suppressed, and Tatar Muslims in Crimea, usurped from Ukrainian authority by Russia, have been relegated to second-class status. Muslims in the West feel the lash of fear, generated by bigoted, demagogic politicians and pundits without concern for the effects of their words. Muslims everywhere must confront terrorist extremism.
During Ramadan, the daily breaking of the fast (iftar) at sundown (aksham prayer call) will be celebrated in mosques by special devotions, and in the streets and on the sidewalks of many Muslim-majority cities and Muslim minority communities by distribution of food to the public, mainly the needy. Ramadan is the best time of the year for moderate, conventional, traditional, spiritual, and even conservative (but not radical) Muslims to reach out to their non-Muslim neighbors.
The Center for Islamic Pluralism wishes its members and correspondents around the world an easy but a satisfying Ramadan.
Ramadan Mubarak! Ramadan Karim!
Related Topics: Albanian Muslims, American Muslims, Bosnian Muslims, British Muslims, Canadian Muslims, Central Asia, Chechnya, China, German Muslims, Indonesia, Iran, Iraq, Kazakhstan, Kosovo, Kurdish Islam, Kyrgyzia, Macedonia, Malaysia, Montenegro, Muslim-Christian Relations, Muslim-Jewish Relations, Russia, Turkish Islam, Uighurs, Uzbekistan receive the latest by email: subscribe to the free center for islamic pluralism mailing list