Brother Muhammad Ali As I Will Remember Him
by Stephen Suleyman Schwartz
The Huffington Post
June 10, 2016
http://www.islamicpluralism.org/2575/brother-muhammad-ali-as-i-will-remember-him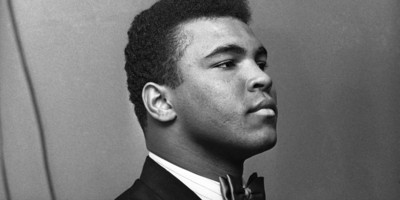 Rahmetli Brother Muhammad Ali.
The passing of Brother Muhammad Ali, at 74, will doubtless stimulate recollections and reflections in many Americans, non-Muslim no less than Muslim. Yet aside from boxing fans and the African-American public, the rest of us baby-boomers (I am 67) may preserve our most vital vision of him as a supreme sports hero who refused to participate in the Vietnam War.
On Vietnam, his was the unsurpassable example of a voice that could not be stilled - about that, he was indeed, for so many people, "The Greatest." Writers, actors, singers, and philosophers who condemned the war could be ignored or otherwise marginalized.
For Brother Muhammad Ali, suppression of his views was impossible - period. His challenge to the war and the draft was infused with unmistakable moral force. His statements and interviews were electrifying.
He issued his repudiation of the war in 1966. Only two years before, I, as a young pro-Soviet Communist, had attended a speech by Benjamin J. Davis, Jr., the head of African-American affairs for the Communist Party, USA. Davis railed against the idea that the civil rights movement, which caused great excitement throughout the land, had produced a "New Negro." Davis insisted that African-American protestors were no novel phenomenon, and merely restated long-articulated demands for equality.
Davis the Communist was wrong. A "New Black Man" had come, in the form of Brother Muhammad Ali. The boxer had charisma exceeding that of Martin Luther King, Jr. and Malcolm X.
But during the '70s the Vietnam war ended; Brother Muhammad Ali returned to boxing, and, therefore, to the background of American and world society. The '60s counter-culture had carried much of the new generation away from interest in blood sports.
I seldom thought of him until January 8, 2001, when I was working in Washington, DC, as a print journalist. I was at the White House when Brother Muhammad Ali received the Presidential Citizens Medal from Bill Clinton. The second Clinton administration had entered its final two weeks - it would conclude on January 20.
A tent raised on the White House lawn was full. Suddenly Brother Muhammad Ali was there in the group of official guests, separated from the press and public by security barriers. The Brother's medical problems were advanced and he spoke not a word. Rather, with the eyes of all upon him, he commenced performing sleight-of-hand tricks. After he was finished with each, he would show the assembled visitors how it was done, since Islam prohibits deceptions through magic and sorcery. Brother Muhammad Ali was delightful to be near, even without the apparent capacity for speech, or for me or others to present him with media queries.
His image in the journey of my youth was reawakened again only two years ago, during a trip to the Balkans. In Sarajevo, I visited a dealer in old badges and similar nostalgic items, mostly from the era of Titoite socialism. The modest merchant of memories offered me two pins from the late '60s, when Yugoslavia was prominent in the "non-aligned" trans-national movement with leaders including Gamal Abd Al Nasser of Egypt, Jawaharlal Nehru of India, and Soekarno of Indonesia. The pins were intended to increase international solidarity among the Yugoslav socialist youth. One depicted "the Greatest," with his name rendered as "Muhamet Ali," and the other bore an image of "Če Gevara" (in Slavic spelling).
I was moved when I looked at these trifles, but did not purchase them, although they were inexpensive. I had long before abandoned any respect for Guevara, a medical doctor who took the Hippocratic Oath to avoid doing harm or serving wrong, but then ordered executions following political motives.
Still, when I heard of his death I was sad to think of the emotions the courage of Brother Muhammad Ali had once stirred in me and how my feelings had faded after 50 years. Now I wish I had that youthful image of Brother Muhammad Ali to wear on my jacket. Now with him gone that is how I will always imagine him: as the man who denounced the Vietnam War and the draft forthrightly. He had a power to act that none of the rest of millions of us, of all colors, possessed. He made us feel he was punching alongside us, invisible but with overwhelming power.
The holy fasting month of Ramadan has begun for Muslims, and Brother Muhammad Ali will be buried at this auspicious time, on Friday, June 10. I will attend the Friday Muslim congregational prayer in San Francisco, and the evening iftar gathering for breaking of the Ramadan fast, with God's mercy upon Muhammad Ali in my thoughts.
Related Topics: African-American Muslims, American Muslims, Sufism receive the latest by email: subscribe to the free center for islamic pluralism mailing list