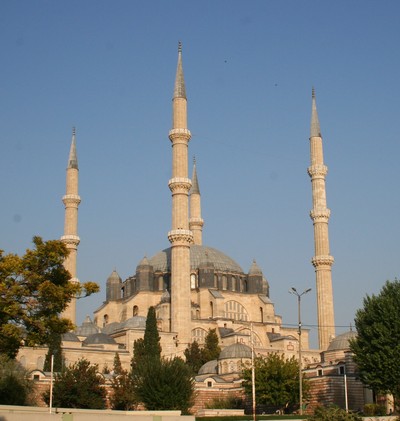 The Selimiye mosque, 16th c. CE, Edirne, Turkey – Photograph 2006 Via Wikimedia Commons.
Turkey's so-called Justice and Development Party (known by its Turkish initials as AKP) first won a national election in 2002 – a victory repeated in 2007 and 2011. Since its second triumph at the polls, it and its principal figure, current prime minister Recep Tayyip Erdoğan, have undertaken a campaign of persecution against leaders of the country's army, political institutions, judiciary, media, and academia.
The motive of the AKP offensive is obvious. Erdoğan's party supports an allegedly "soft" form of Islamist ideology, and its targets mainly represent Turkey's secularist political tradition.
AKP is linked to the Muslim Brotherhood, and Turkish involvement was prominent in the Tunisian turmoil last year, when Ennahda (Renaissance), the local Brotherhood party, rose to power. In the October 2011 Tunisian elections, Ennahda gained nearly 40 percent of votes, allowing it to name Hamadi Jebali as the country's prime minister. Ennahda's behind-the-scenes political leader, Rashid Ghannoushi, has published books in Turkey and proclaimed that AKP provides Ennahda with its model for Tunisia's future.
The alleged moderation of AKP and Ennahda has persuaded a considerable number of gullible foreigners that the Turkish variety of Islamist politics is unthreatening to democracy, and may serve as a foundation for the attainment of full civil rights in the countries swept by the "Arab Spring." But AKP has supported Hamas in Gaza no less than Ennahda in Tunisia. Erdoğan and AKP have projected a "neo-Ottoman" foreign policy intended to reestablish Turkey as the dominant regional power in the Middle East, the Balkans, and Central Asia.
Tunisia, however, seems to have been an exceptional case of success for AKP. Erdoğan and Turkey had a close relationship with the late Mu'ammar Al-Qadhdhafi in Libya, but joined the Arab-NATO alliance against him. Egyptians are unlikely to accept Turkish guidance, and Turkey has dithered on its early indications that it might intervene to stop the mass murder carried out in neighboring Syria by the dictatorship of Bashar Al-Assad.
The Turkish opposition to AKP sees the situation very differently from Erdoğan's functionaries and their foreign defenders. Commencing in 2007, AKP professed to uncover and seek punishment of a purported conspiratorial network, named "Ergenekon" after a legendary site deep in Central Asia, and accused of attempting a coup against AKP. Repression of "Ergenekon" has produced numerous indictments, trials, and imprisonments, trimmed with assertions that the presumed secularist and Turkish nationalist backers of the "conspiracy" are secret manipulators of radical Islamists, radical leftists, and radical Kurds. As noted by the London Financial Times, no "Ergenekon" verdicts have yet been rendered.
At the beginning of 2012, Turkey and AKP were criticized by the Council of Europe for flaws in the country's judicial system, under which suspects may be held in detention for 10 years before being brought to trial, secret testimony may be introduced against defendants, and defense attorneys are hampered in calling their own witnesses, cross-examinations, or objections to sentences passed against their clients. Media rights monitors express dismay at the "Ergenekon" trial of two journalists, Nedim Şener and Ahmet Şik, which began on January 5. According to Reuters news agency, Turkey currently has locked up 100 journalists in the "Ergenekon" matter.
Şik argues that he is a victim of retaliation for journalism exposing the infiltration of the Islamist movement of Fethullah Gülen in the Turkish state apparatus. Gülen, who began his career as a village imam, lives in the U.S. but directs an extensive cadre of disciples. They control a substantial inventory of primary, secondary, and university-level schools around the world. In the U.S., the Gülen schools attract non-Muslim students because of their intensive focus on science education. The U.S. does not have a large Turkish-American population, and Gülen schools operate in many American states where Turkish-Americans are represented negligibly. Gülen schools feature such exotic programs as a Turkish-language cultural competition involving American students of non-Turkish background. While American schools need more emphasis on foreign-language instruction, Turkish would typically be considered subordinate in priority to Arabic and Persian, among the languages spoken in Muslim lands, and, of course, Chinese, which may become a major medium for global business communications.
Aside from Turkey and the U.S., Gülen schools exist in Muslim countries from Bosnia-Hercegovina to Indonesia, and in lands with Muslim minorities, some of them so small in number as to be nearly unknown. In India, the "Learnium" system runs Gülen schools in Hyderabad (Andhra Pradesh), south and east Delhi (two facilities), Mumbai, Bangalore, Lucknow (two schools) and Kolkata, as well as in Sri Lanka. But Gülen schools are present in Laos, Cambodia, and Vietnam, in South Korea, in Japan, and in many African states.
The Gülen movement projects itself as a force for interfaith respect, but focuses its attention, aside from running schools, on cultivating members of political elites in the countries where it is established. Its daily newspaper, Zaman (Time) maintains an English-language online edition, titled Today's Zaman, plus local media aimed at Turkish immigrant communities in Western Europe, Turkish remnant colonies surviving from the Ottoman era in the Balkans, and speakers of Turkic languages in the Muslim states of the former Soviet Union. Zaman claims nearly a million readers and status as Turkey's largest newspaper in circulation.
Gülen's following is a variant of the "political Sufism" of the Naqshbandi mystical order, which has a history of seeking intimacy with rulers. The aim of Turkish Naqshbandi politics has been to secure the primacy of Islamic shariah law, in the past, and, additionally, to spread Turkish influence, in the present. With the erection of a secular regime in the mid-1920s, Turkey saw the creation of a similar movement by an ex-Naqshbandi, Said Nursi, known as "Nurcu circles," which sustained a shariah-centric Sufism, with a low profile, under the secular government.
From the 1960s to the 1980s, once-discreet Naqshbandi and Nurcu members organized Islamist parties in Turkey. Their supporters have achieved considerable political benefits with AKP in power, and fear of them – especially of Gülen's acolytes – is widespread among Turkish intellectuals. The political and ideological distortion of Sufi spirituality in Turkey is similar to that visible in the Barelvi sect in Pakistan, which, while under violent attack by the Pakistani Taliban and other jihadists, blames its victimization on U.S. involvement in South Asia.
As the Şener-Şik trial began, AKP committed two bold adventures in furtherance of its dominance in Turkish politics. General İlker Başbuğ, the former chief of staff of the Turkish army, was arrested on January 6 as an "Ergenekon" participant, supposedly in a plot to create anti-AKP websites. But the websites, according to the Financial Times, never went online.
Başbuğ's arrest provoked discord in the AKP leadership. Erdoğan said he was opposed to keeping the general in jail while awaiting trial. Turkish president Abdullah Gül agreed with a demand by Başbuğ that he be tried by the Supreme State Council, rather than by a civilian court. The Supreme State Council is a title assumed by Turkey's Constitutional Court "when it tries ministers, prime ministers, chiefs of General Staff and other high-ranking bureaucrats," in the description of Sunday's Zaman. As reported in the English-language online Hürriyet Daily News, run by Hürriyet (Liberty), Turkey's third-largest newspaper, Başbuğ's lawyer İlkay Sezer said "his client had worked in tandem with Erdoğan's AKP government for seven years and he was stunned by the belated accusations against him." Hürriyet added that Sezer told Reuters, "There has been no allegation of a crime until now, that is 1.5 years following his retirement... (Başbuğ) says it is beyond his comprehension." Hürriyet stated "the views of both (Erdoğan and Gül) were opposed by groups known to be close to the influential Fethullah Gülen religious community."
Today's Zaman celebrated the arrest of Başbuğ as an advance of civil over military power. The newspaper's commentator Lale Kemal wrote, "If the judiciary can now interrogate Turkey's former chief of general staff we have to accept that the processes of normalization and the increase in civilian influence are steps in the right direction." Historical forgetfulness prevents current analysts of the "Ergenekon" spectacle from recognizing that this argument was employed by the Soviet regime of Joseph Stalin, and its devotees, to justify the massive, homicidal purges that shook Russia in the 1930s. Those proceedings, too, were described by mercenary sympathizers and officials of the Stalinist state as a blow by "the people" against usurpers in power. The infamous American apologist for Soviet intrigues, Owen Lattimore, said of the Moscow trials, "sounds to me like democracy."
Less than a week after the arrest of Başbuğ, Turkish prosecutors announced they would investigate Kemal Kılıcdaroğlu, head of the secularist Republican People's Party – the main opposition party, or CHP by its Turkish initials – for criticizing the conditions under which "Ergenekon" defendants are held and disparaging the judges overseeing the cases. Kılıcdaroğlu had called Silivri prison near Istanbul, in which hundreds of those accused as "Ergenekon" conspirators are held, "the Silivri concentration camp," while pointing out that eight elected deputies of the CHP are behind bars in the long-running "inquiry." The prosecutors called for Kılıcdaroğlu's parliamentary immunity to be lifted.
Kılıcdaroğlu may be under attack by the Erdoğan government for his leadership of the main anti-AKP party, its secular legacy, and for his own identity as an adherent of the Alevi movement, a form of Islam combining Shia Muslim beliefs with ancient Turkish shamanism. Alevism is known for its emphasis on gender equality and its defense of secularism, although Alevis were persecuted by the Turkish secular authorities, which established Sunni Islam as a state faith under strict government supervision. Kılıcdaroğlu has been widely described in Turkish, Kurdish, and foreign media as a Kurd, like many Alevis, but in a 2010 interview with Hürriyet Daily News he declared his origin as Turkmen.
The CHP leader responded to the threat against him contemptuously, appealing for his parliamentary immunity to be removed so he could face the charges. The rest of the CHP parliamentary delegation, except for two who are jailed, made the same demand. Erdoğan commented arrogantly, according to Hürriyet Daily News, "What needed to happen has happened" and described the prosecution of Kılıcdaroğlu as "long overdue."
Turkey and Turkish Islam have a distinctive and distinguished history. The Ottoman sultan Bayazet II saved the Spanish and Portuguese Jews from the Inquisition and resettled them in his empire. Turkish Sufis were prominent in the spread of Islam to their people, and the works of the Persian Jalalad'din Rumi are as well-known in Turkish translation as in their Persian original.
Still, the secular period in 20th century Turkish history included the attempted suppression of Sufism along with crimes against minorities and abuses of power by the military. Unfortunately, Erdoğan is plainly bent on retribution against the military and secular politicians by denying them the same rights for which the Islamists once advocated. But the history of peaceful transitions to democracy in former militarist and dictatorial states – beginning with the death of Franco in Spain in 1975 – shows that democracy may best be achieved, and a just balance of civic and military responsibilities established, by "a clean slate and new accounts," with no legal charges for past misdeeds on either side of the political spectrum. Turkey is in deeper trouble than most of the world imagines, and its foreign endeavors, in Tunisia, Gaza, or Syria, may not save it from a disastrous polarization.
Related Topics: Alevism, Balkan Muslims, Central Asia, European Muslims, German Muslims, Kazakhstan, Kurdish Islam, Kyrgyzia, Muslim Brotherhood, Sephardic Judaism, Shariah, Shiism, Sufism, Turkish Islam, Uighurs, Uzbekistan receive the latest by email: subscribe to the free center for islamic pluralism mailing list