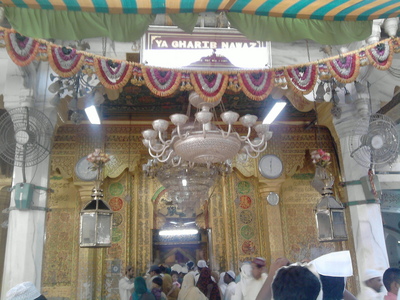 Ajmer Dargah Sharif, India's most beloved Sufi shrine, dedicated to Khwaja Mo'inuddin Chishti, constructed 16th c. CE -- Photograph by Singh92karan, 2010, Via Wikimedia Commons.
British-born Muslim Anjem Choudary and the Syrian Omar Bakri Muhammad are two of the most flamboyant and provocative radical Islamist agitators to have afflicted the West. Choudary, who remains based in Britain, describes himself as the "Manager of the Shariah Court of the UK and former spokesman for Al-Muhajiroun." The latter group, with an Arabic name meaning "the religious emigrants," and its front organization, "Shariah4UK," were proscribed by British authorities in 2010 under legislation for the Prevention and Suppression of Terrorism. This dangerous and disreputable crew had faced prohibition under UK law previously in 2004 and 2005. But ever versatile in its efforts to disrupt British civil society, both non-Muslim and Muslim, the network has also been styled "Al-Ghurabaa" (meaning "The Strangers") and The Saved or Saviour Sect (banned in 2006), Call to Submission, Islam4UK, Islamic Path, and the London School of Sharia.
Omar Bakri Muhammad, widely known as OBM, was the founder of Al-Muhajiroun, after several years' involvement with the radical Hizb ut-Tahrir (HuT or Liberation Party). HuT is an aberrant movement based originally in pan-Islamic ideology but which adopted radical leftist shadings (and, reportedly, recruited some former Marxists). The program of HuT is notable in its claim that restoration of a global caliphate (khilafat) would create a kind of Islamic welfare state. HuT has employed this idiom particularly in the Central Asian former Soviet republics, where nostalgia for the dictatorial stability, guaranteed employment and other services afforded by Russian communism is strong. Although it is banned in such Muslim countries as Jordan, where it was founded by a Palestinian Islamic jurist, Taqiuddin Al-Nabhani (1909-77), and in non-Muslim lands like Germany, HuT is legal in Indonesia.
In his early adulthood, OBM began a journey through varying forms of radical Islam, by joining the Syrian branch of the Muslim Brotherhood. He metamorphosed from the MB to HuT, and landed in Saudi Arabia, where the fundamentalist Wahhabi sect is the official religious interpretation. He left the desert kingdom and HuT, allegedly because of a Saudi ban on its activities, and moved to Britain, having first traveled to the U.S. to learn English. The UK granted him political asylum but in 2005 he departed for the Mideast, and was barred from returning to Britain. In 2010 he was sentenced for attempted subversion to life in prison – in absentia – by a military tribunal in Lebanon, where he holds local as well as Syrian citizenship. Yet he remains free in Lebanon. His cellphone number is advertised.
Al-Muhajiroun, Hizb-ut-Tahrir, Anjem Choudary, and OBM have several characteristics in common. First, they are marginal elements in Muslim and non-Muslim affairs in the countries where they are active. Second, they attempt to overcome the insignificance of their following by bombast and ostentatious escapades. Third, their deranged antics provide justification for the enemies of Islam. Indeed, by their irresponsible, self-aggrandizing, and illegal actions they are themselves enemies of the Muslim faith, and according to some Islamic scholars should be considered apostates from the religion – a label they apply too freely to others.
Al-Muhajiroun and OBM were best known after the terrorist attacks against the U.S. on September 11, 2001 for praising the Al-Qaida hijackers as "the magnificent 19" and defending Osama Bin Laden. Even before the horrors of 9/11, the U.S. Federal Bureau of Investigation had monitored fax communications between Bin Laden, designated the "sheikh al-Jihad," and OBM. Richard Reid, the 2001 "shoe bomber" who attempted to bring down an American Airlines flight from Paris to Miami, had frequented the group. Another individual who attended Al-Muhajiroun meetings in London, 21-year old Asif Hanif, blew himself up in a tavern in Tel Aviv, Israel, in 2003, killing three people and injuring 60 others. Five more acolytes of Al-Muhajiroun and OBM were convicted in Britain in 2007 in an unsuccessful bombing conspiracy. Similar individuals under the sway of Al-Mujahiroun and OBM were involved in atrocious plots or travelled to Pakistan for terrorist training.
How many such crimes were directly planned or enabled by Al-Muhajiroun and OBM is unknown. It is probably most accurate to describe them as part of the jihadist milieu in which terrorists may be recruited. But HuT, Al-Muhajiroun, Anjem Choudary, and OBM are as malignant for the security of conventional Muslim believers as for non-Muslims. Under the dictatorship of Islom Karimov in Uzbekistan as well as Putin's regime in Russia, HuT provides a handy enemy to be used as a pretext in defending autocratic rule. In reality, no jihadist movement of significance has taken place in Uzbekistan, much less a mass upsurge favoring HuT, but the so-called Islamic Movement of Uzbekistan has been recruited to fight in Afghanistan and elsewhere in Central Asia.
The worst effect of these extremist splinter groups has been to provide media in countries like Britain with terrifying headlines that become attached in the non-Muslim collective consciousness to all Muslims. Al-Muhajiroun is famous for mounting small demonstrations with big and intimidating slogans, promising that a black Islamist flag will be flown over the Houses of Parliament in London, calling for the murder of Muslims who join the British armed forces for service in Iraq and Afghanistan, and asserting that Islamic shariah law will become the legal standard in overwhelmingly-Christian countries. Many non-Muslim Britons do not pause to consider the absurdity of arguing that two million Muslims, making up around 2.5 percent of England's population of 60 million, even if all the Islamic believers were to support the hallucinations of the radicals, could take over the country and impose Islamic law upon it.
Scare stories – once known as "revolver journalism" – feed hatred and fear of Islam. But as has been observed in numerous Muslim communities, living a Western lifestyle may promote envy among Muslims, hewing to Muslim belief brings respect, but radicalism engenders fear. Fear is a weapon and a stimulant. The bias of the Islam-hater and the fanaticism of the Islamofascist feed each other. Neither can exist without the spectre represented by their alleged opposite, and in Russia and Serbia, there is considerable evidence that Wahhabis and other radicals enjoy protection and financial assistance from the authorities in power.
Now Anjem Choudary and OBM have brought their show to India. A new organization, Shariah4Hind, has been set up, with a colorful and, naturally, insulting and blustering website. The minority status of Indian Muslims, counting no more than 20 percent out of 1.2 billion, as well as their history as citizens with equal rights and dedication to moderate and traditional Islam, oriented toward spiritual Sufism, should dissuade the likes of Choudary and OBM from such an adventure. In addition, Indian Muslims are guaranteed recourse to Islamic law in family matters. But such details of reality have never previously deflected Choudary and OBM from indulging in their bizarre behavior.
"Shariah4Hind," with text in English and Hindi, is illustrated by distasteful, Photoshopped images portraying a fantasy demolition of a statue of Gandhiji, under the rubric of "The Islamic Destruction of Indian Idols and Statues," similarly imagined vandalism of the Hindu cultural heritage, and such threats as "Bollywood Gets the Axe Under Shariah." The site calls on Indian Muslims to "Boycott Elections, Implement the Shariah!" It further includes a so-called "unprecedented fatwa" against Indian political parties, and numerous false and silly allegations. For example, it states "India is one of the few countries in the world where explicit idolatry is openly celebrated." Apparently Choudary, OBM, and their cohort have never been apprised of the existence of religious statuary in Christian and Buddhist countries, as well as in Christian churches and Buddhist and Hindu temples in numerous Muslim lands. More probably, this bunch of Islamist incendiaries believes that all Muslims are uneducated and may be manipulated with ease. These radicals denounce the conditions under which Muslims live as jahiliyya or pre-Islamic ignorance, but are themselves obviously and egregiously benighted and oblivious.
The site further proclaims "There is a consensus among all Muslim scholars that it is not permitted for non-Muslims to have authority over Muslims. " No such consensus exists. Since the flight of the early Muslims of Mecca to Christian-ruled Ethiopia, traditional, conservative, and moderate Muslims have followed the guidance of Prophet Muhammad, who taught them, in a sound hadith, that Muslim emigrants to non-Muslim lands must accept the laws and customs of the countries to which they move, unless they believe their personal faith is endangered, in which case they should return to Muslim countries.
The large Muslim communities in India, Russia, France, Germany, and Britain would not have come into existence if Muslims were prohibited from living under non-Muslim rulers, and responsible Muslim scholars in India, France, and Germany have repeatedly called on their communities to obey the laws of their place of residence. For a Muslim to emigrate to a non-Muslim country with false and extremist intentions is a violation of an Islamic oath, and one of the most abominable sins a Muslim may commit. Indeed, if he believes such nonsense, one should ask Anjem Choudary why he does not give up his residence in England and move to, say, Saudi Arabia?
In addition, the site asserts, weirdly, a close relationship between Islam and Sikhism. It is true that Sikhism was influenced at its origins by Islam, and Sikhs are often found among the devotees of Sufi saints. Yet Indian Muslim history includes the alleged jihad of the Mughal ruler Aurangzeb against the Hindus and Sikhs, both of whom were supposed "kuffar" (disbelievers – translated literally from Arabic as "concealers of the truth"). The bloody destruction wrought by Aurangzeb in the 17th and early 18th centuries of the common era is well remembered by Sikhs, who still shiver at mention of his name. Do Anjem Choudary and OBM think Sikhs will side with them against Hindus? That is the peak of delusion.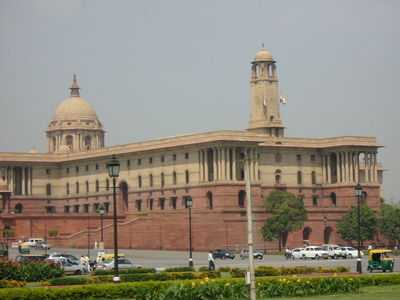 Parliament of India Building.
The main extravagance on the Shariah4Hind website is a call to Indian Muslims to rally outside the national parliament on March 3rd, demanding "an end to democracy and the implementation of shariah law." In addition, it promises, "Muslims will be demanding the immediate return of the Shariah in the Indian subcontinent and their [sic] complete rejection of the Indian constitution." This assemblage of fools, if it takes place, will feature as its appeal "Muslims Must Demand Their Rights in India!" The text describes the anticipated "momentous event" as "India's biggest Muslim uprising."
On that occasion, Anjem Choudary will be the main speaker. According to the program for the demonstration, Al-Mujahiroun still exists, and OBM will address the gathering via video, after a speech by a prominent Hindu turned Muslim, who now calls himself Abu Rumaysah. Propaganda for the rally concludes menacingly with the statement "All protestors will continue to occupy the area until demands are met." In other words, Anjem Choudary proposes a radical Islamist occupation of the seat of India's government. "Shariah4Hind" also offers "flyposting stickers downloadable [and] print-ready," that declare "You are Entering a Shariah-Controlled Zone," with traffic-style emblems indicating "No Idolatry," "No Alcohol," "No Bollywood," "No Interfaith," and "No Pornography," under the slogan "A Better India, A Better Society," and, at the bottom of the sticker, "Returning India to the Golden Era." The claim to rid society of pornography is paradoxical, to say the least, in that OBM's own daughter Yasmin was exposed in British media as an erotic dancer.
Anjem Choudary, OBM, and their cohort are playing with the lives of Indians, Muslim and non-Muslim alike, with their harebrained scheme. Anjem Choudary is presumably not an Indian citizen. The government of India should bar his entry into the country, and, if the March 3rd convocation is allowed to take place as an expression of free speech, it should be closely monitored by the Indian government to prevent violence by extremist Muslims as well as attacks on Muslims by non-Muslims outraged at such offensive folly.
Ignored by the rest of the world, India has become a major theatre for confrontation between moderate and traditional Muslims, who obey the laws and wish to live peacefully with their non-Muslim neighbors, and radicals, mainly led by the Wahhabi-allied Deobandi sect and the jihadist acolytes of the notorious Abu'l Ala Mawdudi. Terrorism has already struck for decades in Kashmir, as well as in the infamous examples in Mumbai and at the Sufi shrine of Ajmer Sharif. Indian Sufi leaders have indicated their will to resist the aggression of the zealots. "Shariah4Hind" should be considered a new episode in the campaign of resurgent Islamist fundamentalism. Its repudiation by Indian Muslim religious authorities as well as the Indian government is an immediate necessity.
Related Topics: British Muslims, Deobandism, French Muslims, German Muslims, Muslim Brotherhood, Muslim-Christian Relations, Muslim-Jewish Relations, Pakistan, Russia, Shariah, Terrorism, Uzbekistan, Wahhabism receive the latest by email: subscribe to the free center for islamic pluralism mailing list