Iran: "The Supporting Pole of the Regime's Tent is Bent"
by Stephen Schwartz
Gatestone Institute
December 10, 2012
http://www.islamicpluralism.org/2156/iran-the-supporting-pole-of-the-regime-tent-is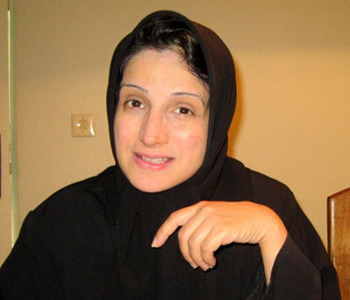 Our brave Iranian sister Nasrin Soutoudeh.
Nasrin Soutoudeh, a human rights lawyer in theocratic Iran, announced on December 4th that she would end a hunger strike she had carried out for 49 days from her cell in Tehran's infamous Evin Prison. Her offenses had been to act as a court defender of opposition political figures and activists, as well as for juveniles condemned to death for crimes committed when they were under age 18.
Soutoudeh, now nearly fifty, was sentenced last year to 11 years' imprisonment, and barred from work in the field of law. On appeal, her term was reduced to six years. During her sustained act of defiance, Nasrin Soutoudeh consumed only water mixed with sugar and salts. Her weight fell to 95 pounds; her health became fragile.
She concluded her starvation protest after the Iranian dictatorship acceded to her main demand: that a travel ban be lifted from her 12-year old daughter Mehraveh. Soutoudeh also initiated the fast to dramatize the bad conditions under which she is held. Her husband, Reza Khandan, remains restricted in his movements by order of the regime.
In a statement from Norway, the International Organization to Preserve Human Rights in Iran (IOPHRI) pointed out that official Iranian media has accused local spiritual Sufis of supporting Soutoudeh as part of an alleged foreign conspiracy to subvert the Tehran authorities. IOPHRI warns that on this basis, Sufis are vulnerable to false trials and imprisonment. According to Sufis and human rights monitors, the repressive Iranian institutions consider "having 'compassion' for a Muslim woman in prison to be 'acting against national security,' 'disturbing public order" and 'insulting the Supreme Leader'," a post currently held by Ayatollah Ali Khamenei.
IOPHRI identifies the persecution of Nasrin Soutoudeh and the Sufis with a sinister "think tank," the "Islamic Center for the Study of Religions and their Different Interpretations" located in Qom, the headquarters of theological radicalism in Iran. As one of several such institutions with similar titles and the same goal – penetration of Western academic circles and dissemination of Iranian state ideology – this "Center," through one of its Persian-language publications, Markaz Didban (Center Watch), has attacked Soutoudeh.
According to IOPHRI, Ayatollah Muhammad Reza Mahdavi Kani, chairman of the Assembly of Experts, which names the Supreme Leader, has admitted that "the supporting pole of the regime's tent is bent." By this, Kani is said to recognize that conflicts between the personal, doctrinal, and political factions within the Islamist government have undermined its credibility. Entities such as the "Islamic Center for the Study of Religions and their Different Interpretations" harm Iranian stability more than any actions by dissidents by sowing intrigues and fear at all levels of society.
Meanwhile, IOPHRI states, Ali Larijani, Khamenei's "national security expert," and promoter to the world of the Iranian nuclear program, travels daily to Damascus and Beirut to "maintain the status quo" embodied in the bloodthirsty Syrian dictatorship of Bashar Al-Assad and the Lebanese government dominated by the terror group, Hezbollah.
IOPHRI has appealed for aid and cooperation from other international institutions; it seems to wish to use the great potential of public opinion outside Iran as a platform for a major global effort to expose conditions in the Iranian prisons. IOPHRI describes Tehran's penal establishments as torture houses and dungeons run by stubborn and self-interested bureaucrats answerable to nobody – not even to the higher strata of clerical power.
The human rights activists and Sufis have praised the example provided by Nasrin Soutoudeh in her deliberate refusal of food. The call of the Iranian dissenters should not go unanswered. Demonstrations and conferences are overdue in Western and other foreign capitals, especially in Europe, the United States, and Canada. The Iranian usurpers should learn that while their internal contradictions and quarrels threaten to bring their tent down on their heads, the world is watching. Inevitably, the doors of Evin Prison and Tehran's other houses of cruelty and degradation must be opened.
Related Topics: Iran, Shiism, Sufism receive the latest by email: subscribe to the free center for islamic pluralism mailing list