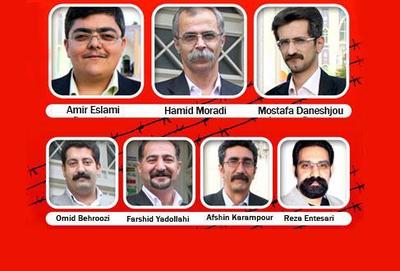 The "Evin Seven" Gonabadi-Nimatullahi Sufis imprisoned in Iran, 2011 to present. Photograph by Majzooban Nur.
The election of new Iranian president Hassan Rohani, a subordinate-level cleric, has led to much conjecture in Western media about his possible moderation in domestic, foreign and especially nuclear policy. But news of heavy prison sentences against seven spiritual Sufi webmasters and lawyers, held without trial since 2011, indicates continued repression as the path his administration will follow.
Judgments against the seven members of the Gonabadi-Nimatullahi metaphysical movement, a Shia Muslim body, were announced on July 15. The Gonabadi Sufis are the most prominent "public" Sufi group in Iran. As a leading country in the development of Sufism, Iran includes millions of adherents to the tradition, but many—for centuries before the rise of the clerical dictatorship in Tehran—have maintained public silence about their identity.
The Gonabadi-Nimatullahi prisoners were associated with the website Majzooban Noor (The Alluring Light). The accusations against them were all based on intellectual dissidence from the dictates of Khomeinist radicalism. They were found guilty of creating the Gonabadi website in an effort to disturb national security, broadcast propaganda against the regime, insult Supreme Leader Ayatollah Ali Khamenei, and disrupt public order.
The Gonabadi-Nimatullahi Sufis are mainly dedicated to esoteric teachings, but their website, which includes translations and clippings in English, has irritated the Tehran tyrants by its dissemination of news on human rights, women's rights, arrests, sentences, and executions.
Judge Abulghasem Salavati, according to the Brussels-based International Organization to Preserve Human Rights in Iran (IOPHRI), sentenced Hamid Reza Moradi, director of the Majzooban Noor site, to ten and a half years in prison. Reza Entesari, a photojournalist for the site, received eight and a half years. Entesari had been physically abused by security personnel, as reported here.
The other five Sufis, lawyers and members of the board of the website, received penal terms of seven and a half years. They include Mostafa Daneshjou, Farshid Yadollahi, Amir Eslami, Omid Behrouzi, and Afshin Karampour.
The Gonabadi prisoners have been barred from membership in political parties or groups and participation in any form of media or Internet activities for five years each, once they are released—and if they are released.
As head of branch 15 of the revolutionary court in Tehran, Judge Salavati has been known for his harsh treatment of the Sufis, including a restriction on their transfer to hospitals. Hamid Reza Moradi remains in danger of a foot amputation because of torture by state officials. He also suffers lumbar disc, arteriosclerosis, and cardiovascular diseases, but has been prevented from receiving medical treatment for eight months by Salavati's decree.
Mostafa Daneshjou, a pulmonary patient, was taken to a local hospital in January 2013 but was sent immediately back to his cell in Tehran's infamous Evin prison at Salavati's command. He was moved to another therapeutic facility on July 8 following a serious respiratory attack but was returned to Evin after a week, without completion of his treatment.
Salavati stated that further hospital care could only be authorized by the Iranian Ministry of Information. Eslami suffers heart disease, Yadollahi needs dental treatment, and Behrouzi and Karampour also require attention by physicians.
The seven Sufis refused to participate in the legal proceedings against them or to offer a defense. They argued that the court lacked jurisdiction and that the prosecution was marred by numerous illegal actions.
The defendants told the Gonabadi website, "These are absolutely unjust convictions based on an unjust process, but objecting to the ruling would be useless and we do not plan an appeal." In the Evin lockup, the seven Sufis were beaten, denied family visits, refused information on their trial date and content of the indictment, and kept in solitary confinement.
An offensive against Gonabadi Sufis by the Revolutionary Guard Corps (Pasdaran) and the theocratic Basij militia has occurred in various Iranian cities. A sustained campaign against them began when Mahmoud Ahmadinejad first took office as president in 2005. Sanctions against the Sufis increased during the Green movement protests claiming Ahmadinejad was reelected fraudulently in 2009. Sixty Gonabadi members were arrested in 2011.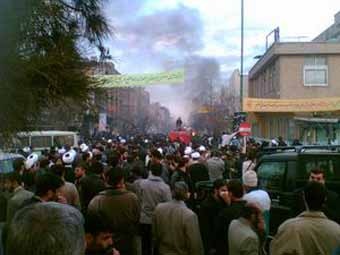 Destruction of the Gonabadi-Nimatullahi Sufi house in Qom, Iran, 2006.
Attacks on Sufi installations, shrines, and associated Shia meeting houses (husseiniyat) have resulted in the demolition of sacred sites, arrests in the hundreds, and large protests by Iranian citizens against the campaign of suppression.
Notwithstanding the importance of Sufism in Iranian culture, the mystics have been condemned by elements in the clerical hierarchy since the 1979 revolution that led to creation of the Islamic republic. In 2007, Grand Ayatollah Nouri Hamedani issued a fatwa from the theological center at Qom declaring "there is no place for Sufism in Islam." He cited eighth-century Shia claims that "the Sufis are our enemies, and people with any interest in the Sufis are our enemies as well." Hamedani claimed that Sufis were a major problem for Muslim societies throughout their history, and called for "jihad against them."
The severe treatment of the "Evin seven" Gonabadis provides evidence that the new regime, with Rohani as the public face for Khamenei, rather than moving away from the excesses of Ahmadinejad, will reinforce them. IOPHRI states that since the election of Rohani in mid-June, 49 executions by hanging have taken place in Iran.
Numerous Western observers have taken as good coin Rohani's promises, during the election, to promulgate a "civil rights charter" that would expand women's rights, loosen restrictions on the Internet, and permit criticism of the government. Early in July, however, Iranian authorities announced plans to assign e-mail addresses to citizens, and to create a national Internet system with limited access to the web. Iran's "cyber-police," the bizarrely titled "Supreme Council of Virtual Space," known as FATA from its Persian name, has recently shut down Facebook pages, hacked opposition websites in addition to that of the Gonabadis, arrested bloggers, and, during the June presidential vote, hardened its "filtering" of websites, including some supporting the clerical state.
On the morning of July 19, while prisoners were sleeping, ward 350 at Evin, where the Gonabadi Sufis had been detained, was raided by 150 guards, including extra personnel from another jail. The guards searched inmates, then expelled them from their cells, destroying their personal property and even vandalizing the prayer room and the electrical and air conditioning infrastructure in the ward.
The raid followed a protest by inmates against the removal on a stretcher of political prisoner Dr. Ali Nazeri, a human rights and democracy activist who is ill, to a prison in Zabol, on the eastern Iranian border with Afghanistan.
Foreign optimism about the Rohani presidency is based on speculation, surprise at the victory of a previously-obscure figure, and credulity about his rhetoric during the balloting. It fails to take account of the ongoing denial of human rights in Iran and sanctions against non-conforming elements like the Gonabadi-Nimatullahi Sufis, whose resistance to the clerical establishment has been tenacious but refined and peaceful.
Related Topics: Iran, Shiism, Sufism receive the latest by email: subscribe to the free center for islamic pluralism mailing list