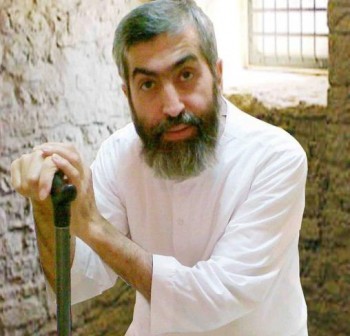 Ayatollah Seyed Hossein Kazemeyni Boroujerdi in his prison cell.
Ayatollah Seyed Hossein Kazemeyni Boroujerdi has been incarcerated, mainly in Tehran's ignominious Evin Prison, since 2006. He is accused of "combat against God" for his criticisms of the Iranian clerical dictatorship, and is serving an 11-year sentence. Now kept in the "special clerical ward," he has suffered numerous ailments, has accused his jailers of torture, and is among the most famous Iranian prisoners of conscience.
Boroujerdi was born in 1958, an heir to a distinguished Shia clerical family prominent before the Khomeini revolution of 1979. He studied at the theological center in Qom but rejected the ideology of Khomeini. He was arrested in 1995 and 2001 because of his popularity with Iranian believers. His father, Ayatollah Seyed Mohammad Ali Kazemeyni Boroujerdi, was executed by the regime in 2002.
In 2006, state-backed agitators organized an assault on Hossein Boroujerdi's house, during the campaign ending in his trial, and he declared, "Today in the morning we were attacked. It is surprising that some people accuse America and Israel of attacking the Shia Muslims, but I, who come from the most prominent family of Shias, am attacked in the capital of a Shia country." When he was brought to court, according to his relatives, he faced more than 30 charges, including, aside from "combat against God," the curious allegation that he "fabricated a new religion which he called 'traditional religion.' "
Since he began his path of dissent, Hossein Boroujerdi has remained outspoken in detailing the sins of the Iranian theocracy. He was so under Mahmoud Ahmadinejad; in 2010, he took pains to direct greetings to the Jewish people on the festival of Hanukkah, as reported here.
Boroujerdi's position has not changed since the coming to power last year of Iranian president Hassan Rouhani, the widely-advertised "reformer." Constantly threatened, Boroujerdi has, if anything, widened his field of dissidence.
In April this year, Ayatollah Boroujerdi charged that "war, meddling in other countries, liquidation of the nation's assets and the exporting of terrorism have been the only products of this regime." He chastised the clerical rulers for their support of the bloodthirsty Syrian dictatorship of Bashir al-Assad and assistance to the Damascus regime by Hezbollah, the Iranian clients in Lebanon. Boroujerdi wrote that Assad's survival in power came "at the price of destitution of the people of Iran" and that the opportunism of Hassan Nasrallah, the Hezbollah chief, would bring about the "willful death" of Iranian society.
Boroujerdi followed that candid assessment in May, with an open letter to Russian president Vladimir Putin, assailing the Iranian religious dictators as "propped up by Russia." He demanded to know why Putin supported Iranian adventurism and the waste of the national wealth in Syria, Lebanon, Bahrain, and Iraq. This, Boroujerdi said "allow[s] the innocent children of Iran to be deprived," with 80 percent of Iranian citizens living "under the poverty line." He warned Putin, with God as his witness, that history will judge the Russian demagogue harshly.
In June, during the 35th anniversary year of the Iranian Islamic Revolution, he asked, "What happened to all those slick and dreamy promises?" He demanded answers to questions seldom heard openly in Iranian society or in foreign media hypnotized by the Obama-Kerry illusion of Iranian reconciliation with the West. These included, "What has become of our young people's circumstances? [U]nemployment, addiction, divorce, lack of security, bankruptcy, suicide have now become a regular part of the news!"
On July 11, the Iranian authorities responded with new efforts to intimidate Boroujerdi. In his account, he was visited in Evin by two state agents, Mohammad Movahedi and Morteza Bakhtiari. Movahedi, previously a prosecutor at the Special Clerical Tribunal, is now a judge. Bakhtiari is the former Minister of Justice, and functions now as an official of the Special Clerical Tribunal. The two men told Boroujerdi that he must appear in a televised interview apologizing to Supreme Leader Ali Khamenei. The alternative, he was told, would be transfer to solitary confinement in a ward run by the Iranian Revolutionary Guard Corps, where he would be "eliminated."
Boroujerdi had earlier been held in solitary confinement. He refused this new humiliation, telling Movahedi and Bakhtiari, "You who pretend to be committed to Islam, in Islamic clothing, commit heinous crimes in the name of the Prophet."
The jailed ayatollah appealed previously for the abolition in Iran of all restrictions on women's rights and of such punishments as stoning. He has released a concise statement of his views, which are summarized under the simple title, "Secularism." While in prison, he voluntarily abandoned his clerical turban as a protest against the state ideology of "velayat-e faqih," or rulership by religious jurists. He wrote, "the non-secular, so-called 'Islamic' religious government in Iran so disadvantages and damages the people, and its effects are so negative, widespread and profound, that they demolish the people's pride in and honor [toward] Islam's religious founders. . . . Secularism is the only way to save Iran from continued material and spiritual regression."
He targeted the Iranian regime's repression of religions other than Islam in its Shia form, writing, "The harm brought on by eliminating different religions . . . [is] so significant that it will adversely affect many generations to come." He observed, "the experiences of the Iranian people after 30 years of Islamic revolution have clearly led to [a] public lack of respect for the regime's strict, so-called 'Islamic' rules and expectations. . . . The destiny of Iran's religious government is found in the hatred of other countries towards it." According to the imprisoned cleric, "the most significant problems in Iran come from a lack of liberty, and of freedom of thought, speech, and religion."
Ayatollah Boroujerdi, before his arrest in 2006, led interfaith ceremonies that included Shia and Sunni Muslims, Christians, Jews, Zoroastrians, and, amazingly enough considering their consistent persecution in Iran, Baha'is. In his April 2014 letter on the Iranian New Year, he appealed to Iranian religious jurists to protest on behalf of the people, and to demand a separation of religion from the state. It is hard to imagine that many other Iranian Shia clergy will follow him in this vision, at least immediately; but it is even harder to believe that many ordinary Iranians do not sympathize with his opposition to the oppressive Khomeini experiment in clerical governance.
Related Topics: Iran, Iraq, Shiism receive the latest by email: subscribe to the free center for islamic pluralism mailing list