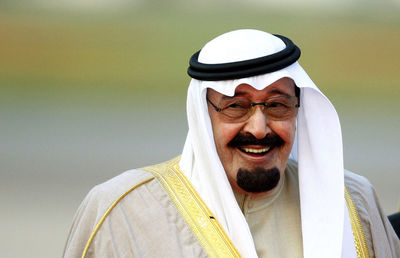 King Abdullah of Saudi Arabia.
Recently, some media commentators have argued that, rather than the product of a simple confrontation between Sunni and Shia Muslims in Syria and Iraq, the rise of the so-called "Islamic State" should be perceived as an eruption into those countries of Wahhabism, the only interpretation of Islam recognized as official in Saudi Arabia.
David Gardner of the Financial Times, for instance, blamed Saudi Arabia indirectly for the growth of ISIS, writing, "Jihadi extremism does present a threat to the kingdom. But in doctrinal terms it is hard to see in what way it 'deviates' from Wahhabi orthodoxy." Others have implied or alleged that Saudi Arabia helps finance ISIS.
On September 30, Financial Times writers Heba Saleh in Cairo and Simeon Kerr in Dubai asserted, "in contrast to the tacit official encouragement of more liberal voices after 9/11, any debate within Saudi Arabia over the role of [Wahhabism] in fostering [ISIS] extremism has been timid and largely confined to social media."
Yet in analyzing radical Islam, we should make distinctions, not confuse them. Looking back at Saudi Arabia's reaction to the atrocities of September 11, 2001, we would find little public dialogue over the role of Wahhabism in the origins of al Qaeda. The Saudi monarchy and their representatives denied a linkage and discouraged investigation of it. After the U.S.-led Iraq intervention in 2003, Saudi media and websites were replete with praise for Saudi citizens who had died as terrorist combatants north of the kingdom's border. The Saudis created an ineffective anti-terrorist "rehabilitation" program before "deporting" al Qaeda in the Arabian Peninsula (AQAP) to Yemen. Later, however, the Saudis declined to support the Wahhabi Nour party that emerged in Egypt after the fall of Hosni Mubarak in 2011.
Saudi Arabia had begun to change in 2005 with the death of King Fahd Abd Al-Aziz and ascent to the throne of his half brother, the currently-ruling King Abdullah. Abdullah commenced a series of reforms that while small, nonetheless marked a new direction for the desert realm. In 2007, the so-called "religious police" or "morals patrols," titled officially the Commission for the Promotion of Virtue and Prevention of Vice (CPVPV), and known among the populace as the mutawiyin (volunteers) or hai'a (commission), came under official scrutiny.
Previously, the "morals patrols" had roamed the streets of Saudi cities, carrying leather-covered sticks with which they beat women whose all-covering garment, the abaya, slipped an inch and revealed an ankle, pushing ordinary people toward mosques at prayer times, raiding houses where they suspected alcohol was present, monitoring the highways to prevent women from driving and unrelated couples from riding together, harassing members of the Shia minority, including a rape victim who was punished by lashing, detaining hajj pilgrims who engaged in metaphysical rituals prohibited by the Wahhabis, and killing people in especially-brutal incidents. Thanks to King Abdullah, the morals patrols were subjected to court authority for the first time.
In 2009, King Abdullah established a ministry for women's education and dismissed the then-head of the morals patrols, Ibrahim Al-Ghaith. Two years later, Saudi women were granted limited electoral rights, to become effective in 2015. Further, King Abdullah announced in 2011 the foundation of the world's largest university for women, named for his aunt, Princess Nora Bint Abdulrahman, and located near the capital, Riyadh.
The director of the "morals patrols" was again replaced in 2012, by Abdul Latif Abdul Aziz Al-Sheikh, who is a descendant of the 18th-century founder of the Wahhabi sect, Muhammad Ibn Abd Al-Wahhab, but supports greater female participation in society. After his appointment, Abdul Latif Abdul Aziz Al-Sheikh cautioned the "morals patrols" against harassment of the public, and forbade them from arresting, interrogating or searching people or residences without a warrant from a local governor.
Saudi Arabia in 2013 criminalized domestic violence and appointed 30 women to the unelected national legislature or "shura council," which was previously restricted to men. The same year, Saudi Arabia nominated its first motion picture directed by a woman, Wadjda, about a young girl who wants to buy a bicycle and the obstacles she faces, for an Academy Award.
Regarding the horrors in Syria, although Saudis like other Sunni Muslims are outraged at the massacres of the Bashar Al-Assad regime, Saudi authorities earlier this year banned involvement in jihad abroad, with prison sentences of three to thirty years for Saudis who fight outside the country, enlist in terrorist groups, provide them with material assistance, or incite others to join them.
Wahhabi fanatics have pushed back against these adaptations to modern reality. In the latest manifestation of Wahhabi intransigence, a court judge in Riyadh, according to BBC News, sentenced Shia cleric Nimr Al-Nimr to death by beheading and crucifixion for activism in 2011, in Shia protests in the Saudi Eastern Province, where many Shia Muslims live. Iran is widely accused of involvement in the Saudi Shia turmoil, and both Tehran and the Shia Houthi rebels in Yemen defended Al-Nimr and condemned the Saudis aggressively in the case.
A slow but undeniable transition is underway in Saudi Arabia. Notwithstanding its Wahhabi legacy and the emulation of Wahhabism by ISIS, raids by the Royal Saudi Air Force against ISIS, and a pledge by Riyadh to train the non-sectarian Syrian Free Army, may demonstrate that Saudi Arabia has taken a positive stand against the metastasized Wahhabism of ISIS.
Certainly, none of the measures instituted by King Abdullah would be imaginable under the domination of ISIS. Saudi journalist Bader Al-Rashed declared in the Middle East news portal Al-Monitor of September 29, 2014, "Today . . . because of [ISIS], there are discussions on the connection between Sunni jihadist extremism and Wahhabism inside and outside Saudi Arabia. This might eventually change the way Saudis see themselves. . . . The kingdom's participation in the first airstrikes against IS in Syria on Sept. 23 demonstrates its seriousness in combating the radicals."
Commitment to the battle against ISIS may therefore drive Saudi Arabia further away from its Wahhabi past.
Related Topics: African-American Muslims, Albanian Muslims, American Muslims, Balkan Muslims, Bosnian Muslims, British Muslims, Canadian Muslims, Central Asia, Chechnya, China, Dutch Muslims, European Muslims, French Muslims, German Muslims, Iran, Iraq, Kosovo, Macedonia, Malaysia, Montenegro, Saudi Arabia, Shiism, Takfir, Terrorism, Wahhabism, WahhabiWatch receive the latest by email: subscribe to the free center for islamic pluralism mailing list