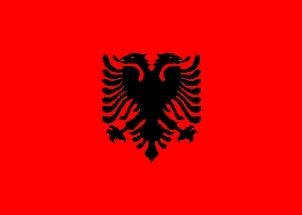 The flag of the Albanian nation.
Kosova Albanians, overwhelmingly Muslim, love America—which rescued them from Serbian aggression in 1999—and desire diplomatic relations with Israel. Kosova does not recognize the Palestinian Authority and does not belong to the Organization of Islamic Cooperation (OIC).
The Islamic Republic of Iran, meanwhile, does not acknowledge Kosova's formal independence. How has it happened, then, that harsh voices are now detected against America and Israel, and for Iran, in the Balkan state?
On February 27, the independent Kosova news portal Express, under the byline of a courageous opponent of radical Islam, Visar Duriqi, reported that Iranian ideological agents are active in the territory. Their path has been opened by a non-governmental organization (NGO) representing Shia Islam and called the "Qur'an Foundation of Kosova." The foundation is affiliated with an identically-named enterprise in Albania.
The pro-Iranian NGO was launched in Kosova, according to Duriqi, in 2002. Its patron was an Iranian, Hasan Azari Bejandi, assisted by Ikballë Huduti-Berisha, a Kosovar woman and devotee of Shiism. Documents in the possession of Express reveal a turnover of more than 100,000 euros per year by the Qur'an Foundation, Duriqi wrote.
The most notorious representative of the Iranian NGO in Kosova is Zehra Huduti, daughter of Ikballë Huduti-Berisha. A resident of Prizren, Kosova's second city, Zehra Huduti announced on Iran's Internet-based Nasr TV, in a visit to the Islamic Republic three years ago, that she was "[there] to fight Israel and America."
Express pressed Zehra Huduti to explain how she proposed to combat these two countries, but without success. Her mother, known as "the preaching woman Ikballë," obtained the property in Prizren on which the Qur'an Foundation was built, with the help of her husband Asllan Huduti, a real-estate owner and likewise a Shia adherent, Express disclosed.
The Qur'an Foundation claims it seeks to establish a museum of Iranian culture in Kosova and to endow a chair of Iranian studies at the University of Prishtina, the national institution of higher education. It offers religious scholarships to study in the Iranian theological center of Qom. In 2009, the Qur'an Foundation of Kosova joined with the Ahlul Bayt World Assembly, a Shia religious network directed from Qom, to hold a conference in Prizren on Imam Ali, the son-in-law of Muhammad and progenitor of the Shia sect.
That event was endorsed by a Qom-based cleric, Ayatollah Hossein Ansarian, who advertises himself as a spiritual Sufi. But the lessons the Kosovar Shia Ikballë Huduti-Berisha took away from her encounters with the Iranians had little, apparently, to do with the contemplative traditions of the Sufis and much to do with Islamist militancy.
Duriqi found that postings on social media by "the preaching woman Ikballë" included images shooting firearms. She was shown additionally in an Iranian news picture with former president Mahmoud Ahmadinejad. Duriqi identified several other Shia NGOs operating in Kosova. He and Express alleged that the Qur'an Foundation and an NGO named "Sunny Hills" (after a neighborhood in Prishtina), are under investigation by Kosova authorities for terror financing, money laundering, and corrupt property deals.
Further, while Kosova Islam is overwhelmingly Sunni, and includes few conventional Shia Muslims, the Iranian-backed Qur'an Foundation published a volume, The Qur'an in Islam, edited by Fahrush Rexhepi, a leading official of the Kosova Sunni hierarchy. Duriqi argues that after a long period in which the few Kosova Shias kept a low profile and joined in the activities of the Sunni organization, they are now asserting themselves. It is hard to imagine that Iranian influence is absent in this gambit. An Iranian internet radio service, the Voice of Teheran, broadcasts in Albanian.
Paradoxically, the Albanian lands, along with small communities in Bulgaria and the snippet of Turkey included in Europe, possess the only indigenous Shia Muslims in the West. They are members of the Bektashi Sufi order in Albanian society and the Alevi movement among Turks. Tehran has flirted with them, but without success—the Albanian Bektashis and Turkish Alevis are firmly secularist and hostile to the Iranian clerical regime.
Under the continuing and often-arbitrary administration of the European Union, Kosova now sees bizarre convolutions in its Islamic structures, as competing sects and foreign Islamists advance their interests. Recruiters for the so-called "Islamic State" have appeared in Kosova and 40 ISIS recruits were detained there last year.
As noted by Duriqi, Kosova police are investigating the shipment of Iranian atrocity propaganda—gruesomely depicting dead "martyrs"—to Kosova via Dubai. Packets of inflammatory material were sent to the Iranian director of the Qur'an Foundation, Hasan Azari Bejandi, labeled as "school notebooks." The "notebooks" were seized by and remain in the hands of the Kosova authorities.
Related Topics: Albanian Muslims, Alevism, Balkan Muslims, Bektashi Sufis, European Muslims, Iran, Kosovo, Macedonia, Montenegro, Muslim-Jewish Relations, Shiism, Sufism receive the latest by email: subscribe to the free center for islamic pluralism mailing list