U.S. expert: Involvement of Albanians in the Islamic State (IS) harms image of Kosova liberation war
by Blerim Mustafa
Presheva Jonë [Presheva, Serbia]
February 27, 2015
http://www.islamicpluralism.org/2464/us-expert-involvement-of-albanians-in-the-islamic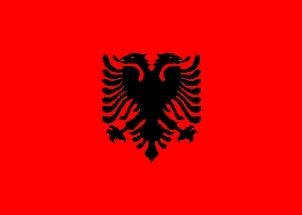 The flag of the Albanian nation.
The U.S. expert Stephen Sylejman Schwartz, Executive Director of the Center for Islamic Pluralism, headquartered in Washington, states to the Albanian news agency Presheva Jonë that the involvement of ethnic Albanians in the Islamic State (IS) negatively affects the reputation of Albanians.
"It contributes to evil stereotypes and false claims that the Kosova liberation war was a jihadist effort.
"As in other instances, Islamist radicals are doing the work of Serbia in undermining the reputation of Albanians."
Kosova and Albania are among the few countries in Europe where the majority of the population belongs to the Islamic faith.
Following the emergence of IS, several Albanians have joined the ranks of IS seeking to establish a caliphate in the heart of the Middle East.
In relation to Albania's and Kosova's close relationships with the U.S., the U.S. expert points out that the involvement of Albanians "is disastrous and dangerous for the future of all Albanians."
Despite the IS being designated a terrorist organization by the U.S., Canada, Indonesia and Turkey, as well as the United Nations (UN), around 250 Albanians have joined the IS in Syria and Iraq.
Furthermore, the U.S. expert emphasizes that support for IS among Muslims in the Balkans involves a mix of radical ideology, economic stagnation and the desire to avenge the crimes committed by Syria's Assad regime.
"The pattern emerging among indigenous Muslims in the Balkans, regarding support for IS, seems to involve a fusion of radical Islamist ideology (rarely), personal aimlessness and desperation caused by economic disadvantage, especially high unemployment, adventurism, and criminality.
"At the same time, one cannot ignore the deeply shocking nature of the massacres by the Al-Assad regime and the desire of many Sunni Muslims around the world to respond to such atrocities.
"The failure of the world powers to act against the Damascus regime helped create the IS. I warned publicly against this in Washington some years ago."
With regard to the peculiarities surrounding the possible re-integration of returning fighters from the Middle East, Mr. Schwartz believes re-integration is not an option as both Kosova and Albania should take measures to criminalize the involvement of Albanians in the IS.
Intelligence experts have on several occasions warned returning fighters may carry out attacks when returning to their native countries.
"I do not see reintegration as an option. Involvement in fighting in Syria and Iraq should be condemned by the Islamic ulema in the Balkans and criminalized by the governments of Kosova and Albania," Schwartz said.
We Are One.
Note: The Albanian-language text of this article is accessible at http://www.islamicpluralism.org/2478/eksperti-amerikan-perfshirja-e-shqiptareve-ne
Shënim: Teksti në gjuhën shqipe i këtij neni është i arritshëm në http://www.islamicpluralism.org/2478/eksperti-amerikan-perfshirja-e-shqiptareve-ne
Related Topics: Albanian Muslims, American Muslims, Balkan Muslims, Bektashi Sufis, European Muslims, German Muslims, Iraq, Kosovo, Kurdish Islam, Macedonia, Montenegro, Takfir, Terrorism, Wahhabism receive the latest by email: subscribe to the free center for islamic pluralism mailing list